Tools for Marketing Automation
Are you feeling overwhelmed because you have so many visions for your business?
Exhausted because it seems like the work is non-stop?
Confused about what to work on next so you default to what's making the most noise and not what is necessarily the best strategy?
Perhaps it's time to implement the right systems and workflows to help your online business run smoothly.
Let's take a look at the different tools for marketing automation, business automation, and small business CRM that every entrepreneur should be using. 
The Importance of Systems
Businesses that aren't leveraging the tools for marketing and business automation are likely struggling to see real growth. One of my favorite business strategy books, The E-Myth Revisited by Michael Gerber, explains that's why 80% of small businesses fail. 
As a business owner, your focus should be on gaining new clients and providing the best service possible. With the right systems in place, you're able to run your business efficiently and focus on the things that matter.
Systems help you optimize your business — which allows you to put less effort into the day-to-day work and instead more focus on strategy, optimization, and expansion.
To systemize your business you must first identify your work tasks and what's taking up the most time. Next, you should identify the processes that enable you to complete those tasks.
Once you have your tasks and processes mapped out, you can create a system.
The system is what brings everything together and identifies the work of your business as a whole. You might hire a virtual assistant to help you run the new system or leverage one of the many tools for marketing automation.
You'll find that there are many benefits to choosing the right technology to run your business.
Begin Building Your Systems & Workflows
Systems and workflows are key factors in developing a successful, scalable business. And they can certainly help your business stay afloat during turbulent times.
If you haven't mapped yours out yet, here are four tips to begin developing your systems and workflows:
Know your goals.
Your goals are the pillars of your foundation. When you feel lost and confused, turn back to them for guidance. Checking in with your goals daily will help you stay focused, especially when your to-do list is overflowing with items.
View your life strategically. 
Review each area of your life, including personal, career, family, and friends. Then determine the overall strategy that is going to help you reach your goals in each.
 Break down your strategy, and create action steps.
Be clear and specific. Don't waste time on menial activities that have no return or allow you to procrastinate the most important things. Follow the action steps until you reach your final goal.
Develop habits and workflows.
For repetitive tasks, create checklists that help you quickly validate accuracy. Allow your brain to focus on the work that matters most. Establish calendar time to implement your actions, and create a habit of reviewing how you are spending your time.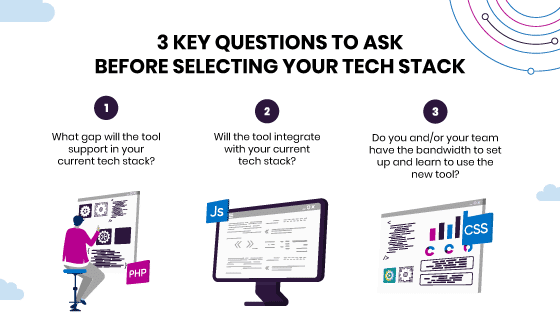 Have you heard of the shiny object syndrome? It's when entrepreneurs, particularly in the early stages of developing their business, invest in way too many tools thinking they're all going to somehow optimize their online business.
The problem with shiny object syndrome is that unless a tool secures a return on your investment, or meaningfully impacts your business, it's just money wasted.
This is why selecting the right marketing automation tools is so important. 
When choosing the right tech to optimize your business, you should ask yourself the following three questions:
What gap will the tool support in your current tech stack?
Will the tool integrate with your current tech stack?
Do you and/or your team have the bandwidth to set up and learn to use the new tool?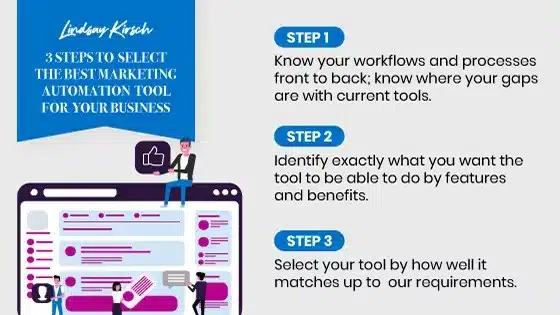 It's important to understand the full scope of your workflows and processes before choosing new tools for business automation.
Sometimes less is more, and when it comes to choosing the best tools for marketing automation, you should be a choosy shopper.  
Top Tools for Marketing Automation
As an entrepreneur myself, I understand the tools and support small business owners are looking for. I've tested dozens of different tools for marketing automation, and these are the ones that came out on top.
SiteGround Website Hosting: Reasonably priced website hosting that also offers many done-for-you services, like free site migration.
Active Campaign: Easy-to-use email marketing software that integrates well with all the other tools and technologies you'll be using to run your business.
Asana: Project management software that helps you and your team keep track of big tasks and projects.
GSuite: Google-based email with your specific domain, which includes a business calendar, upgraded storage drive, and Google Hangouts.
Canva: Simple graphic design tool featuring easy-to-use templates for visual content.
Camtasia: Video-recording software for quick, simple video content.
I use a combination of these tools and more to run my business, and it's more efficient than it's ever been. If you're wondering how these tools may help you build processes and workflows, view my tech stack examples below. 
Your tech stack refers to the technology and software you're using to run your business more efficiently. Choosing your tech stack can be somewhat intimidating, especially when there are so many different tools available.
Here are the top technology stack tools I recommend. 
Email Marketing and Automation: ActiveCampaign
I've been using ActiveCampaign for my email marketing for over four years. I love its advanced email campaign features and automations that allow me to create a customized user experience for all of my contacts.
ActiveCampaign has a built-in CRM, making it easy for you to keep track of new leads and deals in your sales pipeline. The email marketing software also easily integrates with so many other tools, making it a versatile addition to your tech stack.  
Website: WordPress with Thrive Themes ShapeShifter Theme
ThriveThemes is a suite of WordPress themes and plugins that help businesses create simple, scalable, conversion-focused websites. The page builder is easy to use, and the ThriveLeads plugin allows you to seamlessly create new opt-in boxes.  
Project Management: Asana
I use Asana to manage my projects and tasks across internal and external teams. Asana is a collaborative workspace that helps business owners stay on track with large projects and tasks — and more importantly, reduces the number of project-based emails you'll receive.
Appointment Scheduling: Calendly
Calendly makes managing my calendar and scheduling appointments easy. Plus, there's the added benefit that it integrates with ActiveCampaign CRM.  
Easy Webinar is a great tool to use for webinar series. It's easy to set up, and I love the tagging capabilities with my ActiveCampaign CRM.
If you're still unsure about the best tools to run your business, perhaps these tech reviews will help. I reviewed eight of the top business automation tools on the market to help guide you in your tech stack decisions.
ActiveCampaign is an email marketing software that increases your marketing and sales efficiency.
The Pros:
Personalize your email communication
Generate more leads
Automate follow-up emails
Nurture customer relationships
Secure a higher conversion rate 
CoSchedule is an easy drag-and-drop content marketing calendar where you can plan, create, and promote your content all in one place.
The Pros:
Customer service is amazing
Great library of videos and documentation to help you set up your marketing strategy
Free headline analyzer
Plan out content and social promotion months at a time 
Keeps everything in one place 
GSuite is a dynamic tool that allows you to manage your business email, calendar, and online storage in one single place.
The pros:
Everything you need on the go
Keep your devices and data secure
Easily collaborate with your team in real-time
Easy to share documents with a virtual team
Can create documents, spreadsheets, and presentations all in one place 
Spiffy is a great checkout tool that makes collecting online payments a seamless process.
The Pros:
Easy setup and implementation
Deep data integration
Site tacking 
Triggers automations within ActiveCampain
Custom field mapping 
Zoom is the leading online conferencing tool that allows you to have virtual meetings with anyone around the world.
The Pros:
Can be linked with your scheduling software
Annotation lets you draw on your screen
Automated cloud recording
Both audio and audio + video recordings available 
Can be used to record client testimonials 
Choosing a Website Form Tool
Two form tools worth trying out are Gravity Tools and Typeform. Your form tool allows you to collect a variety of data like contact information and surveys from leads and customers. Before selecting a form tool for your website, consider these five important system requirements:
How easy is it to install?
How easy is it to create a form and configure it on your website?
What does the result look like?
How much does it cost?
Is there CRM integration? 
Choosing an Appointment Scheduling Tool
Creating an automated, online appointment scheduling system is one of the best ways to begin automating your business. Acuity Scheduling and Calendly are two great options. Here are the top things to consider when choosing between the two:
How easy is it to set up?
Does it integrate with your CRM?
Is payment processing available?
Can you offer packages or coupon codes?
Does it send automated messages? 
Two excellent webinar tools to consider are Easy Webinar and Demio. Here are five factors to consider when deciding between them:
How easy is it to set up?
What's the customer experience like? Is it easy for them to understand and use?
What system integrations are available?
What type of automated emails can be sent from the platform itself? Can you customize them?
What additional features might your business require? 
Project Management Basics
Project management is not a task that comes easy for most entrepreneurs. Yet a lack of project management can be the cause as to why 50% of businesses fail to make it past their first five years.
Here are five key steps to get started  with project management to ensure your business lives far beyond that:
Define your projects. 
A project is a temporary endeavor that has a clear beginning and end. This can include creating a website, writing a book, or launching a digital course. The first thing to do is make a list of the projects you need to be managed.
Prioritize those projects.
Next, organize your projects based on highest to lowest priority. Ask yourself if it's urgent; what value it'll bring to you; how much effort it'll take; and what's the cost to complete it? A project that requires more resources than you currently have should not be a higher priority than a project you don't have the resources for.
Define your tasks.
Now list out all the tasks, or steps, it would taker to get the project done. Every project will have multiple tasks and sometimes even subtasks. 
Estimate the completion time.
I like to break my tasks down into 1-hour increments. In general, each task should be broken down into one day of work or less. If your tasks are taking longer than that, you should further break them down.
Schedule your tasks.
Finally, give each task a due date, and schedule the task on your calendar. 
Getting Help with Your Tech
You might find it necessary to hire a technical consultant to support your projects.
A technical consultant can assist you in developing your business workflows, and then support you in selecting the appropriate technology for implementation.
I know that hiring an outside consultant can be intimidating, so here are a few things to consider before making your final decision.
First, consider their education certifications and licensing in relation to your project needs. You can ask questions like, "Are you certified in XYZ system?" and "What are you required to do as part of your certification process?"
While educational backgrounds matter, overall experience does too. You can use behavior-based questions to gauge what the consultant would do in any given situation.
Another tip is to make sure the project plan is clearly laid out in the contract, and that you fully understand the scope.
Finally, make sure you'll get a working system in the end, along with the system documentation and training needed for you and your team to use it with success.
Take these considerations and questions into account when vetting your potential hires. 
Many entrepreneurs fail because they don't have solid business processes in place. They become overwhelmed and inundated with menial tasks and lose sight of big-picture goals that would propel their company forward.
If you've realized it's time to automate certain aspects of your business, choosing the right tools is key.
I hope this guide helps you make the best tech decisions for your business.
Are you interested in learning more about hiring a tech consultant or project management systems? Let's talk. 
Learn Easy Steps to Optimize Your Business Each Week!