Selecting the right webinar tool for your business isn't always easy. There are many different factors to consider in determining the best tool for you.
What may work for one brand or business, may not work for another simply because of specific requirements, such as integration capabilities.
Others may not provide the ideal customer experience, based on the type of webinar you are offering.
In this vlog, I'm going to provide you with the top five considerations when selecting a webinar platform and then compare and contrast two of my favorite tools, Easy Webinar and Demio, to these requirements.
Let's go!
How to Select a Webinar Platform
Ease of Setup (Admin)
The first requirement, and the first thing that you should look at and consider when selecting a webinar platform, is the ease of setup.
Fact: you are a business entrepreneur and your webinar platform should allow you to easily share your message.
It should not be complicated, complex, or challenging to set up.
In order to validate if a tool is easy for you (or whoever on your team will be managing it), is to record a practice webinar and then sign up for a free trial of each of the tools that you are considering. See how long it takes you to "setup" your webinar so that you can run it to an audience.
I believe that most webinar platforms can be up and running within 1-2 hours… if it takes longer than that, it's probably too complicated.
(Note: this time considers that you have already recorded the webinar, completed your communication copywriting and setup your automations).
Easy Webinar and Demio are both simple and easy to setup. Demio has slightly fewer features and functionality which made setup slightly easier than Easy Webinar.
Even if there are more advanced features, you do not necessarily need them to get a live webinar scheduled or an evergreen webinar rolling.
Ease of Use (User)
The next consideration when selecting a webinar platform is the ease of use for your participant.
While you may enjoy the ease of setup, it's equally important that the user experience is positive and delightful.
Similar to testing the ease of setup, I recommend finding a few free webinars, create in the platforms you are investigating, and test the user experience.
You should consider:
Is the registration process easy?
Is the audio and video crisp and clear?
Was it easy to interact and ask questions?
Did the interface include a clear call to action?
When I evaluated both Easy Webinar and Demio, I felt the overall user experience with Demio was far superior to Easy Webinar.
Demio appear more crisp, clear and had a clean user interface. Hands down, it's the more professional looking option.
With Easy Webinar, I find the registration process slightly confusing and the placement of call to action buttons not exactly up to my preferences. The video quality is not as nice as Demio.
Integrations
The integration of your webinar platform to your CRM is possibly one of the most important factors to consider when selecting a webinar tool.
All integrations are not created equal and your CRM will play a major part in determining if a webinar tool is a good fit for your business.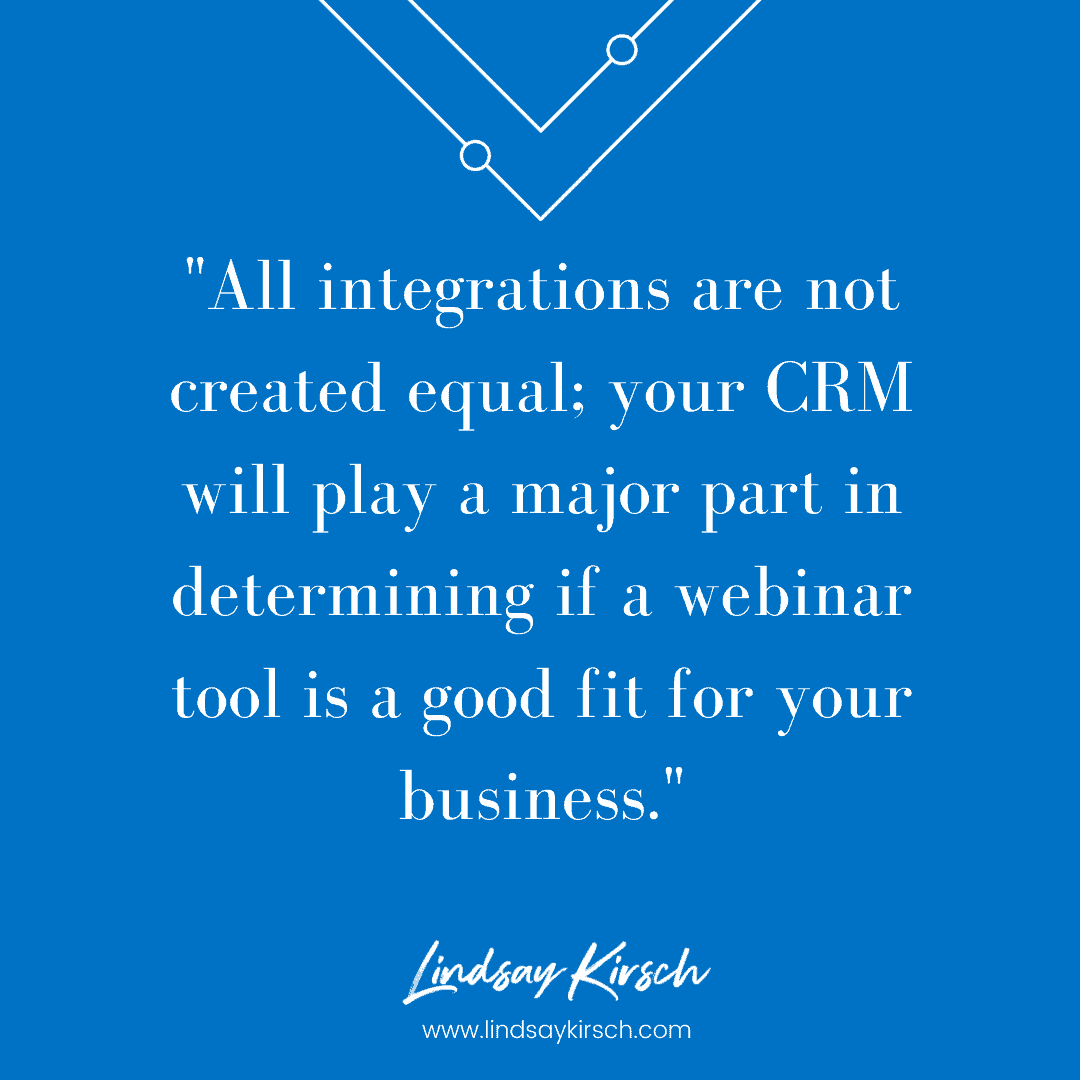 CRM, or marketing automation tools must be able to link with your webinar platform in order to keep track of and follow up with your webinar attendees.
Your marketing automation system will track behaviors (such as attended, left early, did not attend), and send email campaigns accordingly.
Even the most popular email automation CRMS like ActiveCampaign, Infusionsoft, and Ontraport do not all direct integration with a webinar platform. Depending on the platform, you may need to use a third-party connector such as Zapier.
It is critical to identify what the requirements are needed for your integration before evaluating webinar tools. For example:
What key behaviors do you need your webinar platform to pass to your CRM?
Do you need to be able to integrate with your checkout system for paid webinars?
When evaluating Easy Webinar and Demio, Easy Webinar has the ability to track a larger variety of participant behaviors than Demio. This includes if someone registers but does not attend, if they leave early (before the offer), and if they watch the full presentation.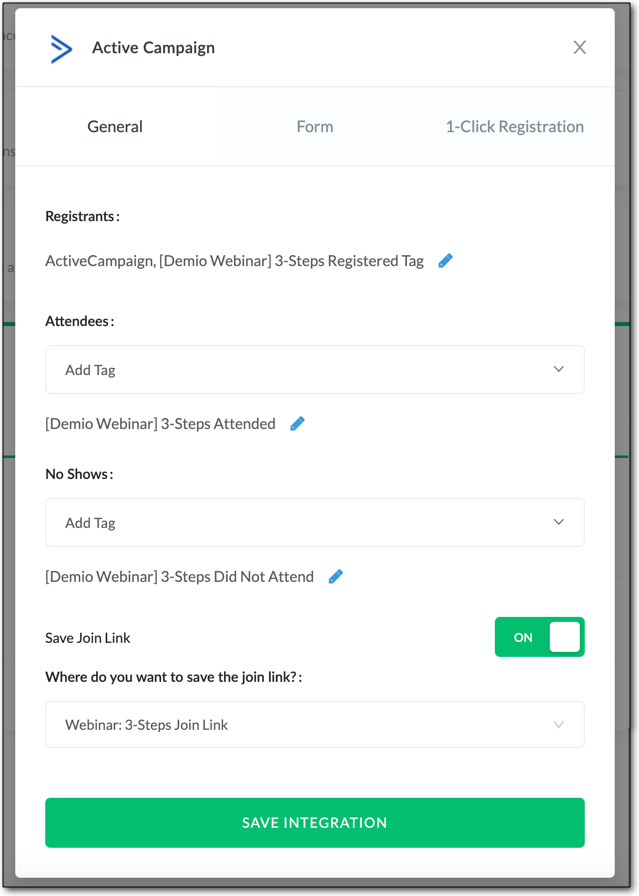 Because of this behavior tracking, you can better segment and follow up with your audience post-webinar. Unfortunately, Demio at this time only offers high-level tracking (however, I do think this will be built out in the near future!)
Automated Emails and Email Customization
When selecting a webinar platform, it is important to consider what type of automated emails can be sent directly from the platform itself, and to what level you can customize the emails.
When a participant registers for your webinar, their data should get passed over to your email marketing automation tool. However, you want to have the reminder emails sent directly from your webinar platform.
The reason being is that if a participant happens to unsubscribe from your email marketing list before the webinar date, they will not receive the reminders. Keeping them in a separate tool will help ensure deliverability.
Once you have determined that your webinar platform will be sending the registration reminder emails, you should evaluate the ability to customize those emails.
Easy Webinar's emails are very basic and out of the box. While you can customize the text and some of the visual elements, they are not my favorite.
Demio provides a much cleaner looking email with the ability to customize text and branding.
Both systems provide a basic level of tracking on registration reminder emails that include open rates.
Additional Features and Functionality of a Webinar Platform
When selecting a webinar platform once you have identified the basics, you will then want to dive a bit deeper into your own preferences of features and functionality.
This is where the different tools may really stand apart from each other.
Some tools may include more advanced tracking and tagging, while others may have a more customizable interface and emails.

Another noticeable difference between Easy Webinar and Demio is the automated, or evergreen funnel webinar playback.
In Easy Webinar, it's very obvious that the webinar is a recording. However, Demio has a very slick interface that creates a simulated live environment, including chat. For me, Demio feels more real and that I'm closer to the speaker as a participant.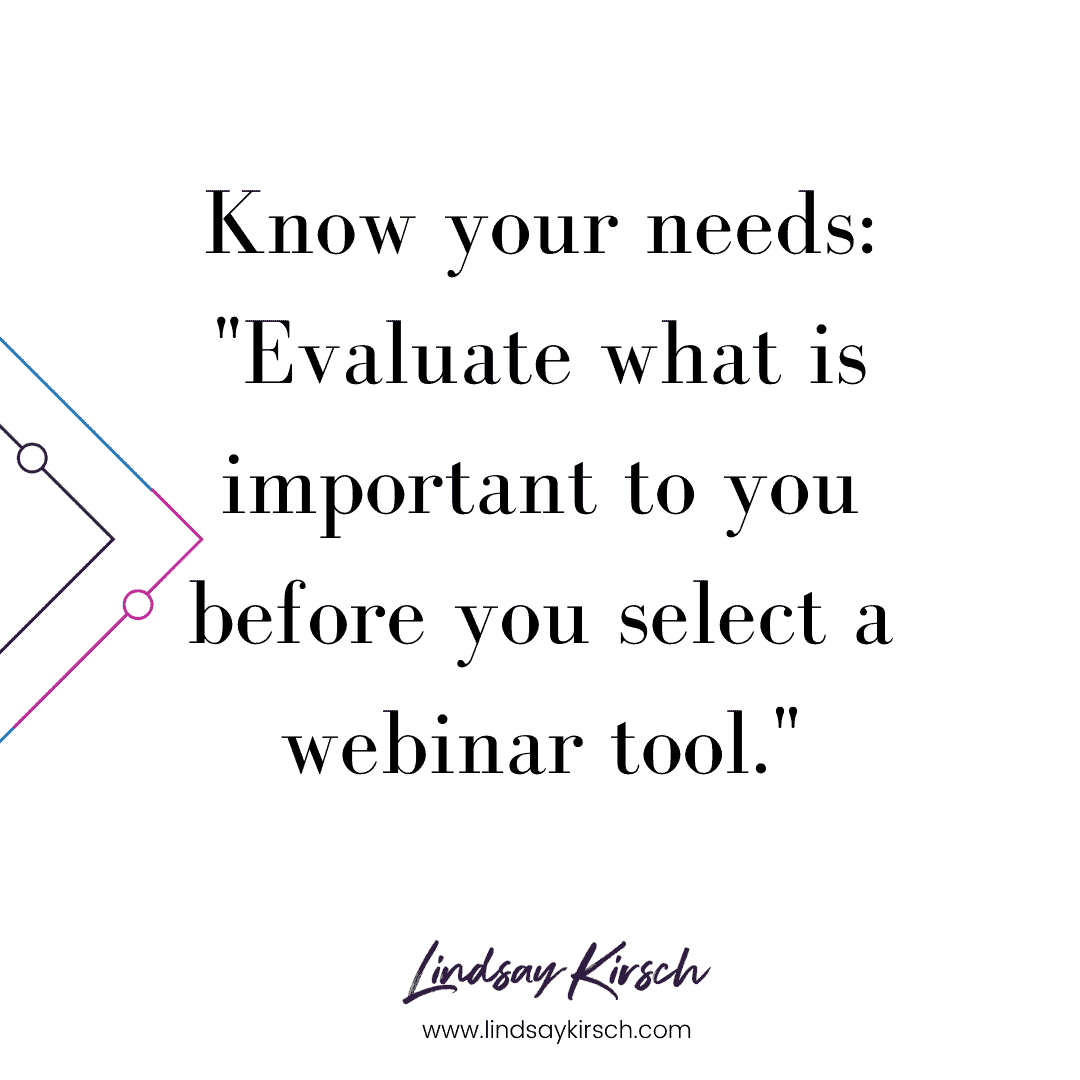 How to Select the Best Webinar Platform for Your Business
In this article, we have discussed some of the most important features and functionality of webinar platforms to consider when selecting a webinar tool.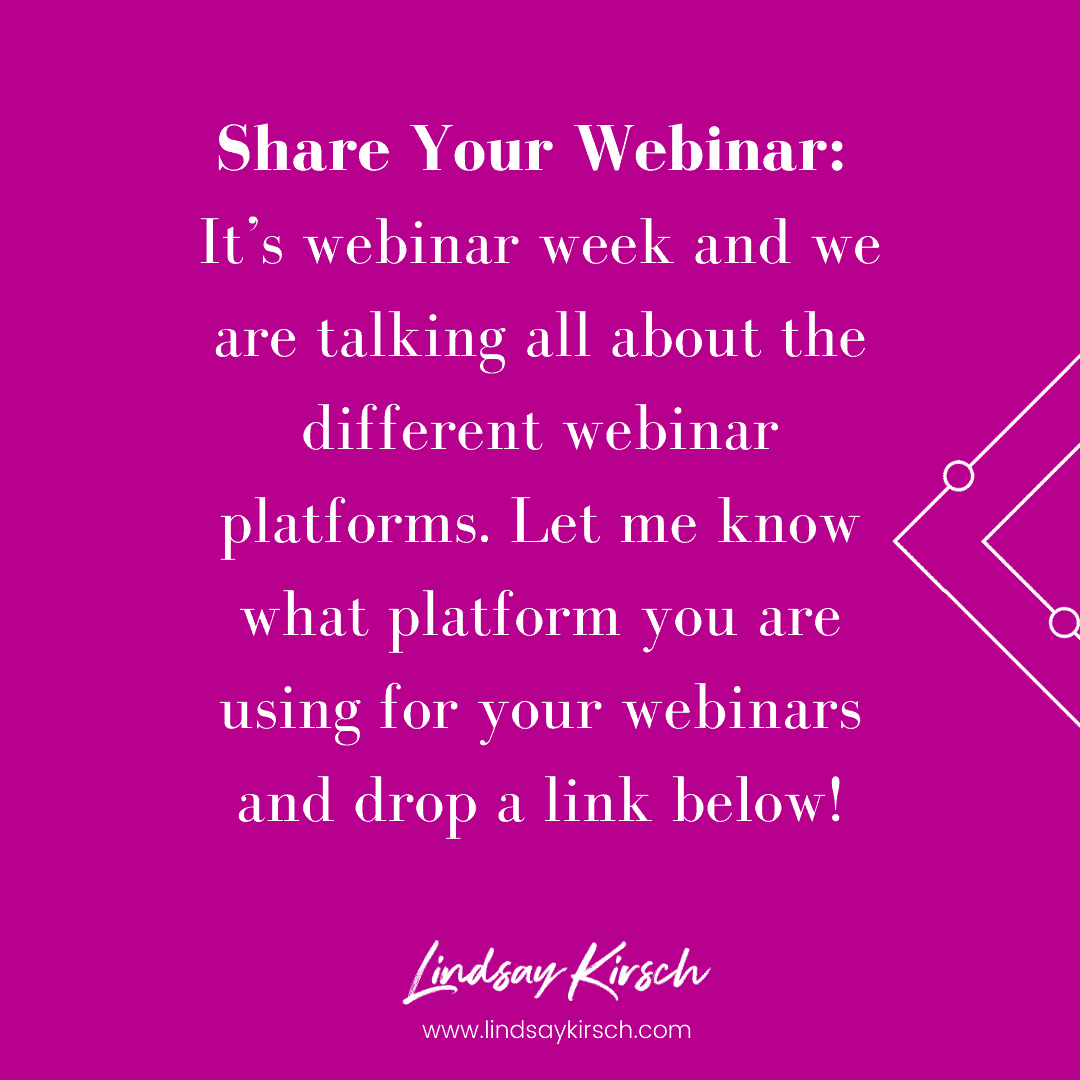 It is necessary to evaluate what is important to you before you select a tool so that you know these preferences upfront.
Before selecting a webinar tool, I recommend that you register and attend a variety of webinars that are created in different platforms and take notes on what you like/did not like. This will help you detail out what you want to be able to focus on with your tool.
Did this article help you decide on a webinar platform? Drop any questions you still have in the comments below!