G Suite for Business Communications and Productivity
All that you need to do your best work, in one package.
Communication
A business email shared calendars, and video conferencing that brings your team closer together from anywhere.
Collaboration & Storage
Create, edit, store, and share documents, spreadsheets, and presentations in your browser and across devices.
Security & Administration
Secure, fast, and easy IT administration management across your organization, data, and devices.
About Google
Google is an American multinational technology company specializing in Internet-related services and products. These include online advertising technologies, search, cloud computing, software, and hardware.
Known most widely for its search engine, Google provides a broad range of technology services including G-Mail, YouTube, and Google Chrome web browser.
Business email, calendar, storage, and more
All you need to work on the go
Enjoy a consistent experience from your computer, tablet, or phone. Draft a proposal in Docs at the office, review it on the train, then make final edits from your phone right before the meeting. Get more out of your workday.
Controls for securing your devices and data
Manage mobile devices, email addresses, security settings, and more from the Google Admin console. Keep all your company data safe, centralized, and protected from disruptions such as missing hardware or employee turnover. Your business, your rules.
More productive meetings
Schedule events in Calendar at times that work for everyone. Get meeting reminders directly to your Gmail inbox. With one-click, join a video meeting through Hangouts and share your Slides to review as a team. Less prep, fewer next steps.
Teamwork that works
Create a budget tracker in Sheets, share it with teammates, and edit it in real-time. G Suite will automatically store in Drive, so everyone always has the latest version. No more sending attachments to get on the same page.
What I Love About G Suite!
· I can use the Google Mail interface, which I love, for all of my domain email (such as Lindsay@lindsaykirsch.com).
· It is easy for me to share documents on G Drive with my virtual team, all over the world!
· I do not have to have any special software – I can create my documents, spreadsheets, and slide presentations directly in G Suite.
What Can G Suite Improve?
· Depending on my Internet speed, the synchronization can slack behind – meaning what is available offline on my computer is always not the latest if I am moving through documents quickly on slow Internet.
· I would like to be able to edit my specific Google Docs directly when offline (currently this is only available when online).
Lindsay's Recommendation
I currently utilize the Basic G Suite plan for my business Email, Calendar, Drive, Docs, Sheets, Slides, and Hangouts!
G Suite has allowed me to maintain a professional presence online, while also providing me efficient and secure access.
I love knowing that the security of Google is behind all of my work!
I am very pleased with G Suite and will continue to use it in my business!
Get Started Today!
Get started with G Suite today and receive a free, 14-day trial utilizing this link.
If you are happy with your test, please let me know, and I will provide you with an additional 20% off the first year of your subscription!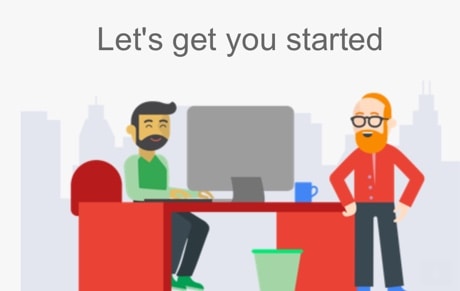 Please note that I have not been given any free products, services, or anything else by these companies in exchange for mentioning them on the site. I am a paying user of this product. This post does, however, contain affiliate links, which means that if you click on one of the product links and make a purchase, I will receive a commission.