CoSchedule for Social Media Planning
CoSchedule is an easy drag-and-drop content marketing calendar that allows you to plan, create, and promote your content all in one place. It saves you time and helps you grow your audience through smart marketing plans and efficient team collaboration.
How do I use CoSchedule?
Currently, I do all of my writing (blog posts, pages, books, etc.) in an app called Ulysses. From Ulysses, I publish to my WordPress site, review my post, and then set up CoSchedule content.
What I LOVE about CoSchedule is that it integrates directly into WordPress. From my WordPress post. I just scroll down the interface and can manage the social planning of my post.
It could not be more simple!
Note: I can also login to CoSchedule.com anytime, and modify my content that way.
If you do not have use a tool like Ulysses you can write and publish directly from CoSchedule to your WordPress blog or on your WordPress site itself.
Why I think CoSchedule Rocks
The customer support is amazing. During my two-week trial, I emailed them many, many times, and received extremely quick and helpful responses.
They have a great library of videos and documentation to help you get started and set up your content marketing strategy.
Even if you don't use CoSchedule, they have a really great blog.
They have a FREE headline analyzer, that I am obsessed with.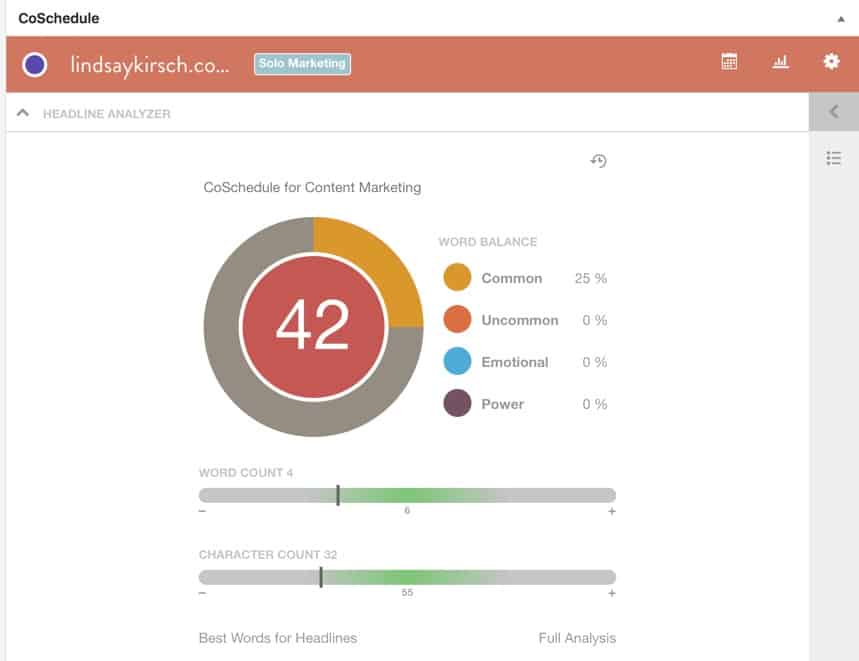 Key Features of CoSchedule
See Your Entire Marketing Schedule At A Glance
Get a bird's eye view with CoSchedule's drag and drop calendar. Plan months at a time. Easily fill the gaps in your schedule. And build a (solid plan) for all your content + social promotion.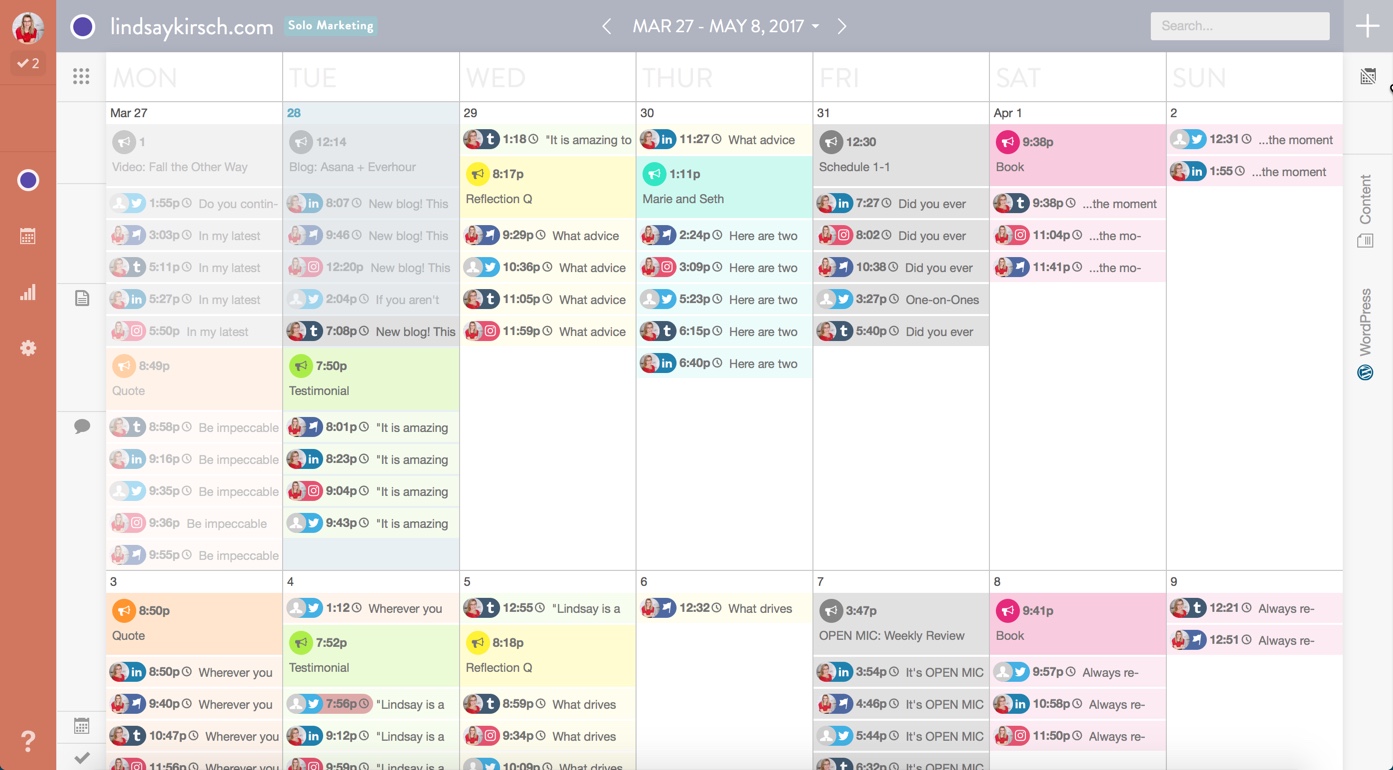 Social Media Scheduling Without the Stress
Build the perfect social schedule (directly in your calendar). Stop wasting time jumping from one tool to the next — keep your social + content in one place.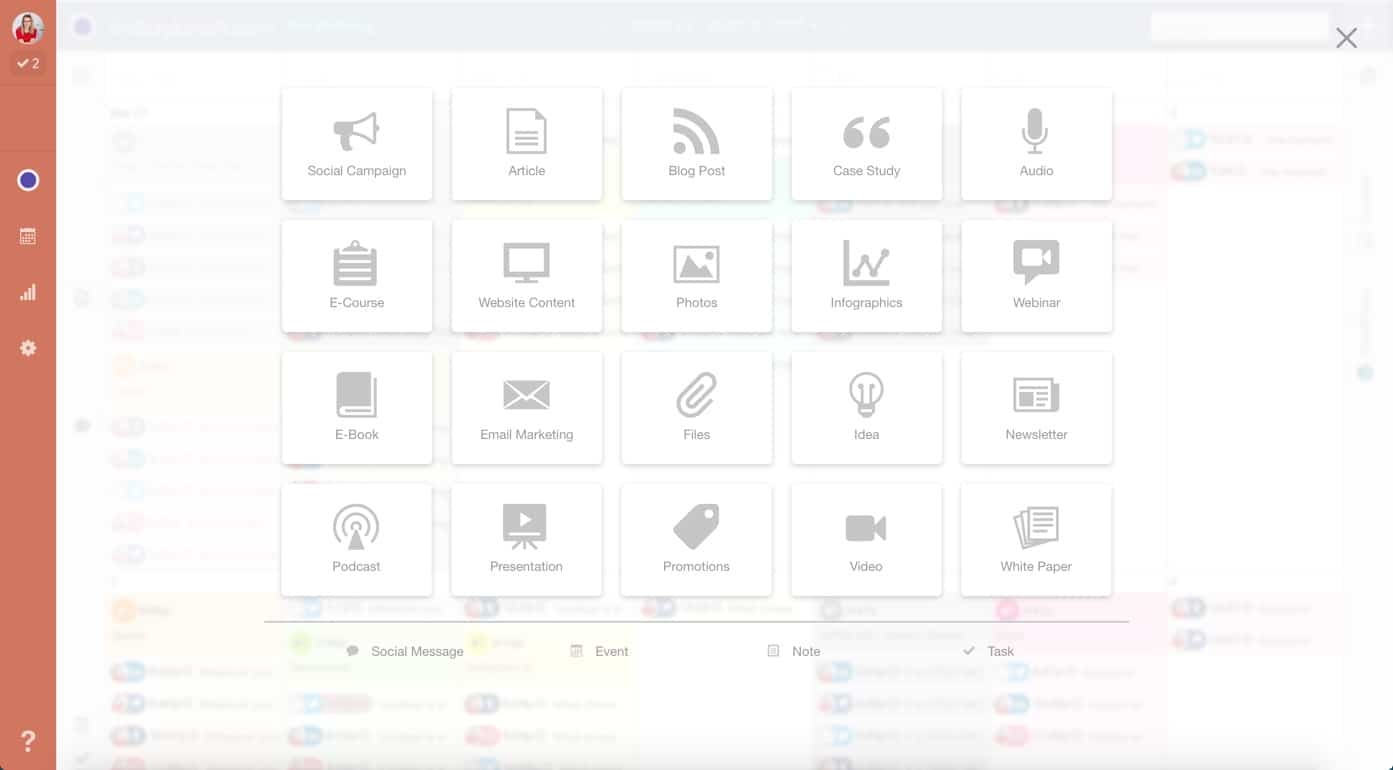 Integrate With The Tools You Already Love
Use all your favorite tools (in one calendar). Create content using Google Docs. Gather stats with Google Analytics. Even sync your Evernote directly into CoSchedule.
Move Projects Forward with Team Workflows
Easily collaborate on projects, assign tasks, add comments, and meet your project deadlines. With custom workflows, your team stays accountable, and you get sht done!
Built-in Helpdesk
Although CoSchedule is very easy to use… I needed help quite a bit when I first started! CoSchedule has a built-in help desk right on the page so you can ask questions and get a quick response whenever you need!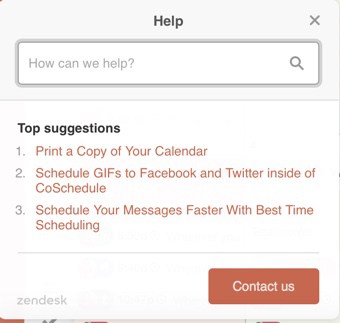 Why am I telling you this?
Because I love CoSchedule so much, I am sharing it with you. Also, for every person I refer to CoSchedule, I receive a 10% credit on my account if you decide to purchase CoSchedule.
Note: I am only an affiliate/referral for products and services that I truly believe in and use for myself and my business. The opinion expressed in this post about CoSchedule is my own. I have not received compensation for this post.
If you have any questions about CoSchedule, please feel free to contact me directly and I will try to help you out!