You might sell the best product or service in the world, but if you don't know who you're selling to, all your marketing efforts might be pointless.
Understanding your ideal customer — also known as your buyer persona — is key to building a sustainable online marketing strategy.
Your buyer persona, or customer avatar, is a representation of all the characteristics that make up your target customer. This can range from their personal goals to where they get their information.
A detailed buyer persona helps businesses pinpoint exactly who they're talking to. The more specific you can get, the better.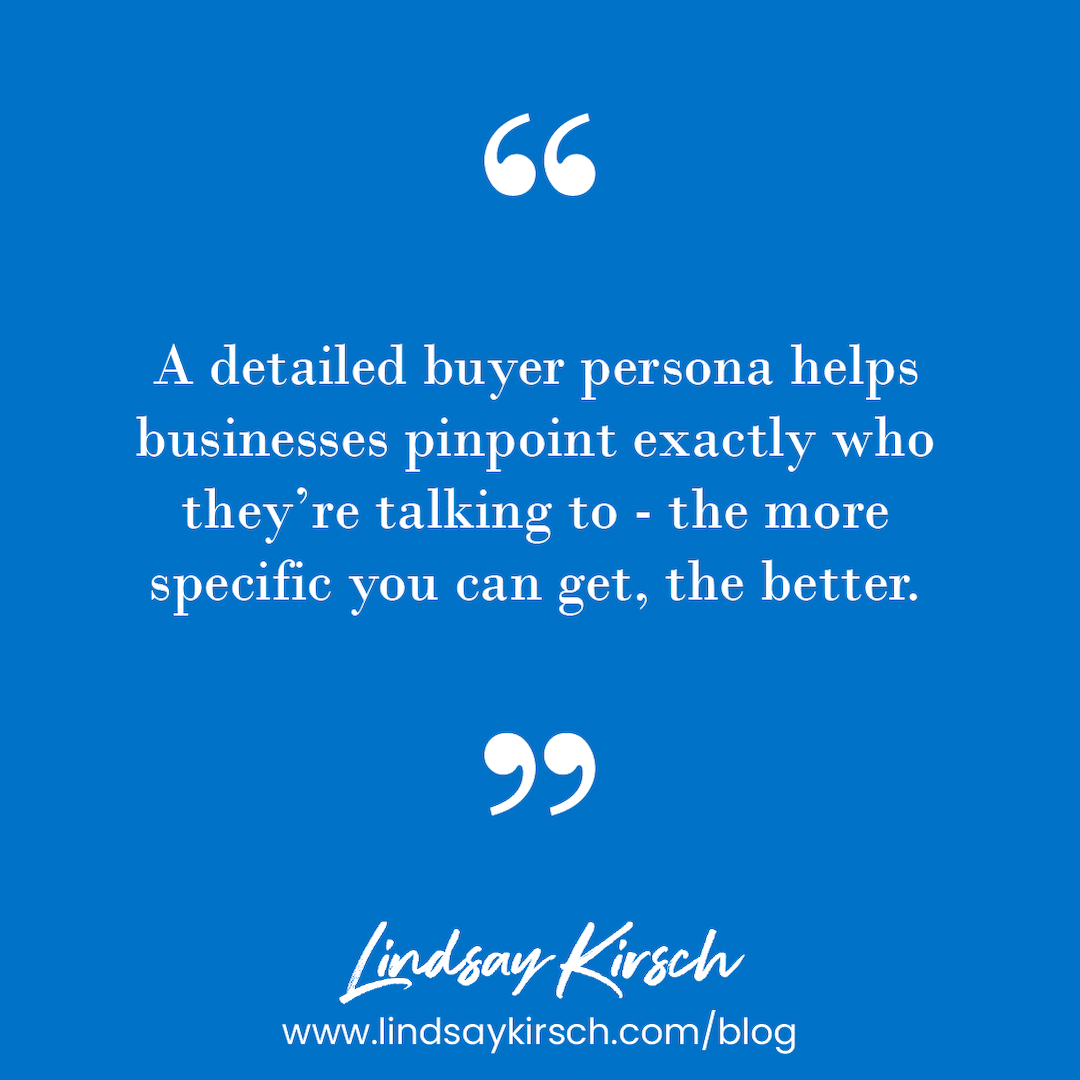 Why Creating a Buyer Persona Helps Drive More Sales
Defining your customer avatar should be the first thing you do before launching any sort of marketing campaign.
That's because when you know exactly who you're selling to, you begin to paint a picture of what this person needs and how they plan to achieve it. You will begin to understand what this person is searching for on search engines or looking up on social media.
This is valuable information that allows you to tailor your marketing content directly to their needs. Content-based on a company's buyer persona-based increased customer engagement from 10% to 53% when targeting cold leads.
In other words, a detailed customer avatar makes selling easier. You can now create ad copy that speaks directly to someone's specific problems. As a result, you're able to connect with them on a deeper level, and they begin to look to your brand for answers to their problems.
Your buyer persona is something you should update over time. As your business evolves, your target customer might change along with it. In fact, 65% of companies that updated their personas within the last 6 months exceeded their lead and revenue goals.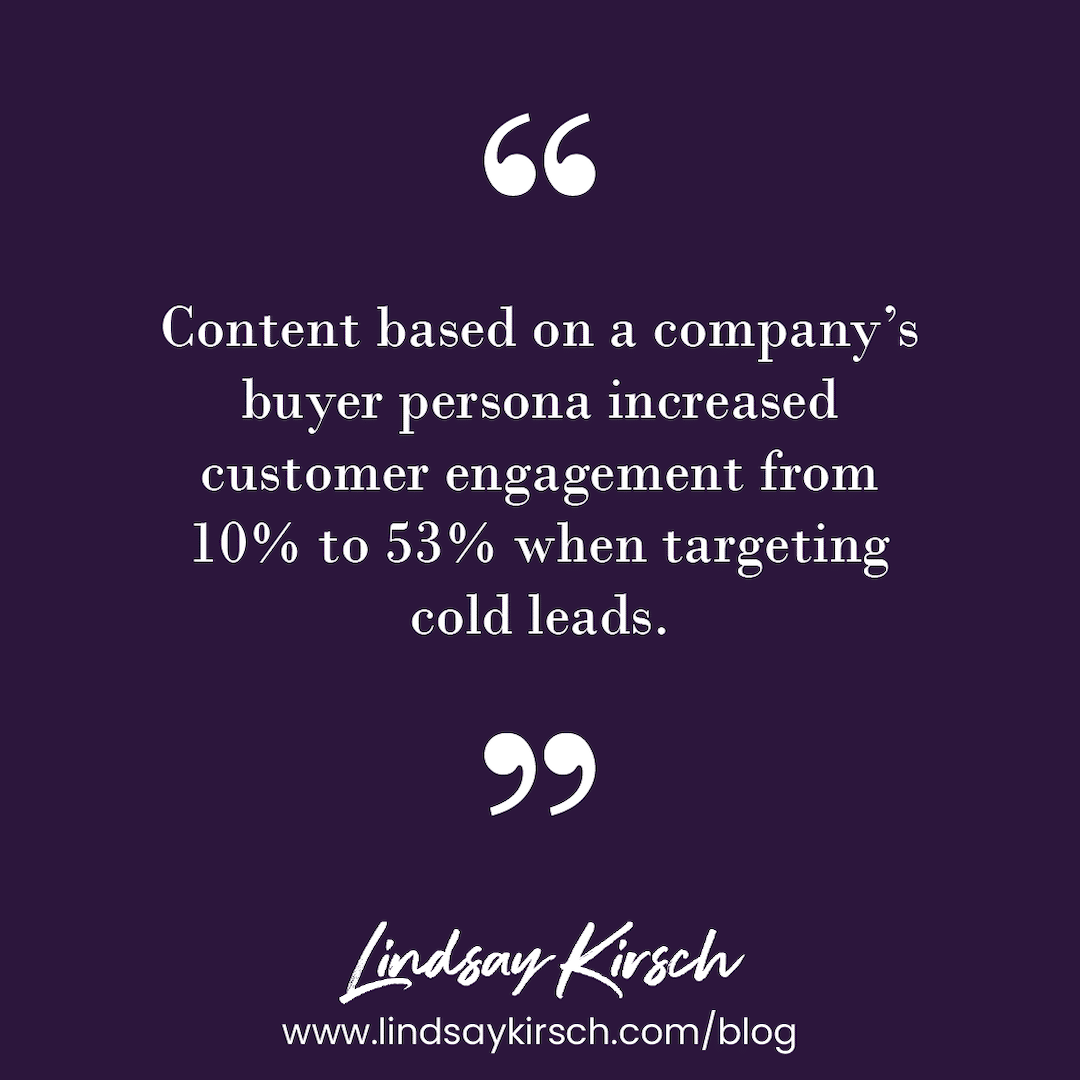 5 Major Components of a Buyer Persona
If you've never delved deep into your buyer persona, you might be wondering where to start. To make things easier, here are the five major components that make up every customer avatar:
Goals and Values
Sources of Information
Demographic Information
Challenges and Pain Points
Objections and Roles
Let's dig into each of these components so that you can create your own buyer persona example.
Define Their Goals and Values
Defining your ideal customer's goals and values will help you understand how your product or service can best suit them.
Goals include your customer's professional and personal aspirations. Your avatar's values apply to the principles that influence the way he or she makes decisions.
Sources of Information
This is where you find out where your avatar gets their information. This can include books, magazines, blogs, and websites, as well as the influencers they follow on social media.
If you know where your buyer goes for information, you can market your products to them on those same channels.
Demographic Information
Demographic information covers all the basics, including name, age, gender, marital status, number of children, location, occupation, job title, income, level of education, and even a quote that the person likes to lives by.
Challenges and Pain Points
What are your customer's challenges and pain points? What is it that your buyer persona struggles with — and how can your products and services help them?
Understanding your target customer's challenges will help you position your services as a viable solution for them. You'll be able to market your services in a way that speaks directly to their pain points, which will help you drive more conversions.
Objections and Roles
The last component in building your customer persona template is defining their objection and roles.
Objections refer to all the reasons your buyer persona might not choose to buy your product or service. This way you can address those objections in your marketing copy right off the bat.
Next, you want to determine your avatar's role in the purchasing process. Is he or she the one responsible for deciding to purchase your product or service? If not, you want to find the person who is.
How To Build Out Your Customer Persona Template
The best way to fully identify your target customer is to map all these characteristics out on your customer avatar worksheet.
I'll show you an example below — but first, you need to attain all of this valuable information.
You may not have a clear idea of your customer's goals or know exactly your avatar gets their information. In that case, it might be worth personally reaching out to your top customers, or sending a survey via email that addresses the five major components.
Customer Avatar Example
Putting together your customer persona doesn't have to be difficult. Once you've acquired all the necessary information, it helps to put it into an easy-to-read format.
Below you'll find a customer persona template as well as an example of a customer persona.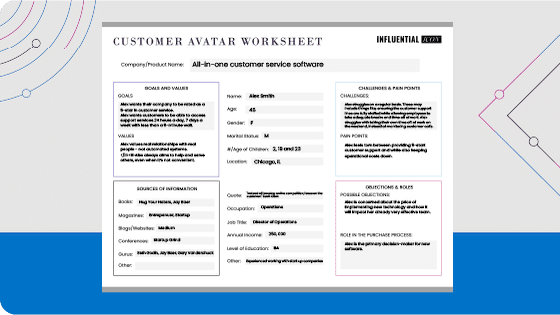 Goals
Alex wants their company to be rated as a 5-star in customer service.
Alex wants customers to be able to access support services 24 hours a day, 7 days a week with less than a 5-minute wait.
Values
Alex values real relationships with real people – not automated systems.
Alex always aims to help and serve others, even when it's not convenient.
Sources of Information
Books: Hug Your Haters, Jay Baer
Magazines: Entreprenuer, Startup
Blogs/Websites: Medium
Conferences: Startup Grind
Gurus: Seth Godin, Jay Baer, Gary Vanderchuck
Demographics:
Name: Alex Smith
Age: 45
Gender: F
Marital Status: Married
Children: 2, 18, and 23
Location: Chicago, IL
Quote: "Instead of focusing on the competition, focus on the customer." Scott Cook
Occupation: Operations
Job Title: Director of Operations
Annual Income: 250,000
Education: Bachelor's Degree
Challenges:
Alex struggles on a regular basis. These may include things like; ensuring the customer support lines are fully staffed while allowing employees to take adequate breaks and time off of work. Alex struggles with taking their own time off of work on the weekend, instead of monitoring customer calls.
Pain Points:
Alex feels torn between providing 5-start customer support and while also keeping operational costs down.
Possible Objections:
Alex is concerned about the price of implementing new technology and how it will impact her already very effective team.
Role in the Purchase Process:
Alex is the primary decision-maker for new software.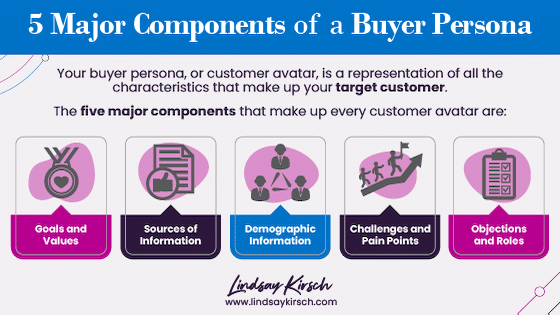 Now it's your turn.
Once you've mapped out your buyer persona, you can refer back to it as often as you need. When you allow your buyer to inform your marketing decisions, you'll see an increased level of conversions as a result.
Have you ever created a buyer persona? Do you have any questions as you're working on yours?
Let me know in the comments below!