Nailing down a cohesive content strategy can take some time. In fact, one of the common themes I've noticed among entrepreneurs and online businesses is that they tend to overcomplicate the content creation process.
I often find that many lack a cohesive strategy when it comes to marketing their products online, specifically on social media. Many entrepreneurs and online businesses tend to post sporadically on several different platforms — creating social posts that appear random, with no apparent relation to one another.
Then I see those entrepreneurs and businesses complain that their content isn't generating new leads or purchases.
What these businesses are missing is a clear content plan. While it's great to be using several different social platforms to promote your business, it's important to develop a solid content strategy that'll get you the results you're looking for. In other words, the sporadic content won't do the trick.
In this blog, you'll learn how to form a solid content strategy based on a single, core piece of content that can be leveraged across several platforms. The first step is to determine what your core piece of content is. Then, I'll show you how to splinter that content among different social platforms.
Developing Your Core Content Strategy
The first step in developing your content strategy is to identify your core content component. This is the content that serves as the backbone for everything else that goes out as part of your marketing strategy.
In general, your core piece of content will be something longer in length, such as a video, a podcast, or a blog post. Blogs, in fact, are among the three primary forms of media used in content strategies today. Long-form content like a blog can be easily repackaged into smaller versions and redistributed among your social platforms.
Video is another excellent example of a core piece of content, as it provides you with lots of information to repurpose in both written and visual forms. In fact, the number of businesses that use video as part of their marketing is up 38% since 2017.
Whatever your core content will be, it's important to note that it should always live on your website.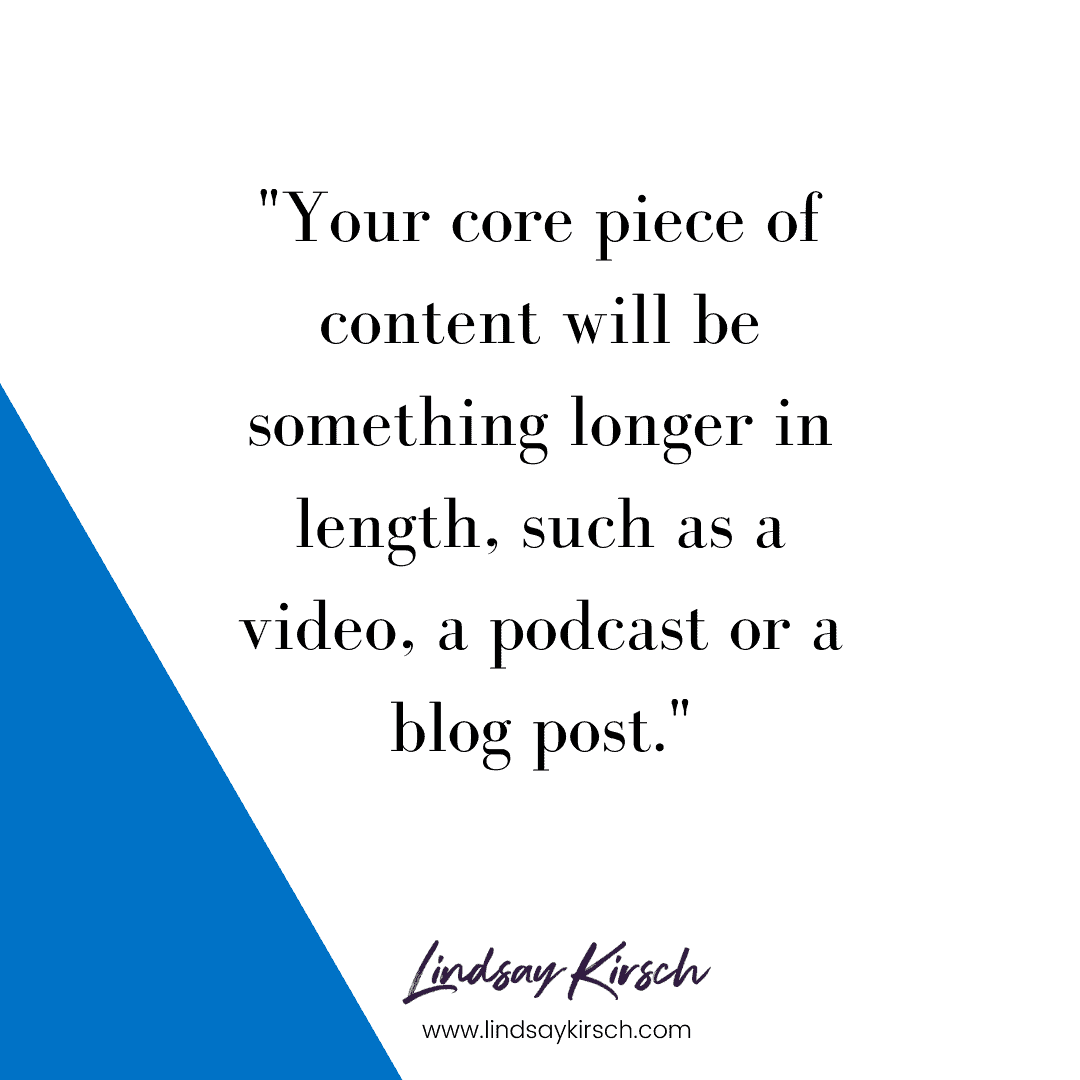 Why Your Website Should Be The Content Hub
Before jumping into the different ways you can repackage your core content, I want to emphasize why your website should always be your main content hub.
You are the sole owner of your website, and you have full control over it. Your site will live as long as you want it to. It'll never be shut down by another company, nor will it ever go out of style. Plus, it's immune to the rollercoaster algorithm changes brought on by social media platforms.
For these reasons, your main content should always live on your website.
You can then use other platforms to help drive traffic back to your site. For example, when you create a Facebook post or Instagram story, you should always include a call-to-action directing people back to your site. Your website is where your actual conversions will be made, so you'll always want to redirect people there.
The Content Splinter
Now that you've identified your core content and understand that it will live on your website, you can begin to brainstorm ways to redistribute that content among your other social platforms.
Let's say you chose video as your core content component.
Every week you post a new video, you will also transcribe it into a new blog post for your site. Now you have video and written forms of your content. You can then pull different quotes or create graphics from that blog post, which you can share on Instagram and Facebook. You can even take the audio portion of your video and make it into a podcast.
You've now taken a single video and turned it into four separate pieces of content to be shared on different platforms.
The main takeaway here is that basing your social posts on a single piece of content makes your overall message more coherent. Rather than posting 10 different posts without any clear motive, you're promoting your core piece of content with the goal of directing people back to your website.
Why Consistent Content Matters
The next step in creating a solid content strategy is to keep it consistent. Once you've identified your core content component and the different ways you're going to share it, you want to make sure you're doing so on a consistent basis.
Ideally, you're creating your core video, podcast, or blog post weekly. Since everything else is based on that core piece of content, it becomes easier to know what to post on your other channels once your main content piece is published.
Pushing out consistent content will keep you at the top of your customers' minds. You'll begin establishing authority over the topics you're posting about. The more your audience sees you posting about a topic, the more they'll view you as an expert on that topic.
Your customers will soon know to come to you for help on that particular topic, whether they saw you posting about it on Facebook or in one of your emails.
It's also worth mentioning that several platforms including Instagram and Google value consistency. In fact, Google Analytics will reward websites that are consistently posting new blog content on a regular basis by increasingly showing your content to those who are searching for it. It's a win-win situation!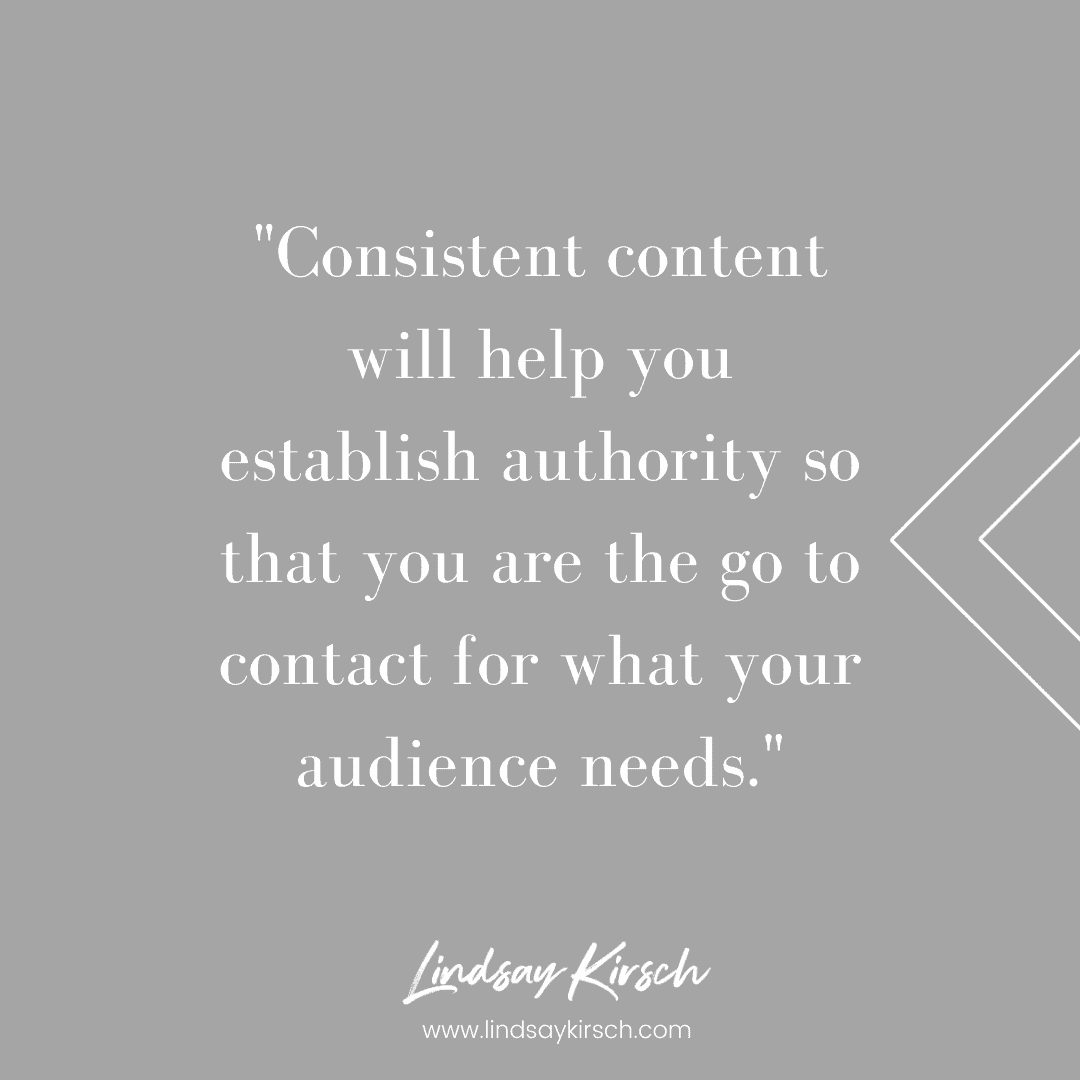 You Don't Have To Create all of the Content at Once!
Now, I know that all of this can seem a bit overwhelming. There are so many different ways to splinter your content, and just as many platforms to do so.
The best way to tackle your content strategy is to take it one step at a time.
First, identify what your core piece of content will be. Remember that it should be long-form and live on your website. Then, choose one way to splinter this content out. Try planning this out a month ahead of time in your content calendar.
Once you've nailed down that one splintering strategy, add another. As you find additional ways to share your core content, you can go back to existing blogs and videos and share those, too. Many companies have noted that updating old content has brought back great results.
When you fine-tune your content strategy, everything else begins to fall into place. I personally went from posting 20 to 25 blogs to over 50 in one year once I worked on my own content plan. It may take some time. But soon you'll see that having a solid content strategy makes knowing what the heck to post on social media a whole lot easier.