The best way to begin building an online reputation is to start a blog.
Creating a blog is increasingly important in this day and age when a social media algorithm update can flip your customer reach overnight.
When you start a blog, you're the sole owner of that website. No social media update can mess with your readership! What is online reputation without a solid, algorithm-proof place to build it?
Your blog can serve as your living, breathing content hub. You can continue to attract readers with a single blog post for years on end. And every visitor that lands on your site is an opportunity to build up a positive reputation through your content.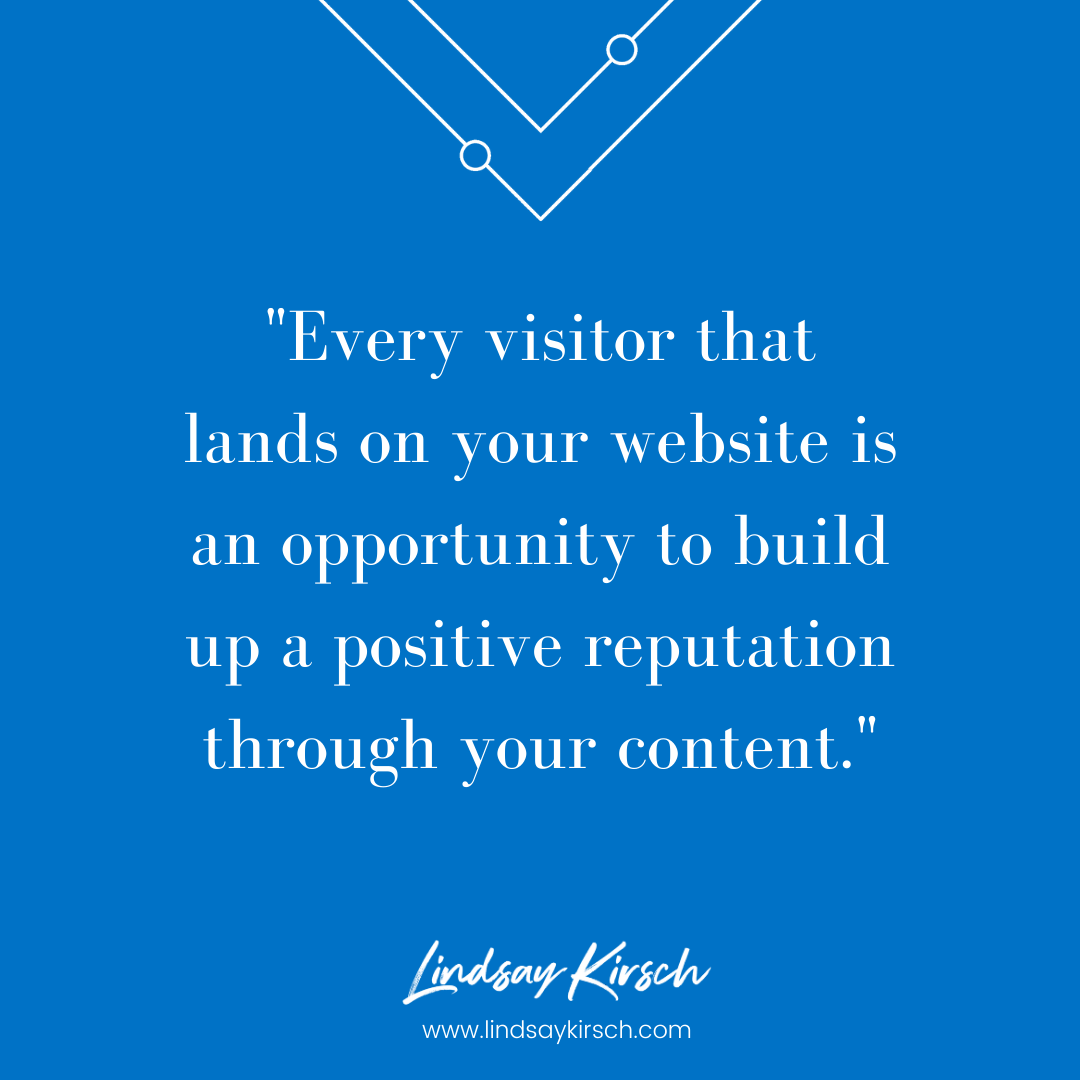 What Is Online Reputation?
If you're wondering what is online reputation and how your blog can help manage your online reputation, you're on the right track.
Your online reputation is based on the relationships you've built with your readers, social media followers, and customers.
I'm a firm believer that your blog is the No. 1 place to begin building this relationship.
It's a great place to establish the first contact with your readers, as they can silently browse through your site and get to know you with no commitment. Beyond this, your blog can secure a long-term audience through SEO strategies, as well as help you map out a successful social strategy.
Here are three reasons why your blog is the best place to build your online reputation.
Your Blog Is Your Relationship Headquarters
Your blog is the one place you have full control, where you can easily manage your online reputation with readers.
This is why I like to call your blog your "Relationship Headquarters."
No social media algorithms or system updates can impact how your blog content is viewed. You set your own display settings. You write the content. You set the rules. No system will ever swoop in and take that away from you!
SEO Is A Long Game
What is online reputation if your posts die off after a day or two? Your blog has the potential to reach customers for a much longer time period than social platforms like Instagram.
Once you begin focusing on SEO (Search Engine Optimization), your posts will continuously be read far beyond their publish date. As long as your posts are ranking on Google, you'll always reach new readers.
This differs from posting on social media platforms that are built around immediate engagement. A social media post may die off after a day or two. A SEO-optimized blog post, on the other hand, can continue to show up in Google searches for years on end.
SEO success doesn't happen overnight, however.
As you consistently create valuable content and grow your blog, your visibility will increase over time. This opens the opportunity to build your online reputation with a bigger and bigger audience.
If you're in it for the long-run, content creation is never a failed investment. In fact, 70% of marketers say they focus on content marketing. Creating valuable content is one of the best ways to organically attract new customers, especially through your blog.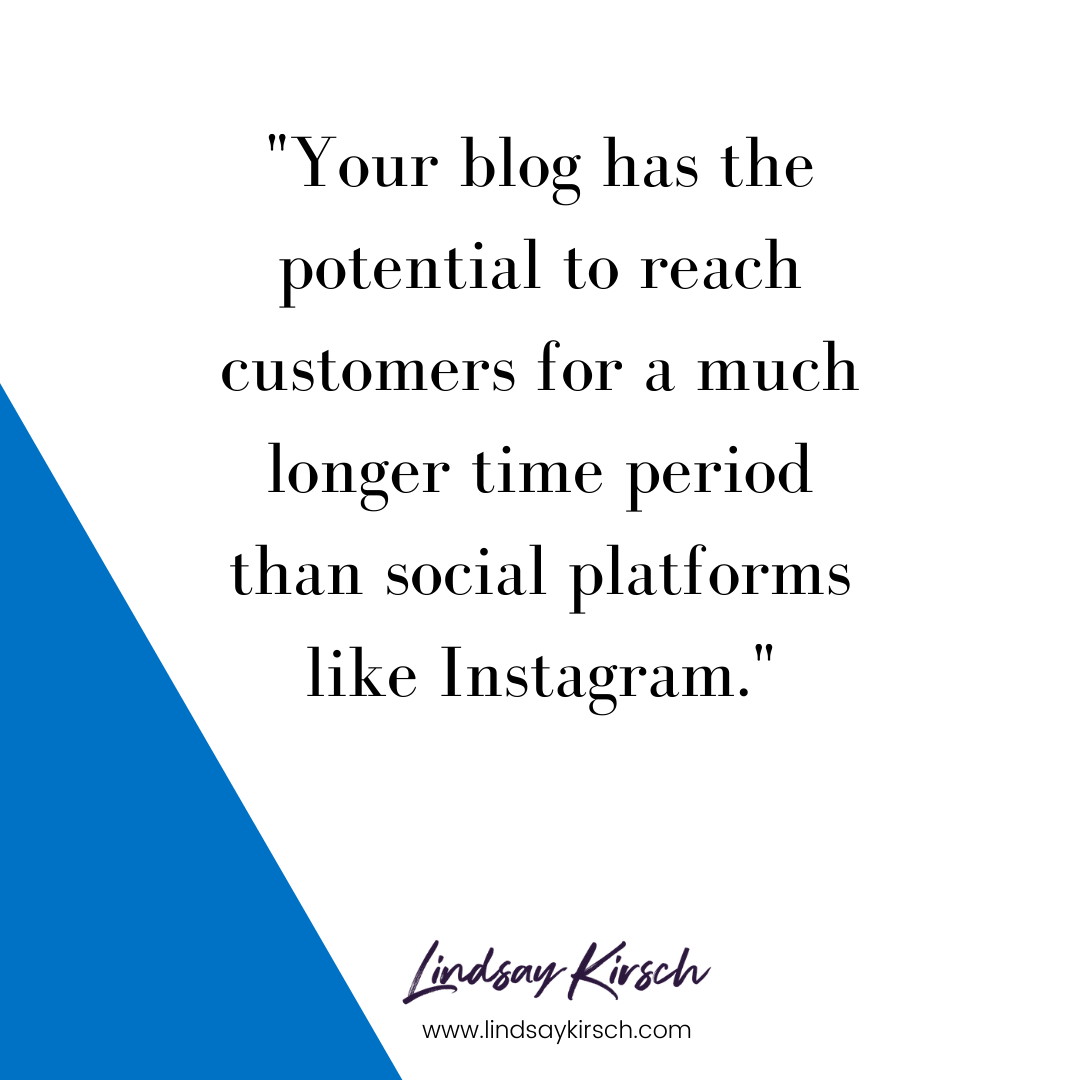 Your Blog As A Content Hub
Seeing how valuable blog posts can be, it makes sense to make your site your main content hub.
Why not build a social strategy based on your blog's content calendar? Your blog content can be splintered out over all your social media platforms, as 94% of marketers do.
I often see people post on social media without ever directing their audience back to their blog. I believe the opposite should happen: Your blog should drive your social media content.
I understand that this strategy may be tricky for some, especially when your social posts get more likes and comments than your blog does views.
It's important to remember, however, that social media is a short-term strategy. Immediate engagement doesn't always translate into long-term growth.
If you look back on an Instagram post from a year ago, you'll find that no one is engaging with it anymore. A blog post, however, will be clicked on for as long as it's ranking on Google.
How Your Blog Drives Your Online Relationships
I call your blog your Relationship Headquarters for a reason.
Your blog is a great way for a new lead prospect to get to know you without committing to anything. Visitors can anonymously browse through your site, for free, simply learning about you and your business.
Eventually, once that reader becomes comfortable enough, they may choose to join your email list. Ideally, you've set up a few different offers enticing readers to enter your funnels, such as a weekly newsletter sign-up, free resource, or webinar.
After a reader has joined your email list, you can build out your relationship with them even further. That reader now receives your updates, which will strengthen the online relationship you've already begun building with them on your blog.
Your welcome sequence is another opportunity to strengthen that relationship. It's a chance to further introduce yourself, your brand, and what you offer.
Meanwhile, you're just blogging on the back-end, gaining new contacts without ever having to approach them.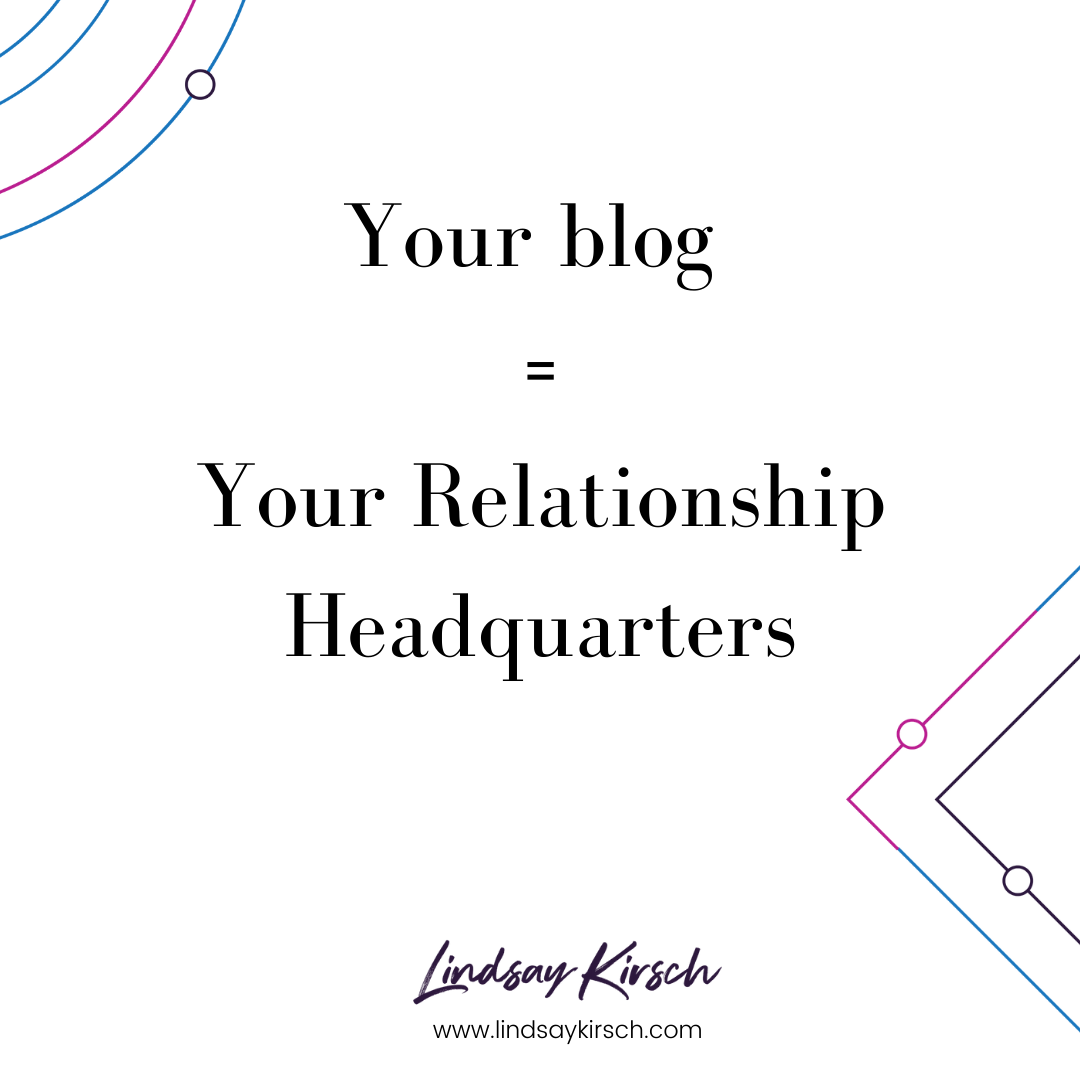 Using Your Blog To Convert Readers Into Customers
Your blog is also an excellent place to generate new leads.
When someone lands on your page, they're already interested in the type of content you've written. They're more likely to sign up for whatever free webinar or resource you're offering than someone who accidentally found your Instagram post on the Explore page.
I believe this kind of organic relationship-building is more valuable than targeting potential customers with an ad. A blog allows readers to slowly familiarize themselves with your business, rather than targeting them with a blind offer.
It's a slow and steady way to build an online relationship with a reader who's genuinely interested in what you're all about. I believe having a blog not only helps you generate more leads but also converts more readers into paying customers in the long-run.
What is online reputation without a blog? Hard to build!