If you've been researching marketing strategies for your business, it's no doubt that you have heard someone say, "build your email list" or "the money is in your list!" But what exactly does this "list" have to do with your business at all?
Email marketing may feel like a daunting task. After all, you are already plenty busy running your business and not necessarily needing another thing to do… especially one that involves learning some new tech.
But here's the deal – email marketing isn't going anywhere and remains one of the best ways to reach your audience — and it boasts a whopping 42% ROI.
If you are looking to create steady, long-term growth in your business, email marketing is a tactic you should be implementing.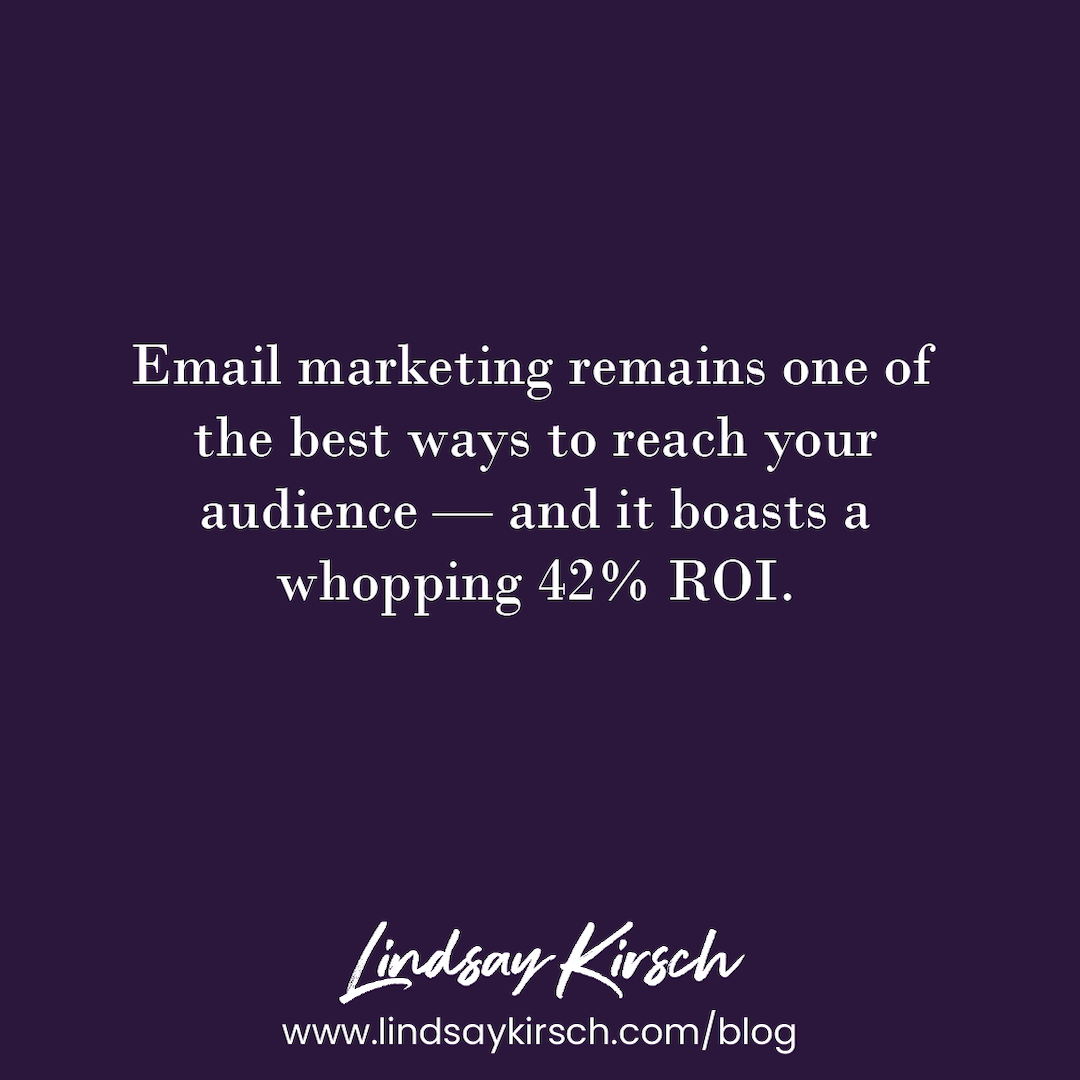 Now let's review – what is email marketing?
Email marketing is one of the earliest forms of digital marketing. From back in the days of dial-up internet using Prodigy and AOL email has become a powerful tool to communicate.
Email marketing allows you to create and send a targeted message to a contact, or group of contacts, building relationships with your customers. Combined with other marketing initiatives, email marketing can be a very powerful tool.
Just a few years ago in 2019, global email users amounted to 3.9 billion users (Statista, 2020). This figure is set to grow to 4.3 billion users in 2023 (Statista, 2020). That's half of the world's population.
So what does the world's email usage stats mean for businesses? Well, for every $1 you spend on email marketing, you can expect an average return of $42 (DMA, 2019).
Clearly, this is an opportunity you don't want to miss out on!
Overview of Email Marketing
Email marketing, in conjunction with marketing automation, enables you to send your contacts a variety of message types.
Whether it be value-based content, nurturing and relationship-building messages, or even promotional content email marketing is the most direct way to reach your audience.
While PPC advertising or social media can yield impressive results if done well, email marketing costs relatively little to get started. And with many of today's email automation tools, you can literally send emails while you sleep.
Email marketing typically provides the "funnel" between your public-facing digital channels (your website, social media) and your sales page. Visitors opt-in to your list (often in exchange for a lead magnet or "freebie"), then continue to receive targeted messages until they're ready to buy.
Using email tools, you can nurture your leads into conversion. In fact, email is 40 times more effective at getting new customers, compared to social media.
One of the best uses of email marketing isn't just for new customers. It's important for keeping existing customers engaged.
A strong email strategy consisting of post-purchase sequences, net promoter and ascension series will continue to affirm your brand and grow customer loyalty!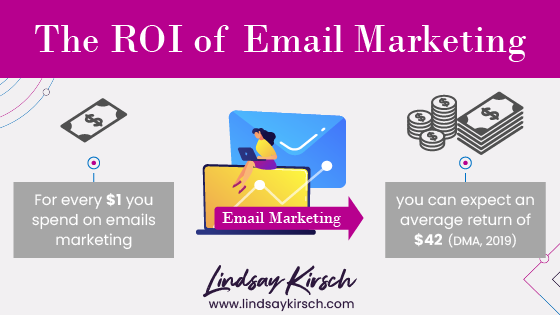 Why Email Marketing Is Important
You've probably heard that most consumers need to hear from a brand several times (research shows more than 6-8 touchpoints!) before they make a purchase.
The best relationships take time to develop. And unlike social media, where your messages fade into a sea of content, or a website, which can easily be forgotten once your visitor moves on, email gives you a way to keep in touch.
In fact, many consumers expect to receive emails from a brand — while they might balk at seeing promotional content while they're browsing Instagram or Facebook. One study showed that 78% of millennials would prefer to receive messages from brands via email!
Emails provide that little nudge that gets someone motivated to buy (or at least engage with your brand). It's because it's a message, directly to them, as opposed to a generic page made for the world to see. Psychologically, that triggers the good ol' FOMO that gets people itching to take action.
The key is to strike a balance between sales-y content and authentic conversations. It all comes down to strategy. Email marketing is not something you can simply throw money at.
How To Create An Email Marketing Strategy
The first step in any marketing strategy is to figure out the outcomes you want — and how your target customers will get there.
This is called the customer journey. The idea is to turn your cold visitors into red-hot leads, simply by appealing to their basic needs and concerns and providing them with the next best action.
To develop out your email marketing strategy:
1. Identify the Customer Journey
The first place to start developing your strategy is to map out the customer journey.
This includes identifying what first attracts and appeals to your potential customers and how they become aware of your brand. Once you know what your prospects are looking for, you can then offer them value (a case study, PDF, webinar, free trials, etc.) in exchange for their email address.
2. Create the Lead Capture
The lead capture is important because your prospect is exchanging their contact information in exchange for your valuable information. You want to ensure you hit it off to a good start!
Make sure to provide your prospect with exactly what you promised – and overdeliver on the value! From here, you will nurture your lead into the next best action in their customer journey.
3. Convert the Customer
From the initial exchange of information, you will likely continue to provide your lead with additional value and nurturing – helping to get to know you and your business better.
From here, you will offer the next best action – which is in most cases, your core offer. Email marketing can continue to provide your prospects with all of the information they need to know about your offer and the next steps to move forward with a purchase.
4. Ascend Your Buyer
What many businesses fail to do is to continue to move the customer forward on their journey, after the initial purchase. There is so much value in an existing customer – so continuing to nurture them via broadcast campaigns and ascension offers is extremely important.
Create Broadcast Campaigns
While your customer journey is important, broadcast campaigns will continue to keep your business at the top of mind in your lead's inbox.
Broadcast emails contain free, high-value content to your subscribers, often in the form of:
New content such as blogs and podcasts
Event announcements
Surveys
Industry updates
These emails have a similar goal: provide value, don't sell.
Let's face it: no one wants to receive nothing but sales emails from a brand. By mixing in relational emails, you show customers that you appreciate their views and interests.
This is especially important if you're running a service-based business. You must build trust — and consistent, value-rich emails are crucial to this.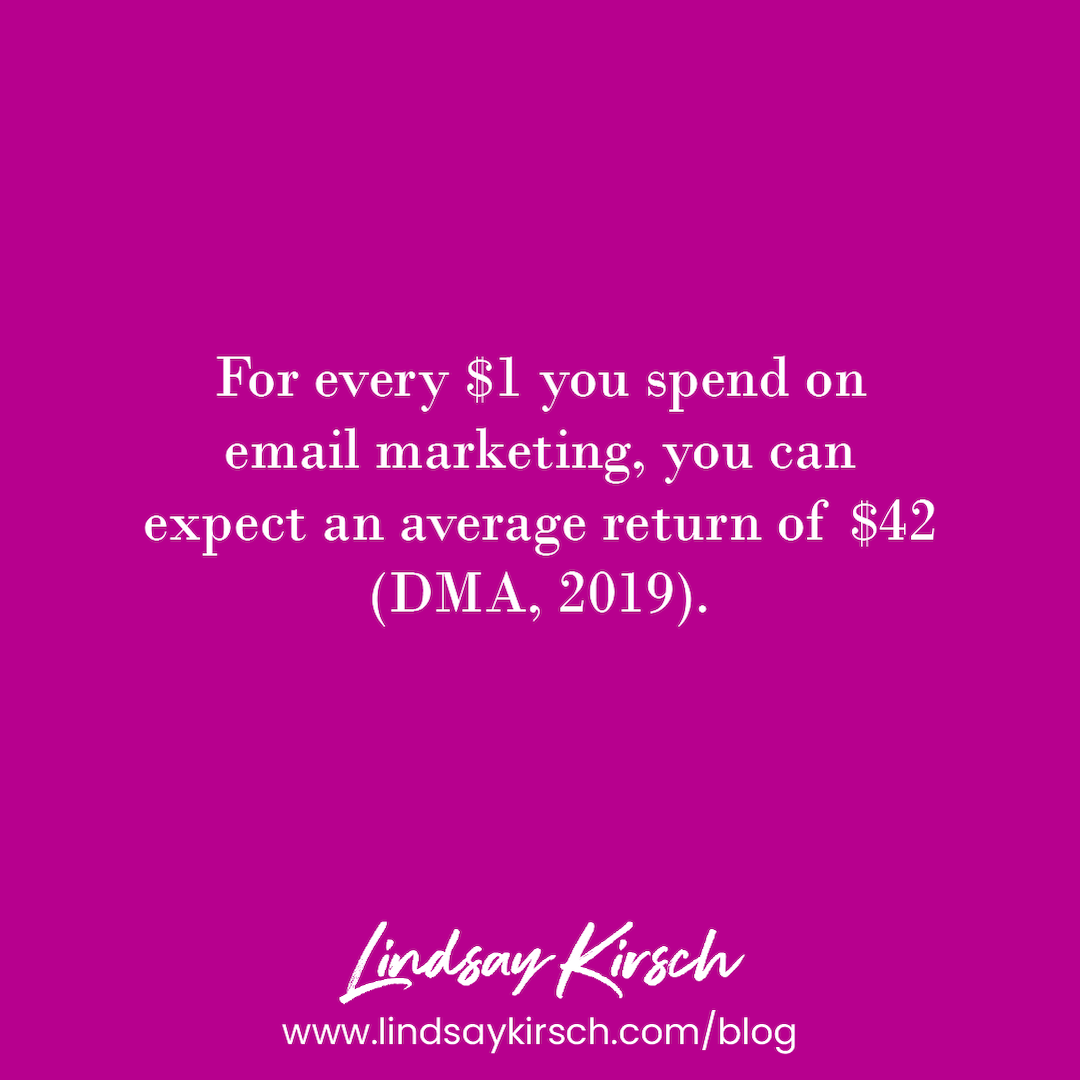 The Top 5 Email Marketing Tools In 2021
There are many, many tools on the market to help you make email marketing a success.
HubSpot: perfect for integrating your emails with your sales pipeline and social accounts, so you can really fine-tune your targeting. This platform is great if you really love diving into data, however, the price point is higher than most other tools,
ActiveCampaign: ActiveCampaign is perfect for the SMB that is building a "long game" email strategy. With tiered plans based on features and contact numbers, you can grow your account over time.
Klaviyo: a growth marketing platform that creates personalized experiences across email, text, and apps. Great if you offer a service that relies on heavy customization.
MailChimp: a classic email marketing provider, complete with helpful templates, automations, landing page integration, and other tools to help you grow and manage your lists. Perfect for newbies not ready to heavily invest financially in email marketing.
FloDesk: this design-focused email marketing platform features intuitive email builders, easy automations, simple signup forms, and integration with social media and other apps. Ideal for solopreneurs and small businesses who aren't ready for advanced automations but still want to send beautiful emails.
The Outlook On Email Marketing
Email marketing isn't going anywhere anytime soon!
In fact, nearly 80 percent of marketers have noticed that more and more people are engaging with their emails.
Email will continue to be important as we seek connections and value from each other.
The number of email users is higher than ever — which means there is no shortage of opportunity to use this powerful marketing strategy to grow your business.
It's Your Turn!
Are you leveraging email marketing in your business? Drop a comment to let me know!