What makes you click open an email? Many people might say the subject line.
Your subject lines in emails are the first impression contacts get and one of the most important factors in boosting customer engagement. A good email subject line entices contacts to click it open, but a bad one can do just the opposite.
Email marketing can be an efficient way to grow your online business: Two-thirds of customers have made a purchase as a direct result of an email marketing message. You want to make sure your email subject lines are capturing your contacts' attention and getting the job done.
In this post, you'll learn how to make your emails stand out in an inbox that's overflowing with emails from other online businesses, newsletters, and store promotions.
It all starts with your subject lines for email.
5 tips to create the best subject lines for email
If you're experiencing a drop in contact engagement, perhaps you can fix it by improving your subject lines. Your subject line is the first impression your contact sees before deciding whether or not to open your email.
Emojis, personalization, and power words in subject lines can have a big impact on your email performance.
Here are five tips to help you create better subject lines that boost your email open rates.
1. Use Emojis
Did you know that people are more likely to open an email if there are emojis in the subject line? If you take a closer look at your inbox, you may notice that emojis are increasingly showing up in subject lines for emails.
That's because these tiny graphics that we're accustomed to using for everyday messaging can actually influence people to open an email. A study by Experian found that email subject lines with an emoji increased open rates by 56%, as compared to text-only subject lines.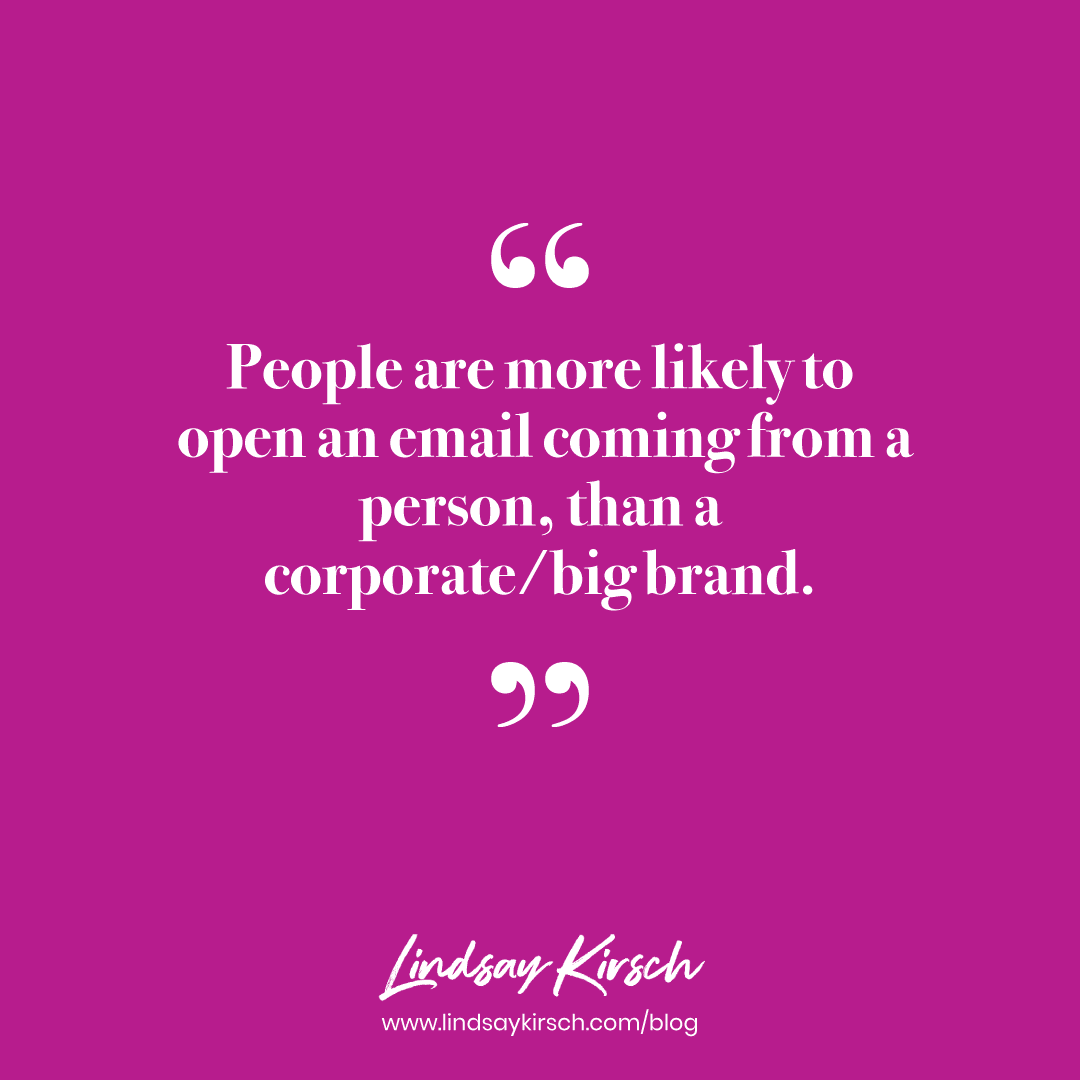 This is likely because emojis can convey emotion more than text-only subject lines as well as create visual interest.
An example use of emojis would be to announce a new product with a popping bottle of champagne in its subject line. Plus, that subject line will have an easier time standing out among the dozens of other emails in an inbox.
2. Add Personalization
Emails with personalized subject lines are more than 20% more likely to get opened, according to HubSpot.
You can personalize the emails you're sending by including your contact's first name in the subject line. Using your customers' first names for subject lines in emails makes them feel valued and more personalized. When they receive an email addressing them by name, they're likely to give it more attention than generic emails addressed to a mass audience.
If your email list is segmented by contact interests and behaviors, you can further personalize your subject lines based on those segmentations.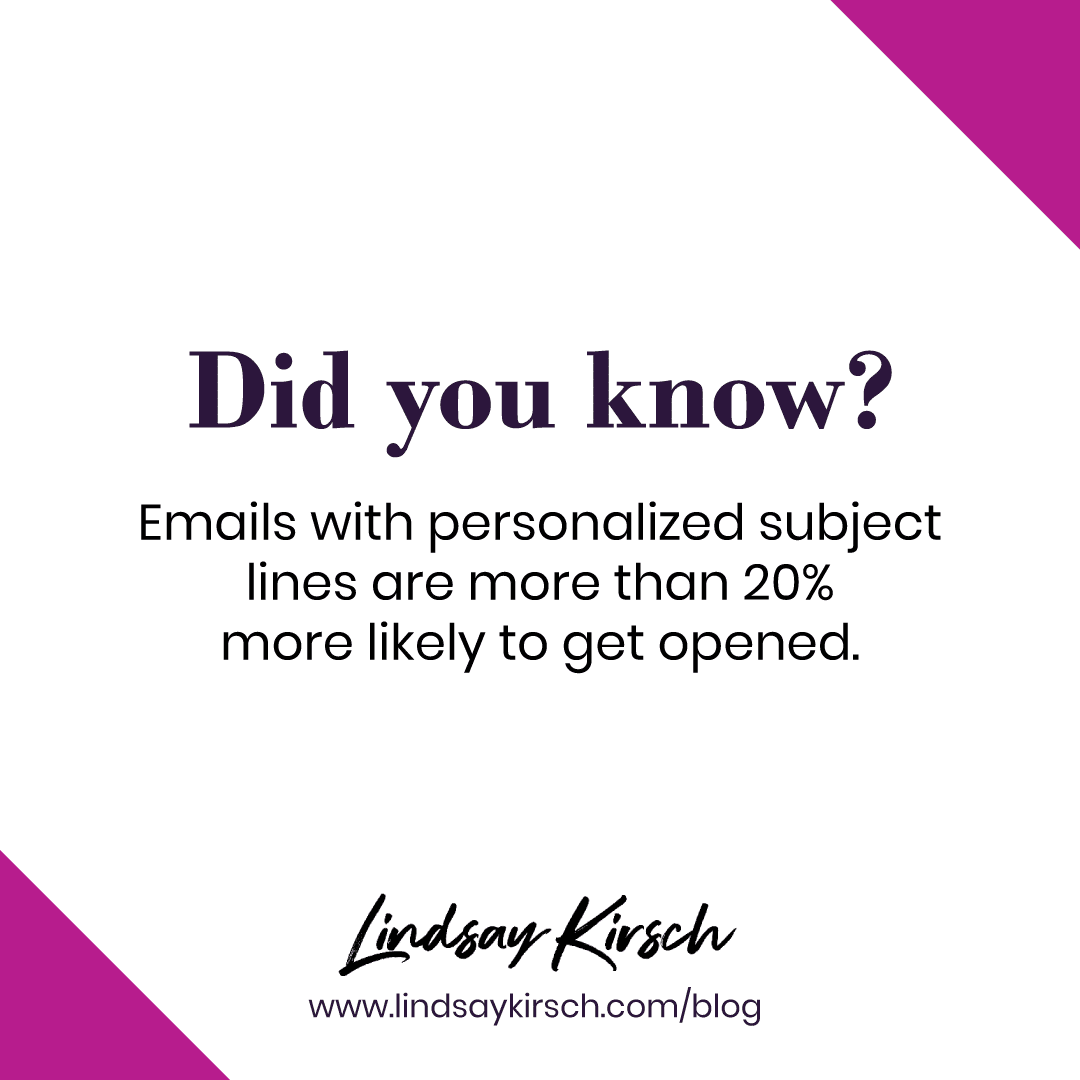 3. Include Power Words
Power words are strong words that are used in headlines and email subject lines to catch someone's attention. Think of sensational words like "brilliant," "mind-blowing," and "cringeworthy." These words provoke an emotional response and persuade a viewer to open, click, or continue reading.
You can play around with several different subject lines for email before choosing the best one. Write a list of power words you feel would appeal to your target customers and begin incorporating them into your subject lines.
4. Send From a Person, Not a Brand
Most people will say that the sender of an email has a big impact on whether they open it.
People like hearing from the actual humans behind a brand or company. They're more likely to open an email coming from a real person than a corporate entity, which is why your "From" line should read your name.
For example, when my contacts receive emails from me, they'll see the email was sent from "Lindsay Kirsch."
This is an easy tip to implement in your subject lines and begin boosting your open rates right away.
5. Leverage Preview Text
Your preview text can also lure readers into opening your email. The iPhone Mail app, Gmail, and Outlook will display the first few lines of text from the body of your email alongside the subject line.
This is a text preview of the content inside the email, but you can change it to make it more enticing for your reader. Instead, offer a short and to-the-point synopsis of what you're offering — and keep it to 50 characters or less.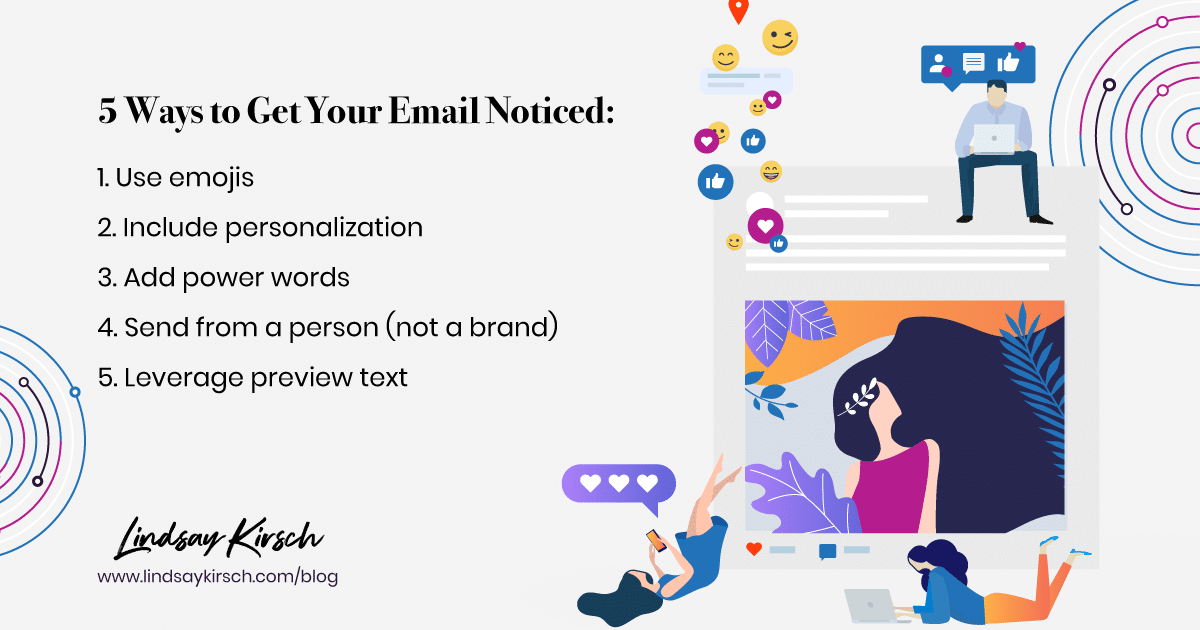 It's your turn to put these subject line tips into practice
Start to implement each of these five tips into your email subject lines. Include emojis, personalize your messages, write powerful subject lines, leverage your preview text, and ensure your name is in the "From" line.
One of the best ways to increase your open rates is by split-testing your subject lines. Split-testing allows you to send slightly different emails to your contacts to see which performs better. This a great way to test different subject lines to see what resonates best with your audience.
Now tell me, have you adopted any of these tips into your email subject lines yet? Have you noticed an improvement in your open rates?
Let me know in the comments below and share your BEST subject line!