If you're selling any kind of product or service on your website, you should be actively tracking your customer journey, also known as your sales pipeline.
ActiveCampaign makes it easy to do so. The platform's CRM system allows you to track every action your prospects take until they make their final purchase. Not only can you track this, but you can also automate follow-ups depending on where they stand in your sales pipeline stages.
The goal is to move your prospects along to the final purchase stage.
I often come across online businesses and entrepreneurs that have a single point of contact with a potential buyer — and then there's no follow up. Yet statistics show it takes an average of 18 calls to actually connect with a buyer.
If you're not tracking and following up with prospects, you're not converting. It's as simple as that!
In this post, you'll learn how to solidify your sales pipeline, identify your different sales pipeline stages, and how to use your ActiveCampaign workflow to convert more prospects into paying customers.
What Is a Sales Pipeline?
Your sales pipeline refers to your sales process broken down into different stages, from your customer's first point of contact to their final purchase.
One of the most common sales pipeline examples with minimal sales stages goes something like this:
Awareness: Your prospect first becomes aware of your product or service.
Engages: They engage with an offer on your website, such as completing an application for a consultation.
Completes the Call: They speak to you about your offer.
Purchases: They make the decision to purchase.
Each of the steps in your customer's purchase journey are known as your sales pipeline stages.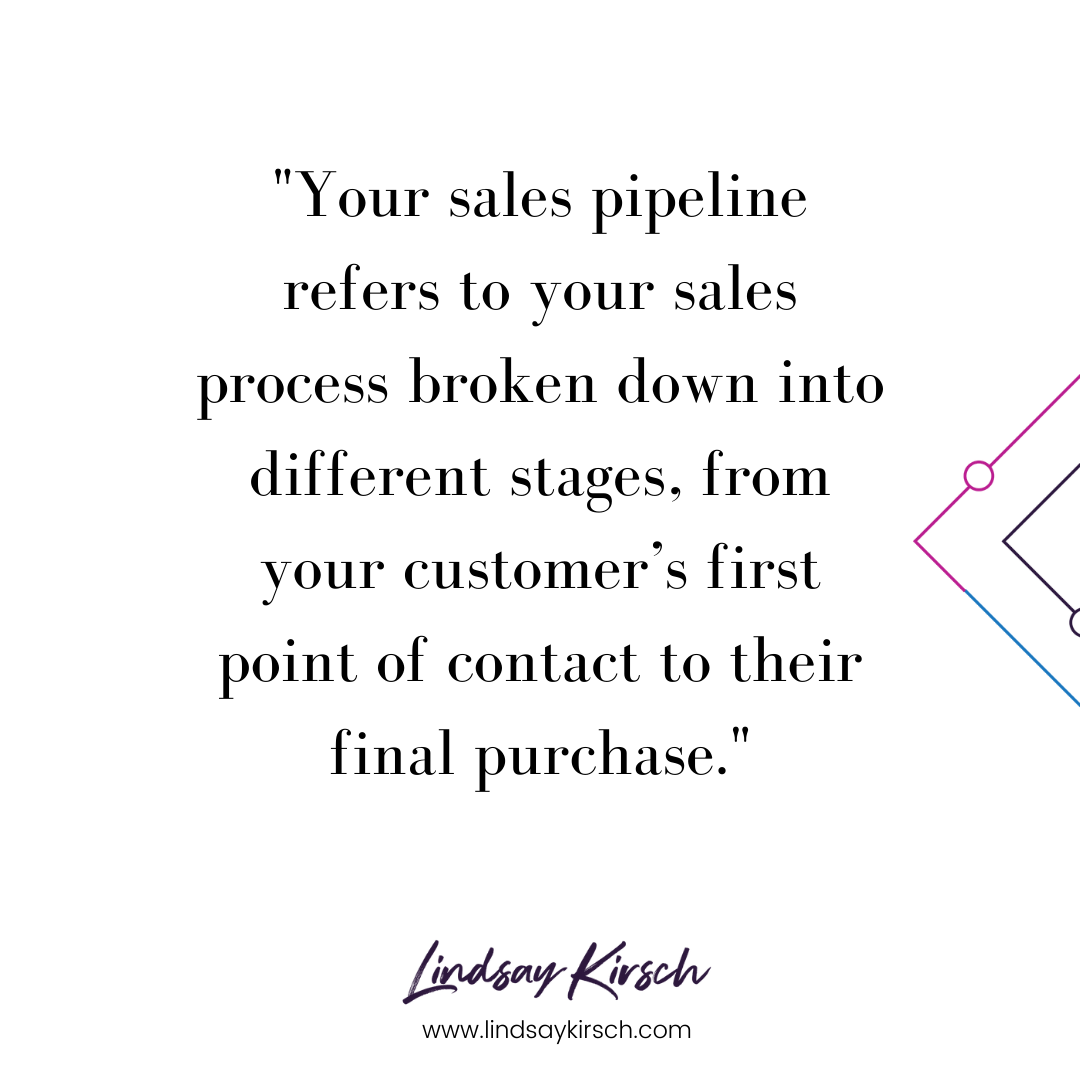 How to Identify Your Sales Pipeline Stages
In order to identify your sales pipeline stages, you must first have a clear sales process in place.
The sales pipeline template above shows that your process is based on the major steps it takes to move your customers from awareness to conversion.
For example, once your customer is aware of your service, perhaps the next step is to fill out an application. A series of steps may follow until finally, the customer is presented with an offer.
Once you've solidified your sales process, it's time to begin tracking your prospects as they move through your sales pipeline stages.
I personally like to attach a call-to-action — like filling out an application or scheduling a call — to each stage. This makes it possible for me to set up proper follow-up automation based on how my prospects react at each step.
Each stage in your pipeline will have a different conversion rate, which is why it's important to automate follow-ups for each.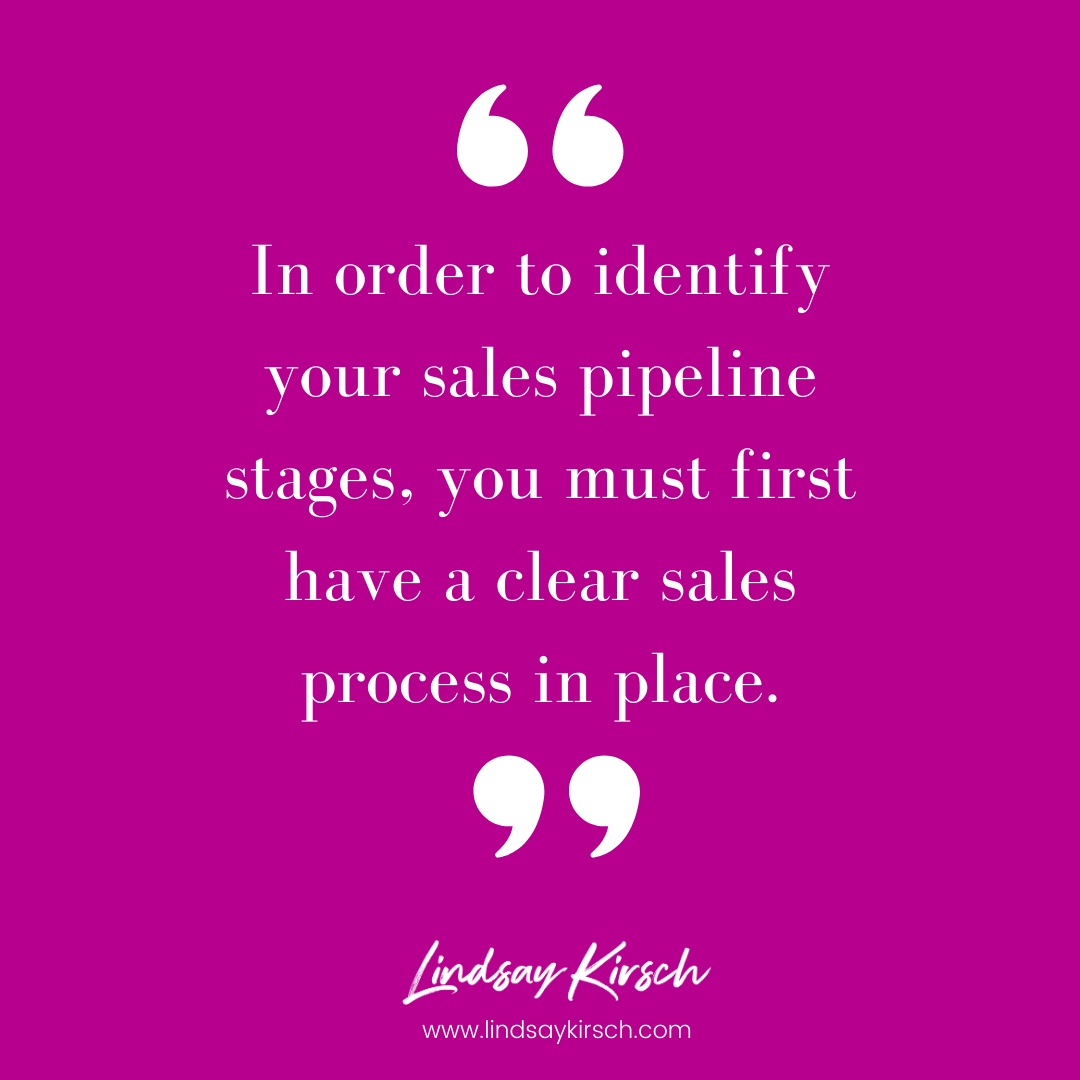 Using CRM To Follow Up With Prospects
The most popular sales tools include CRM, social prospecting, data and list services, email engagement, phone and sales cadence. For this post specifically, let's focus on my ActiveCampaign CRM review.
You're going to have people who never complete their sales journey. They may start your application and never finish it. Or they may complete the application but never follow through with the consultation call. This is when ActiveCampaign's CRM system comes in.
Your CRM system will track your customer journey and send follow-ups based on the actions they take at each stage.
ActiveCampaign's CRM features allow you to set up your sales process tracker with a series of automated follow-up options. You can also create several different sales pipelines, each with their own set of deal stages.
My experience with ActiveCampaign has always been positive, and I've found its CRM functions to actively move my prospects onto the next stage.
Let's say you have a prospect stuck in the application stage. Rather than never hearing from them again, you can set up an automation in ActiveCampaign to remind them to finish their application.
Your follow-ups don't have to be via email only. You can also send a text message or even a video message using a tool like Bongiorno. Plus, you can always reach out manually through an email or a call.
If the prospect still hasn't completed the application after following up, you could add them to a Facebook audience to reach them through ads.
You can repeat this for each and every stage of your sales process until the customer finalizes their purchase.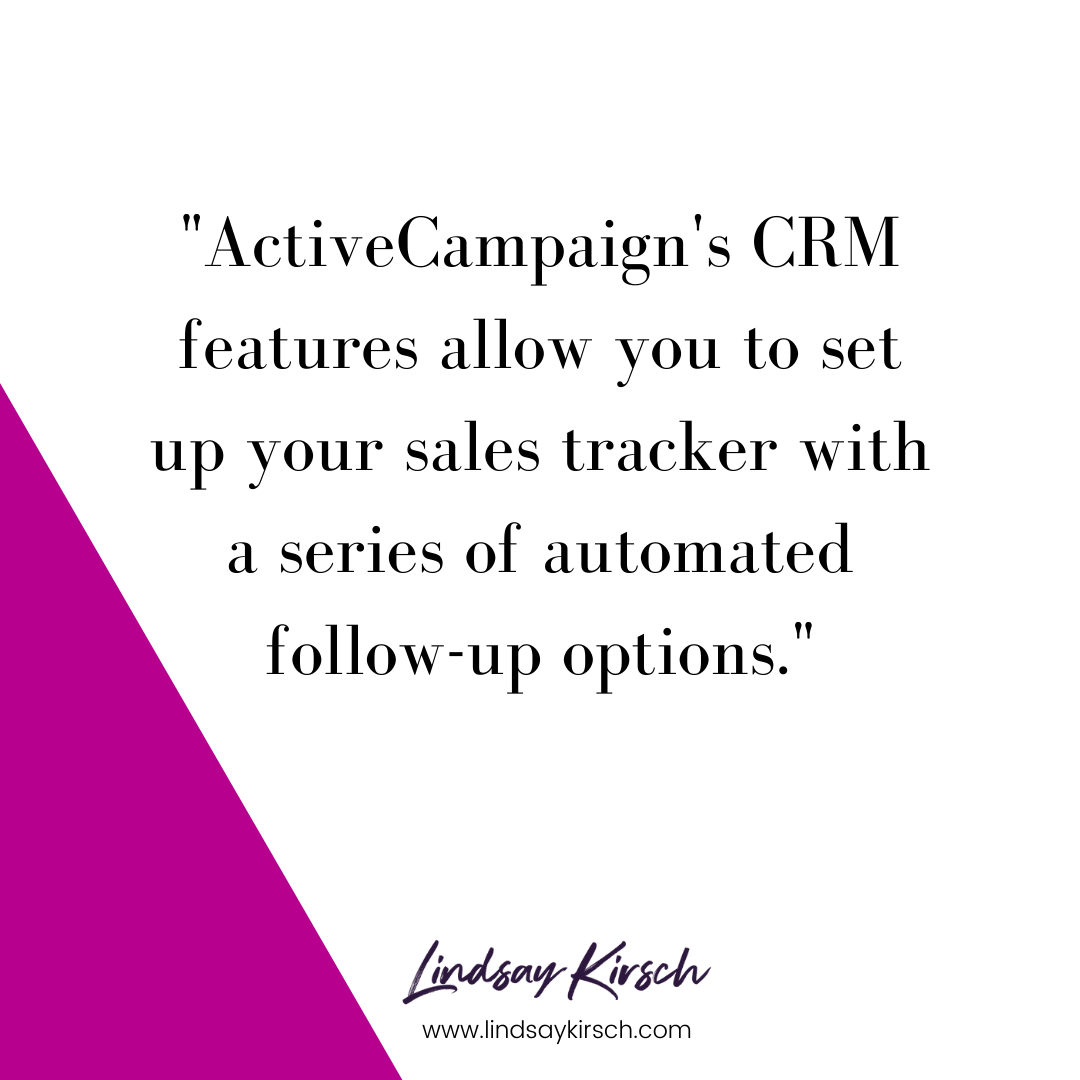 Tracking Your Sales Pipeline Leads To More Sales
The more actions you provide, the more opportunity there is for the prospect to move onto the next stage, which means the closer they are to closing the deal. Again, remember that it can take up to 18 points of contact to actually get a grasp on a buyer.
Regardless of your follow-up process, the bottom line is that effectively managing your sales pipeline generates more sales. Companies that have a clearly defined sales process achieve substantially higher revenue growth than those that don't.
Without a proper follow-up, the customer that was stuck in the application stage will likely stay there forever. That could lead to innumerous potential lost customers.
A better sales process will surely result in better sales, yet you can't get there without tracking it. By tracking each stage and then the individual actions within each stage, you can accurately measure and therefore fine-tune your processes.
Looking for more help with developing a sales process? Check out my friend Allison Davis over at Sales Done Differently and grab her free download to help close more sales, confidently.