Leads can come into your business from a variety of sources. Whether they be automated (via forms on your website, webinars, etc.) or manual (conversations at networking events), having a process for organizing warm leads is critical to your business.
What is the value of the business of a lead that you met at a conference and then lost their business card so that you couldn't follow-up?
What happens when you are overwhelmed with current project tasks and don't nurture your pipeline?
Not only can this have a devastating impact on your business (one day you have business… and the next you don't). It can produce unnecessary stress and anxiety.
In this blog, I'm going to provide a 3 step process for organizing warm leads, so that you can ensure business opportunities do not slip through the cracks!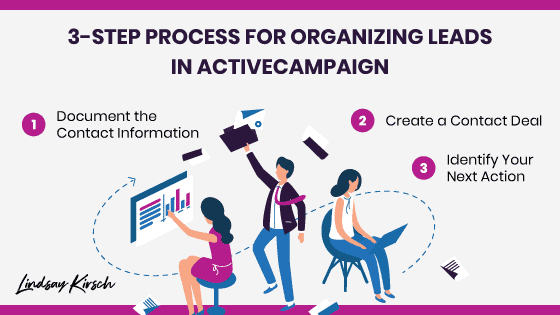 The Importance of a Lead
A sales lead is a person or business who may eventually become a client (Investopedia). Leads are important because they ensure a consistent, and often constant, the pipeline of opportunity.
As Leads work through your pipeline (otherwise known as your sales process), they will either become customers or not.
But documenting and tracking your lead acquisition and nurture process, you will be better able to predict and close business opportunities.
In fact, according to Harvard Business Review, companies with effective pipeline management had an average growth rate of 5.3, a 15 percent increase!
(For more information on building your sales pipeline, check out this article!)
3-Step Process for Organizing Leads
Document the Contact Information
In your tool of choice, document your new contact information, including first and last name, email address, phone number, and snail-mail address.
Track what products and services they may be interested in speaking to you further about.
I love to use ActiveCampaign for this process. Even though it is generally known for being an email marketing and automation tool, it has a great CRM functionality. In ActiveCampaign, you can create new contacts manually, enter in their contact information and track the different actions you have taken with the lead.
What's even better? When contact is manually entered into your ActiveCampaign account, and they are not assigned any lists they are not considered active contact. Therefore, they do not count towards your total contacts that are billable on your ActiveCampaign account.
Note: if you do decide to use this strategy – do not add your contact to an ActiveCampaign list, without explicit consent.
Create a Contact Deal
In your sales tracking system, create a new "deal" or opportunity for business under the contact. Include the estimated deal value, estimated close date, who is responsible for the sale, and any additional notes you may have from your conversation with the customer.
In ActiveCampaign you can add a deal to any contact or account. This makes it easy to track open opportunities, who is managing the opportunity and expected close dates.
Additionally, you can create a deal pipeline to track where each deal is in your sales process.
Identify Your Next Action
The most important step of any new lead is to identify and document the next action. In your system, add a follow-up task with a due date.
With my favorite tool, ActiveCampaign, you can create a task on a deal or a contact and assign it an ower.
This allows you to track all open tasks and next actions so that they never slip through the cracks!
Processes > Systems
While I love systems, processes will also have higher ground above any system or technology implementation.
In order for a system to work properly, there must be a process in place first.
The system simply provides a mechanism for working through and tracking, the process which will ultimately help you WOW! your customers in the long game.
For more information on organizing your leads, check out 5 Ways to Organize Leads Using a CRM.
Stay tuned! In an upcoming blog, I'll show you how you can add automation to help support your process for organizing leads.