If your marketing automation strategy feels like throwing spaghetti on the wall to see what sticks, it's time for a revamp.

Marketing automation is an effective way to help convert your leads into loyal customers that purchase over and over again — and in this article, I'll show you how.

Let's dig into the importance of making a marketing automation map and how it can help you convert more customers.
What is a marketing automation map?
A marketing automation map is a roadmap that details how your email and marketing automations will support your customer journey.

The customer journey refers to your customer's interactions with your brand from the first point of contact to their final purchase and beyond.

Your email marketing strategy should involve several different automated email series that'll help move customers along that journey. Mapping out your marketing automation workflow allows you to clearly define this journey.

Did you know that marketing automation can lead to a 14.5% increase in sales productivity? A solid marketing automation process map can help not only convert more customers but also turn them into loyal fans of your brand.

If you've never built a marketing automation map before, you can do so following my eight-step MOVEMENT strategy.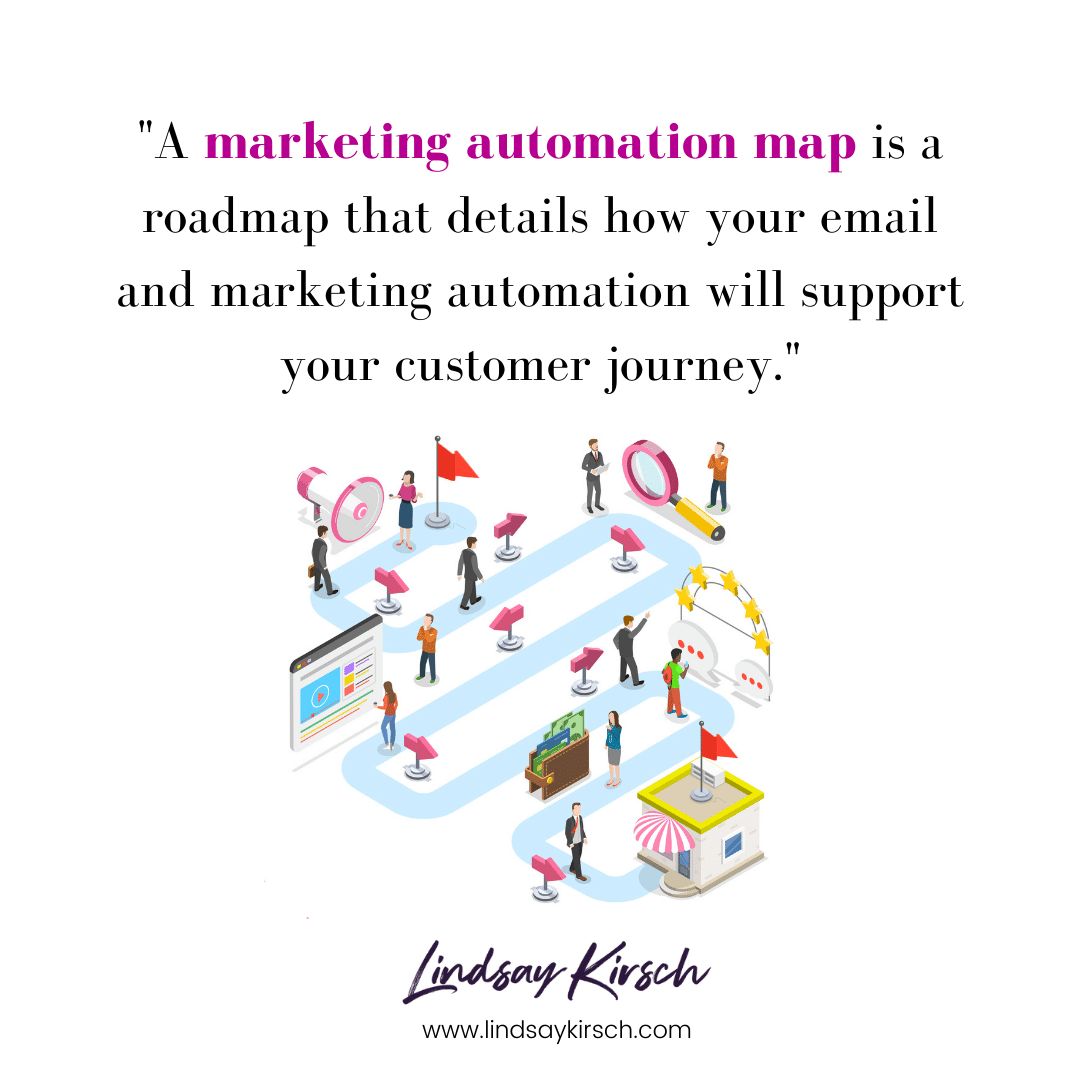 Mapping your marketing automation workflow in 8 steps
The MOVEMENT Method provides entrepreneurs with an easy-to-follow roadmap to build the best customer experience possible. More importantly, it ensures you have the right automations in place to move your customers along their buying journey.
Step 1: Magnetize
The first step in mapping out your marketing automation is understanding how your contacts are finding your brand.

Magnetize refers to the first moment contacts become aware of you and your company.

Once you've put in the work on and offline — through search engine optimization, blogging, social media, podcasts, media appearances, referrals, etc. — your customers will start to organically find your business.

When they land on your website or your social media profile, you want to make sure you capture their attention.

Consider the following during the first step of your marketing automation map:
Do you have a content marketing strategy in place so that contacts can find you and your business?
Do you regularly participate in online groups, discussion boards, or masterminds where people might hear or learn from you?
Step 2: Orient
Next up in your marketing automation workflow is knowing how to capture a contact when they first engage with your brand.

Perhaps they've interacted with you via an online forum, group, blog comment, private message, or email. You should be actively encouraging these interactions.

Consider the following to get the conversation going:
Do you encourage conversation on your existing content with discussion prompts and/or responding to comments?
Do you regularly participate in group discussions in various online forums?
Step 3: Venture
The next step in your marketing automation process map is focused on the exchange of contact information. It's time to map out how you're going to convince a potential customer to give you their name, phone number, or email.

Brainstorm an incentive, such as a valuable free resource, for them to join your email list. Now you have a way into their inbox and can start building a relationship.

New customer automations to create at this stage:
Welcome series: What free content do you have available to share with your contacts? You should use a welcome series to further introduce your business.
Nurturing series: It can take as many as 10 touchpoints to convert a lead. Allow your new subscriber to tell you what topics most interest them. You'll then have a better understanding of what products and services to offer them.
Step 4: Exchange
The exchange stage is when your contact decides to give you their time or money.

Think about the core offer that you present to new contacts. During this step you will launch your core offer as a promotion to your new contact. If a lead doesn't initially purchase your offer, what's your follow-up plan? And if a lead does not purchase your offer over time, how do you down-sell them?

Automations to create:
Promotional series: A series of emails warms your contact up to your offer and moves them along the customer journey. You'll have a series of follow-up emails persuading customers to schedule a meeting or make an initial purchase with you.
Step 5: Momentum
The Momentum stage of your marketing automation map is all about ensuring customer satisfaction and success.

You'll use a series of post-purchase automations to ensure your customer is successful with the service or product they've just purchased.

Automations to create:
Thank you series: Thank customers for their purchase and get them excited about it.
Onboarding series: An informational series detailing the next steps your customers need to take to begin using your product or service.
Success series: An email explaining how to access and use the product or service they've just purchased.
Best practices series: A series of emails with tips and insights to help your customer achieve successful results.
Step 6: Enhance
Now you'll map out how to convert your one-time buyer into a repeat customer.

You'll do so by nurturing your relationship with your existing customer. Think about how you can provide them with additional value, and package that into add-on offers related to what they've already purchased. You should also consider customer-only discounts and promotions.

Automations to create:
Add-on series: Promotional series offering an add-on and upsell related to the product or service they've already purchased.
Customer-only series: A series offering an exclusive customer-only membership program or customer-only offers and discounts encouraging them to make another purchase.
Step 7: Nominate
In the second-to-last stage of your marketing automation workflow, you'll solicit customer feedback.

This will help you understand how well your product or service is serving your customers. It'll also provide you with valuable testimonials to use to attract future customers.

Automations to create:
Net Promoter series: This series will allow your customers to provide a rating on your products and services – and identify with being a promoter or demoter.
Testimonial series: Check in with customers after they've had your product or service for some time. Offer them a reward in exchange for reviews, testimonials, or feedback.
Step 8: Testimonial
In the final stage, you'll encourage your most loyal fans to promote your products and services to their friends and family.

You can organize affiliate partnerships, offer rewards for referrals, and organize contests.

Automations to create:
Referral automation: Encourage your customers to refer your company in exchange for some kind of reward, such as a free resource or special discount.
Affiliate automation: Show your customers how they can make money from becoming an affiliate partner and referring your company to others.

Now that you've been introduced to my eight-step method to building a marketing automation map, it's time to create your own.

Start building your customer journey and the automations that'll support it today.

Let me know if you have any questions in the comments below!