ActiveCampaign Integrations are one of the best ways to create brand cohesion between marketing and sales channels.
However, not all integrations are created equal. To create successful integrations, it is important to know what they are, and how different types work. Any tools you add to your tech stack should work smoothly and efficiently with any other programs you use.
While I will be using ActiveCampaign integrations as the primary example, these integrations can be utilized across a wide range of platforms to create cohesion within your business.
There are three main types of marketing automation integrations you can use to get started today.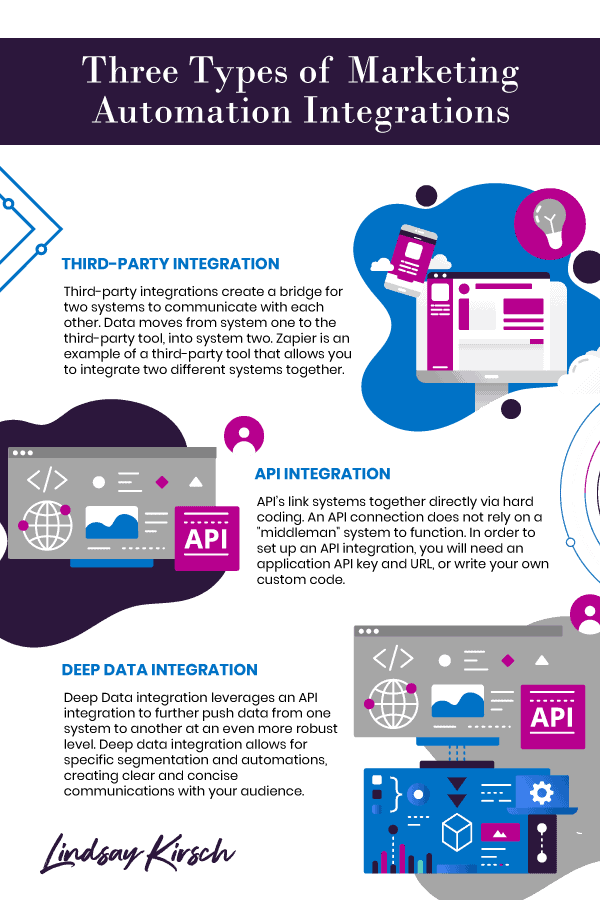 Three Types of Marketing Automation Integrations
Third-Party Integrations
One of my favorite ActiveCampaign integrations is Acuity Scheduling – it allows me to automate everything I need to create appointments online. To use this tool, I need to use third-party integrations to allow Acuity Scheduling to transfer data to ActiveCampaign.
Third-party integrations are a great way to create a bridge for two systems to communicate with each other. One really popular option is Zapier – the basic version is free, and is an easy way to get started with marketing automation integrations fast. You will have to upgrade to get the benefits of multi-step integrations.
PieSync is another excellent third party integrator, and, unlike Zapier, it can push data in both directions. However, it is more expensive to get started as there is no free version.
The main issue with third-party integrations is that if there is a problem, it is entirely out of your hands. In the case of an outage, your data won't get pushed, which causes a lot of problems down the line.
While third party integrations are a great starting point, and relatively easy to set up, they can be unreliable. When setting up my ActiveCampaign integrations, I have found other methods to be more dependable.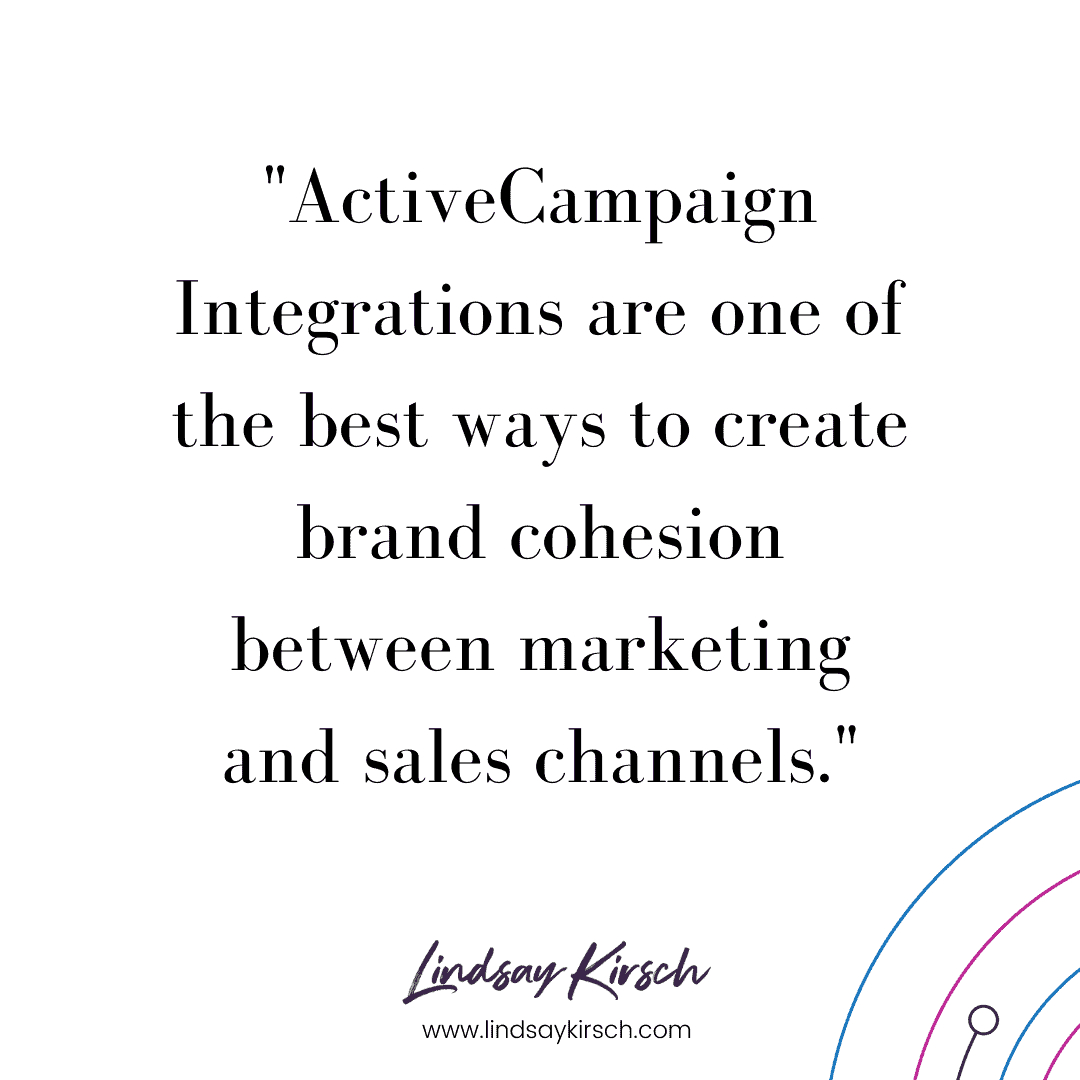 API Integrations
An application programming interface, or API, is responsible for creating channels of communication between data, applications, and devices. It is a piece of coding that pushes data in response to triggers.
Similarly to third party integrations, APIs create a bridge between one system to another. However, because it is coded into your system, it doesn't rely on a third party to function. API Integration can really amp up the power of your marketing automation!
API's are very reliable in my ActiveCampaign integrations and are surprisingly easy to set up. To get started, you first need to ensure the systems you are using can be connected by API. Then, you need to plug a "secret key" into the tools you are integrating.
For example, I use API's to link webinar platforms into my ActiveCampaign integrations. This way, I can collect data on how attendees are interacting with my content – and I can create targeted email campaigns in response. The dialogue between the webinar platform and ActiveCampaign allows me to collect the data I need to provide my customers with the services they are looking for.
API integrations may seem scary, but they are surprisingly easy to work with. Once they are set up correctly, they will push data between systems easily. Plus, they are one of the most reliable sources of integrations I have worked with.
Deep Data Integration
As the name suggests, Deep Data integration dives deeper into the data, allowing more custom information to be pushed between tools.
Deep Data worked really well when incorporating Spiffy Checkout into my ActiveCampaign integrations. It tracks customer e-commerce data directly to the contact record without a third-party tool. This means I can be more specific in my segmentation and messaging, promoting higher audience engagement. I could still do this without Deep Data, but it would mean logging into each platform individually. Deep Data saves time by integrating all the information I need into one place.
This method of integration can be slightly more involved, but there are plenty of resources to help you get started. With Deep Data integration, you will get all the benefits of API integration, and then some. The information provided by deep data allows for more specific segmentation and automations, creating clear and concise communications with your audience.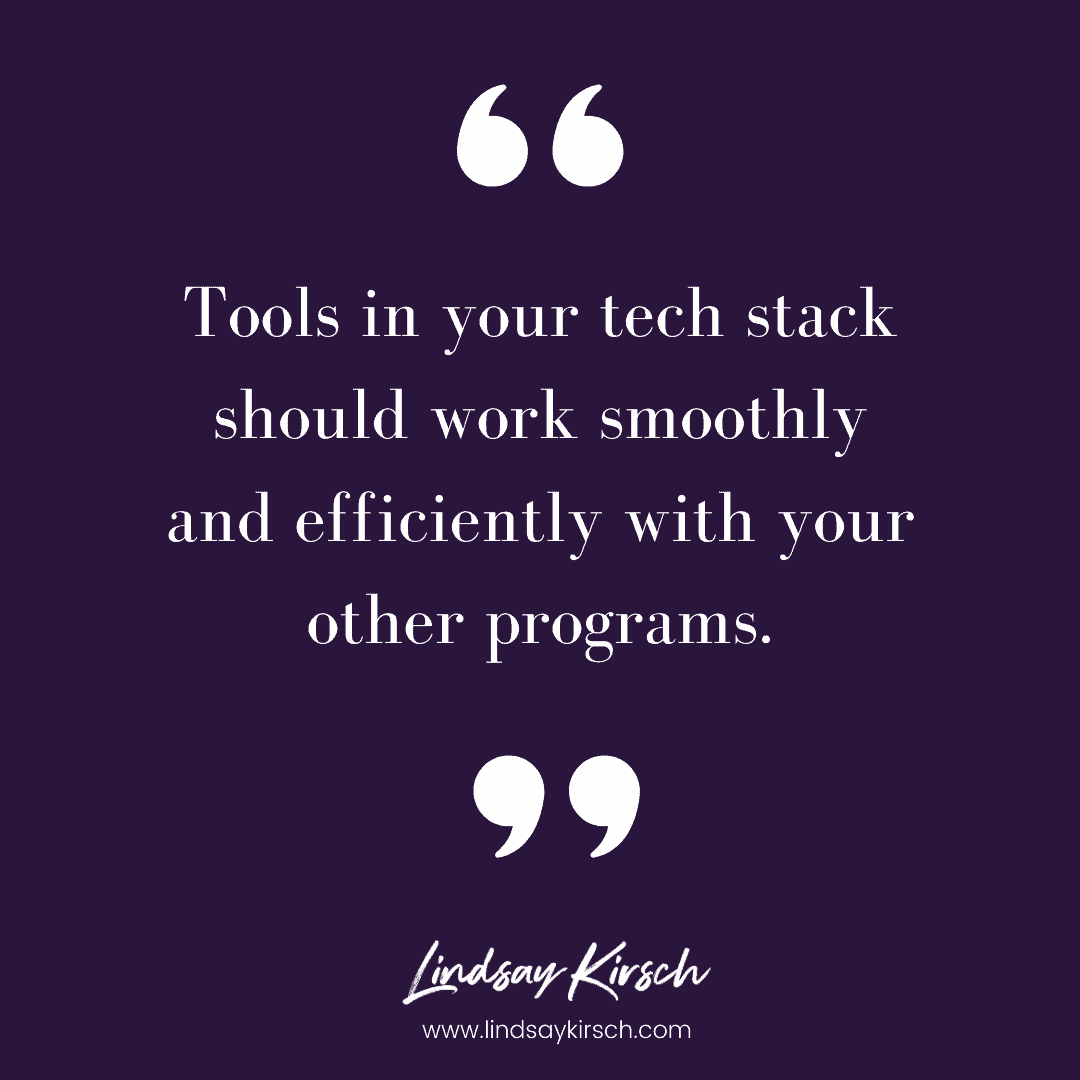 Not All Automations Are Created Equal
There are a myriad of options for you to utilize with your ActiveCampaign integrations. These are just three I have used, and are a great place for you to get started.
What kind of integrations do you use and love? Let me know in the comments below!