This past week, Apple announced its latest update to iOS. This includes extensive updates to the software to allow users to more carefully protect their privacy and information.
With this update, privacy protection stops senders from using pixels to collect information from the user – including email opens, IP address, and other location identifiers.
How does this update impact email marketing and automation?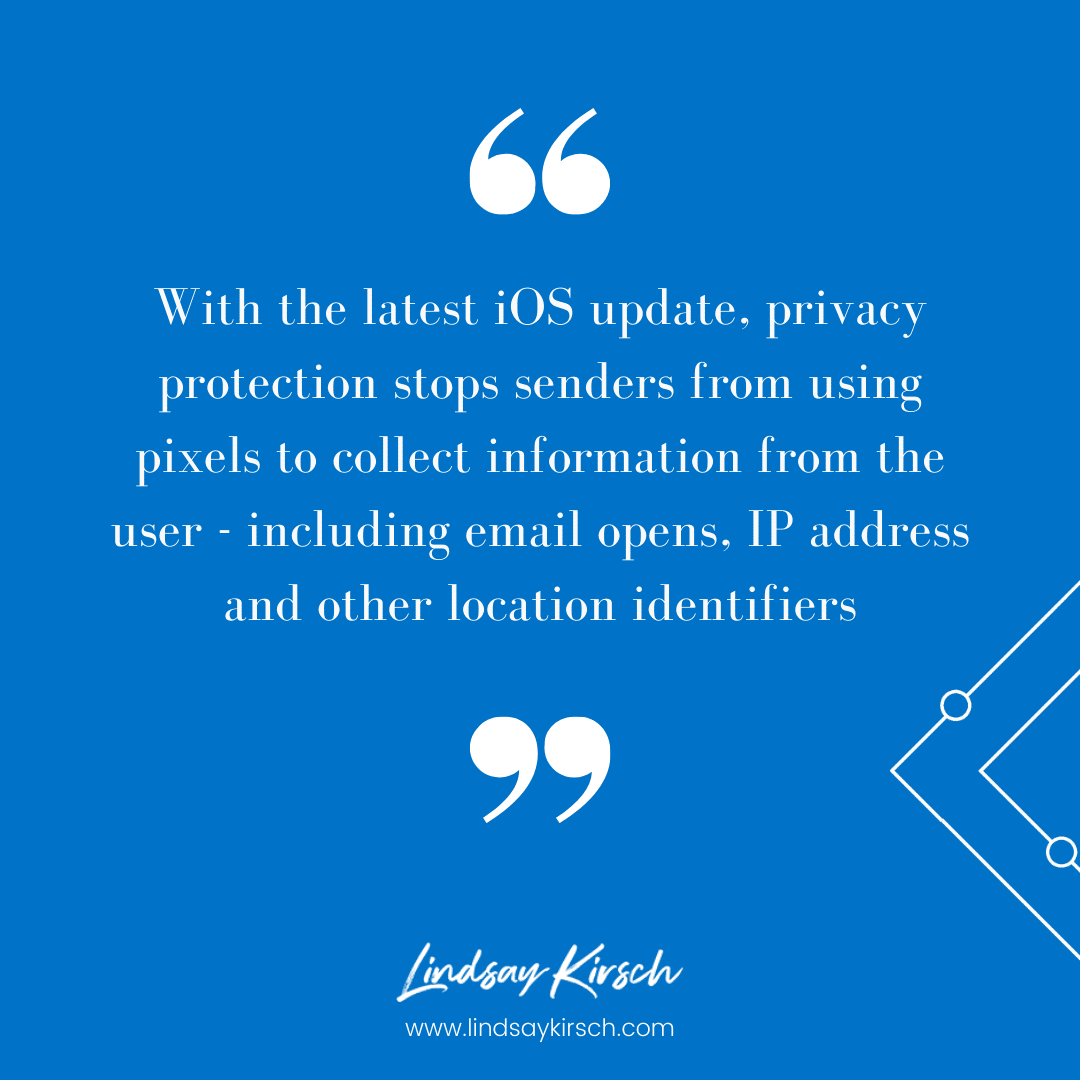 How iOS Updates Impact Email Marketing
Open rates for iOS users will be inconsistent and unreliable.
Because privacy protection allows users to mask their email addresses and block pixels, open rates will become unstable.
While you can still segment and track your contacts based on email provider (depending on your software service), the metrics for iOS users will be misleading. Open rates should now be just a minor consideration in your overall metrics dashboard and engagement should focus on clicks and attribution, instead.
(For more ideas on how to increase open rates, see 5 Tips to Boost Email Open Rates and How to Create Subject Lines that Get Your Emails Opened).
Clicks are more important than ever.
Because open rates are now variable, click rates are more important. Click rates should now be the main driver for engagement tracking and re-engagement campaigns because click tracking will not be blocked.
(For more ideas on how to increase click rates in your emails check out How to Increase Email Campaign Click Rate)
Attribution must be measured.
Attribution is the measurement of what emails are driving specific conversions or sales. While most marketing systems are likely to use a multi-channel approach (think social media, content marketing, SEO, and email marketing), being able to track conversions to emails is a must to measure your ROI.
(For more ideas on how to track attribution directly in your software, see Spiffy Checkout)
DKIM, SPI, and DMARK still matter.
DKIM stands for DomainKeys Identified Mail, which is an email authentication method. This method is used to detect spoofed, or fake sender email addresses. It is also another way to link an email back to a domain.
The biggest reason why DKIM is so important for your business is because spoofing emails from trusted domains is a popular technique for phishing campaigns, and DKIM makes it harder to spoof emails from domains that use it.
By default, some email providers such as ActiveCampaign will manage the DKIM and the Sender ID for you. However, it's best practice to set this up on your own domain as your email list grows over time.
Watch user reported spam rates and IP reputation in Google Postmaster.
Google Postmaster is a tool that allows you to specifically track and monitor how Google views your emails. This includes user report spam, your corresponding domain reputation, delivery errors, and more.
Google Postmaster is FREE and easy to set up! Since GMail accounts for over 1.5 billion email addresses, you can anticipate that the feedback you receive from Google is reasonably standard across the board of all ESPs (including Microsoft – unfortunately Microsoft does not have an equivalent tool).
Monitor engagement with Deliverability Dashboard.
Another way to track deliverability is to monitor how your contacts' engagements with your emails.
While you're able to check open and click rates within your email provider, Deliverability Dashboard will help you monitor and track engagement over time. Deliverability Dashboard gives insight into how your contacts interact with your emails during their first 30 days, after 90 days, and even a year later.
For more tips on improved email deliverability see 5 Ways to Track Email Deliverability.
Track Your Email Metrics
As long as you continue to track your email metrics and know your baselines, you will be able to continue to effectively leverage email marketing in your business.
Tracking these metrics will help you understand exactly what's happening with your email marketing and allow you to continuously make improvements.
Let me know!
Have you seen any drastic changes in your email marketing metrics since the iOS update? Drop me a note in the comments below.