A client recently came to me because they were having a serious problem in their business. Her customers were getting really frustrated with her and her team. Although she had 5 start reviews for her services, the team's slow response time and overall lack of customer support was dragging her reputation down.
Now, my client's customers LOVED working with her; she had a dynamic personality and was a true expert in her field. So much so that, most customers were willing to oversee this "minor" issue… but my client knew she could do better and didn't want to disappoint her customers or ruin her reputation.
She wanted her clients to feel that she was there, supporting them, every step of the way. And as an ActiveCampaign customer, my client knew she had a tool in her belt that could help her out… yet, she had barely touched the surface of leveraging systems to optimize her processes.
When my client came to me, she was feeling a few different emotions. On one hand, her business was doing amazing, and she didn't want to get bogged down with the little things that were catching up to her.
This client never wanted a customer to feel upset over something so simple as getting an appointment scheduled.
She really respected herself and her team. They had core working hours that they stuck to. But the business was growing and they just couldn't keep up with the flux of incoming clients, and managing existing ones at the same time.
So she came to me, seeking help to improve what was happening on the back end of her business so that she could continue to be awesome on the front end. Here is a case study on how we improved her customer relationships with marketing automations.
The Overwhelmed Entrepreneur
As a seven-figure serial entrepreneur and media personality, this business owner is a highly sought after tax, personal finance, and small business expert. She managed a team of multiple employees across her different companies.
This business owner is also very engaged in her community, assisting with multiple non-profit endeavors.
Always on the go and moving and grooving, she doesn't let anything slow her down! She is strongwilled and focused on building her businesses.
With new opportunities in 2019, this entrepreneur plans to extend her existing business consultation services and is ready to put the infrastructure in place to support it.
Determine the Technology Stack
At the start of this project, there was zero technology infrastructure in place, apart from general email and phone support and collecting payments via PayPal.
The goal of this project was to create a digital workflow that allowed new leads to be able to submit a questionnaire, determine appropriate services, complete required forms, and finally pay and schedule consultation sessions; all allowing the lead to manage the process and the internal team to monitor it.
Create a Workflow Design
The first step to deploying a solution for this client was to design a new team workflow – including what needed to happen, when, and by who. We used Lucid Chart in order to map out the process.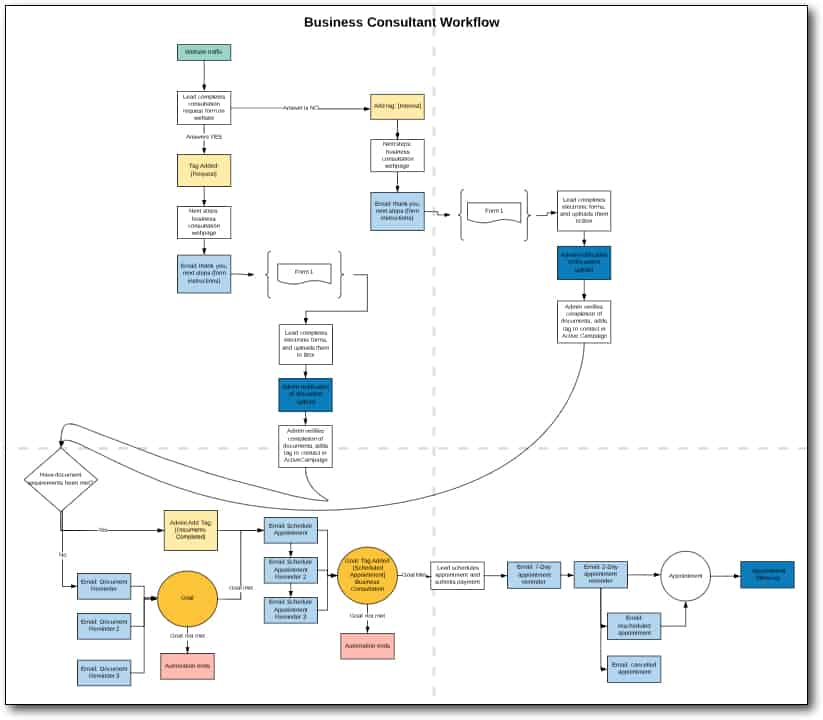 Once we determine the process that we wanted to achieve, we were able to select the appropriate tools that would help us achieve the process. This tech stack included:
Business Consultant Technology Stack
As a result of this workflow, customers are able to manage their own customer journey without necessarily requiring a response or wait time from the company.
New leads are able to enter the customer workflow, without putting any additional tasks onto the existing teams.
Leads take charge of their own documentation; the team is no longer responsible for chasing down bogus leads.
Session deposits must be paid and cleared, prior to appointment scheduling which has reduced canceled/rescheduled appointments.
Customer appointments are managed through a booking system, allowing for self-service and reduced back and forth "does this time work" emails.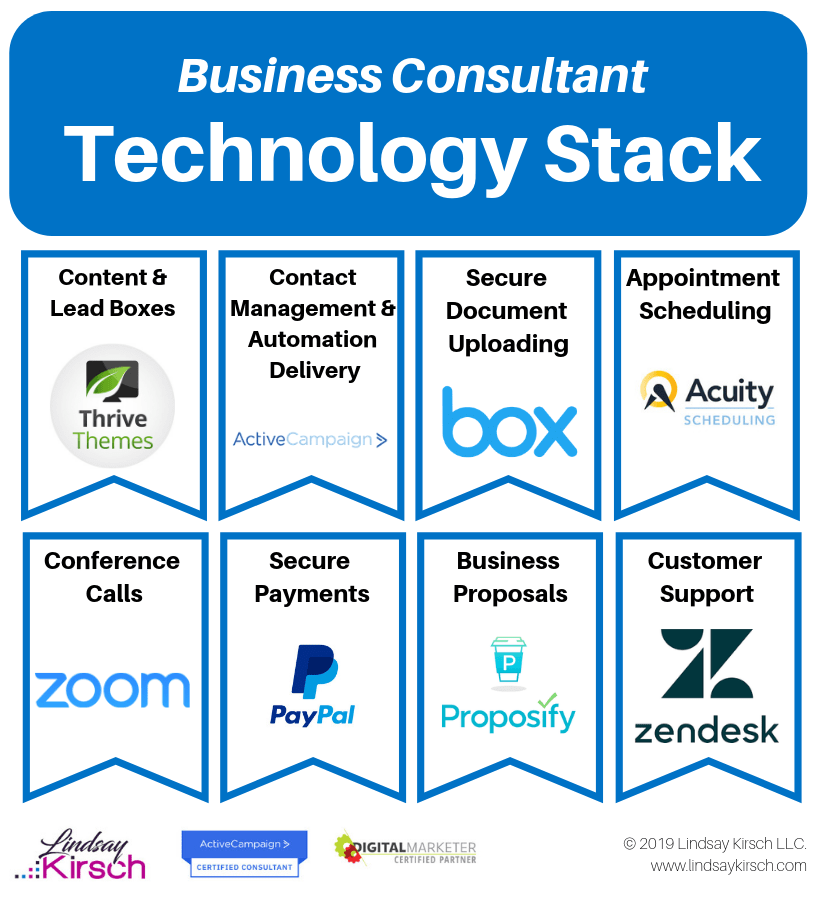 Deliver Your Best Service with the Help of Marketing Automation
As a high performing consultant, you want to put your focus on your customer and delivering the best service possible… not getting caught up in the weeds and logistics.
If a customer is ready to engage with you, it's important to keep the ball rolling, and not have them get stuck waiting for your internal processes to catch up.
Remember: marketing automations are not "automating everything" but putting solutions in place that allow people to get the information and service they need; when they need it.