You want to create a course! After all, they are the rage in digital marketing strategy, growing your network authority and earning passive income!
But where and how do you start?
The thought of creating a course can be overwhelming. Between deciding what knowledge you want to share, how to build the content, and how to distribute it is exhausting!
Where do you start? How do you start?
All the options can overload your brain, and make everything feel like it's spinning!
It seems like everyone is creating and delivering courses these days. From psychologists to yoga teachers, experts are leveraging social media to share their unique knowledge and skills. More and more businesses are using courses as a way to build and keep their audiences captivated.
If everyone else is launching a course, why aren't you?
Is it because you don't know what to do first?
Perhaps you have a trend where you get started creating one, and then freeze up, overwhelmed at everything you want to cram into your course. You may begin to doubt if anyone wants what you're making. You wonder how you can compete against everyone else. And, if you're like many business owners out there, this is where you stop. Somewhere at the start or in the middle of creating your product.
The following article provides some tips to keep you from freezing up mid-product-creation and make it to your first ever course launch!
Defining Your Product
Before beginning development on any course, it is important to get clear on the front-end definition of what you are creating. This includes what problem it is solving, and what options you have to develop it. Lastly, you'll want to hammer down what tools you will use to create and deploy it.
Once you get concrete answers to these "what ifs," it is much easier to create a product that is streamlined. Trust me! I've been making workshops, courses, and e-learning environments for the last 12 years, and using this simple step at the beginning is what has enabled me to finish thousands of courses across a number of small and large businesses alike.
Before you start outlining each step of your content, write a simple outline that lists this essential information:
What is the big problem I'm solving?

Who am I helping to solve the problem?

What is the number one objective of sharing this information (the end goal)?
What is the best way for ME to show someone how to solve it?  (For example, some people are better writers than they are presenters. Or, you may need to hire someone to spell out the steps, who can interview you for the information. Get clear here, because working with your strengths is key.)
What technology makes sense for the release of this information?
When you are prepared with this content, you can create a course that's clear and concise. Having this information will give you a guide so that you won't get stuck or run off-track from the original intent and audience of the product.
When your course is not defined from the beginning, it is easy to get lost. You start building one topic, then another and another, and sooner or later you are off on a tangent downstream. You completely missed the mark on your audience's problems. The course went in another direction.
Time and time again, we set off to accomplish great things. But, if we don't put in the effort up front to create definition around our course, we get into the weeds of development, we lose focus, momentum, and efficiency. This happens even to the best developers out there!
And then, your product goes back on the shelf, waiting until you can pick up momentum. Waiting for you to develop that high-value product that not only will help your customers, but also provide a source of passive income for you.
However, if you design a course correctly from the beginning, you will create an end product that is in high-demand from your audience.
Right now you might be thinking, "This sounds like torture! Why do I even WANT to create a course?"
Creating a course will reposition you from being merely a service or product provider to being a thought leader.
According to a study conducted by the Bloom Group, 93% of buyers said that perceiving the company they are buying from as a thought leader improved their opinion of them. 94% said that poor content (or no content) lowers their opinion of whatever firm they are considering buying from.
It goes without saying that the opinion your potential buyer has of your company can make or break purchasing decisions. You can even quantify this, by looking at customer engagement.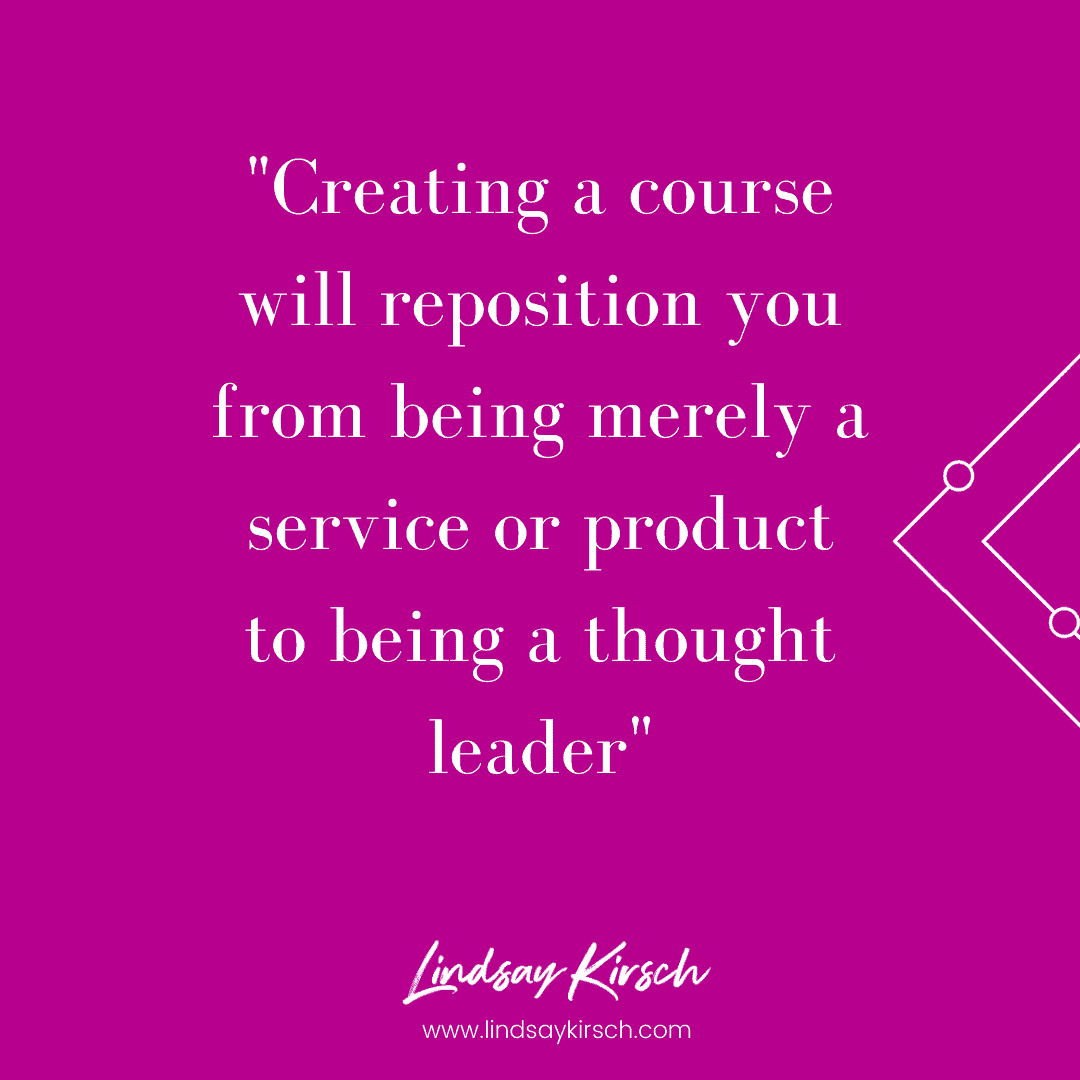 According to Gallup, customer engagement is the #1 factor that predicts the steady growth of a company in today's economy. In fact, customers who are fully engaged make up an average of 23% of premium clientele across all industries, no matter their marketing. The premium clientele is defined as people who spend more, buy higher-profit items or services, regularly help increase a company's revenue, and continually grow their relationship with the company. Those are your long term customers with a super high lifetime value.
Those are the type of customers you want!
Plus, there's the added benefit of creating something that is a passive income product. In 2016, Forbes estimated the info product industry was worth $107 Billion, and growing each year. Tapping less than .001% of that market is incredible income for a small business.
But not just any course will do. After all, there is fierce course competition in today's economy.
Think for a second… Have you ever bought a terrible course?
The one you spent $500+ on and you didn't get out of it what you had hoped for… or maybe you never even finished it?
Even if your clients don't finish your course, once they give you a "yes" with their wallet, no matter the size of the purchase, they are 11 times more likely to buy from you again. According to Annex Cloud, on average, loyal customers are worth up to 10x as much as their first purchase. And, 82% of companies agree that retention is cheaper to execute than acquisition.
What are you doing to retain your customers? How are you providing your clientele with active engagement and promoting satisfaction?
Failing to finish a course is common buyer behavior. What we're worried about, is the level of satisfaction and engagement your clients have with your products.
Now imagine… How much more engaged would your clients be if they got exactly what they hoped for out of your course, and they finished it?
You don't just want to give your audience another course parroting what's already on the market. And you don't want to just take their money and run.
You want to provide value and substance for your customers. Something that will help them solve their problems, and continue to build your credibility as their go-to expert.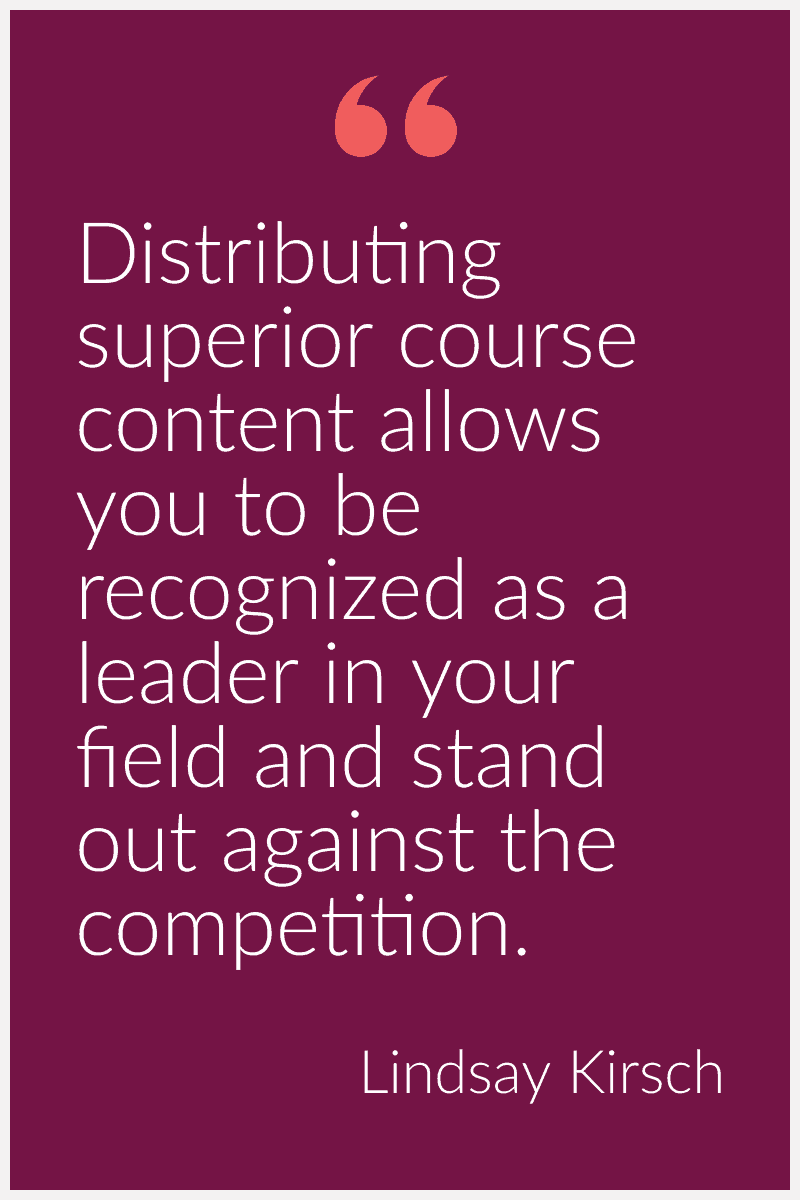 For the sake of your business, you need to create a steady stream of curated content that entices your audience to come back for more. This type of strategy will enable you to increase your interaction and engagement with them, creating long term customers.
Distributing superior course content allows you to be recognized as a leader in your field and stand out against the competition. You're creating an excellent customer experience in doing so. A superior customer experience has been proven to improve customer retention, customer satisfaction, and increase cross-selling and upselling (according to Genesys). So, building a well-crafted course for your business will…
Increase your market authority.
Improve your customer engagement.
Increase the chances of repeat or future sales.
Create a superior customer experience, which leads to better long term customer retention.
Have I convinced you that it's time to get moving on creating your course?