Having an organized email marketing calendar is essential for businesses looking to ensure they are staying on top of their email marketing. An email marketing calendar can simplify the process of managing email campaigns by providing a pre-determined task structure so you know precisely what and when email campaigns need to be sent.
An email marketing team will benefit from an email marketing calendar because it will allow the team to organize your email keep track of any changes that need to be made, such as updating content or altering the frequency of emails. Furthermore, email marketing calendars give you an overall view of your email campaigns, knowing what is being sent when and to whom, enabling you to make adjustments when needed. Ultimately, having an email marketing calendar allows marketing teams to become more efficient with their campaigns and maximize the impact of their efforts.
Email Marketing Strategy
It's proven that having a consistent email marketing strategy is essential to ensure your campaigns are delivered to your recipient's inbox, and not to spam. A well-organized email marketing calendar enables email marketers to keep track of their campaigns, as well as who they are targeting and how frequently they are sending out emails. A consistent strategy will provide insight to areas that need improvement, such as the frequency of emails, content messages, or design elements. By taking the time to create an effective email content and sticking to it, businesses can increase customer engagement and brand loyalty while driving better conversion rates.
How Email Marketing Supports Your Content Marketing Strategy
Email marketing plays an integral role in supporting a content marketing strategy. Each time your business creates a new blog, guide or launches a new product you can leverage your email list to inform them. These emails continue to nurture both new leads and existing customers, regardless of where they are in your marketing funnels. Furthermore, personalized content delivered at the right time to the right person increases conversion and boost sales.
What to Track on Your Email Marketing Calendar
Your email marketing calendar will track all of your email marketing initiatives from the plan, prep, and publishing stages. This includes content ideation and outlines, copy drafts and graphics, and testing and scheduling tasks.
Many marketing teams choose to track email campaign metrics on the email marketing calendar however, I personally prefer to pull these into an email marketing metrics dashboard. If you do this, you will need to add additional fields to your templates.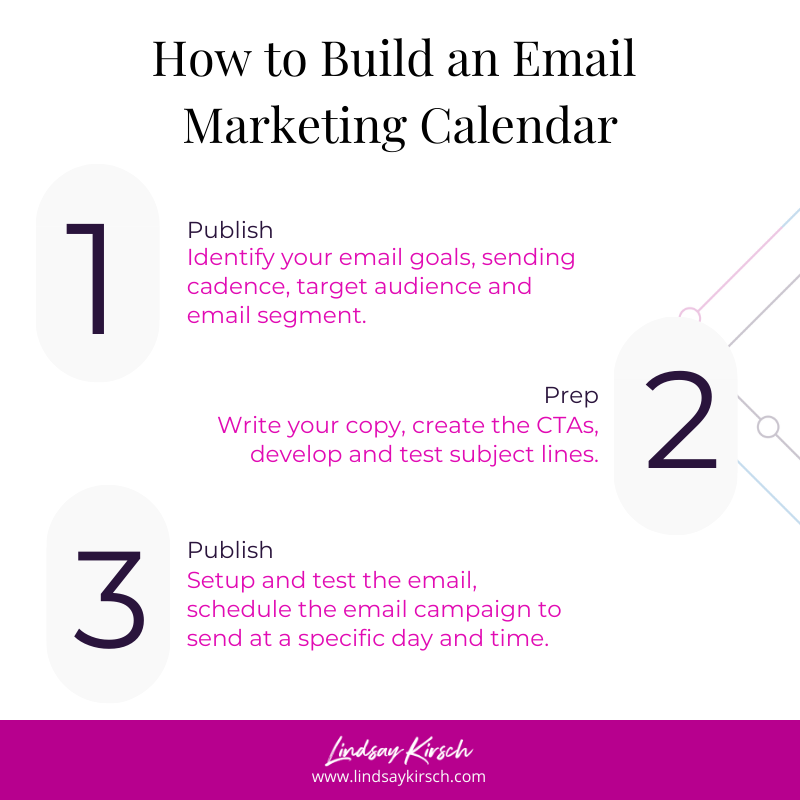 How to Create an Email Calendar Plan
Identify the Email Goal
Each email that you send should have a clear goal and call to action. This may include enticing readers to click a link to read your latest blog, announce a new product or services, or schedule a meeting with you. It is recommended that you do not included multiple goals in a single email as this can confused and deter the reader from clicking.
Establish a Sending Cadence
Your emails should be sent at days and times that your audience is most likely to open and click on them. You can determine this by reviewing the contact trends on open/click times within your email service provider. Use this information to send both predictable (such as weekly broadcast campaigns that are sent on the same day/time each week) and unpredictable (special offers and promotional) emails. Monitor your email metrics to ensure you are sending frequently enough but not spamming your contacts (which impacts email deliverability)
Identify the Email Send Date
Create the days/times that your emails will send. In most cases, we can predict and plan email marketing campaigns up to three months in advance. This is advised so that you can work your individual email campaign tasks dates backwards, from the targeted email send date.
Determine the Target Audience & Email Segment
Your email campaign goal will drive who your target audience is for each email. From here, you can create an email segment in your email software. I always recommend planning segments ahead because segment builders can be tricky to navigate and often take additional time. If you have trouble building a particular audience email segment, work with your email provider support team to assist you.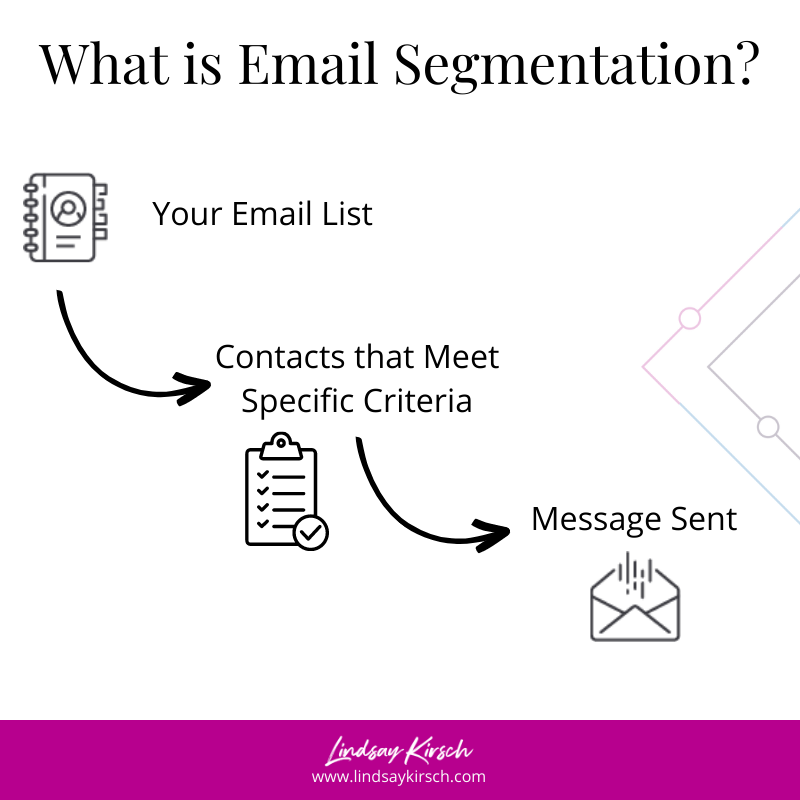 Create and Assign the Email Tasks
Now that your email foundations are planned, you can now setup your email campaign tasks in your project and task management tool. A project and task management tool, such as Asana, will help your marketing team ensure the email is ready to send on the scheduled send date without error.
How to Prepare Your Emails for Sending
Write the Copy
The email content should emphasize the email goal and and audience segment. Personalized emails get the best click rates, which is critical for maintaining your email deliverability and audience engagement. Your email copywriter should consider writing the copy so that the email can be designed conducive to high click rates. This includes short sentences and CTAs.
I recommend drafting your copy in a collaborative text editor tool such as Google Docs first, so that the copy can be edited and fine-tuned before stylizing in your email editor.
Create Your CTA Links
Email click rate is crucial metric to track to measure email engagement. Therefore, it's important to consider using a variety of link types within each email. This includes text links, naked URL links, buttons, image links and click to open videos. Test each variety of link with your audience to see what they click on most.
Develop and Test Your Subject Lines
Your email subject lines are a key element to the design of your email. With each email that you are sending, consider A/B testing your email subject lines against each other to determine the best subject line for your audience. For support with creating email subject lines, check out the Co-Schedule Email Subject Line Tester.
How to Publish Your Emails
Setup the Email in Your Email Platform
When your email copy is approved, you will create email campaigns in your email marketing software. This includes adding the stylized elements of typography, graphics and links.
Test Your Email
Testing your email campaigns before sending them is essential to ensure that they are running smoothly and will be received successfully. For larger campaigns, you may consider sending a campaign test list or focus group to get feedback on the design, content, and functionality of the email, before sending it a larger audience.
Schedule Your Email Campaign
After an email campaign has been tested, it is now time to schedule it in your email system. Confirm that the scheduled date matches your email calendar scheduled send day and time.
Confirmed Scheduled Send
The very last step to creating a successful email campaign is confirm that the campaign is sent. Unfortunately, it is common for email service providers to have slight delays in send emails, and there is always the potential for hiccups. Make sure a team member is available to confirm send and what to do if there is an issue. At this time you can update the email status as complete and pass the data along to your marketing team for email analytics.
Tools to Support Your Email Marketing Calendar
Why Use a Digital Email Marketing Calendar
Digital email marketing calendars are a great way to stay organized and on top of your email campaigns. They provide you with overview of when your campaigns will be sent, what elements will be included, and other important information. A digital tool allows you to easily drag-and-drop any changes that need to be made – ensuring accuracy and efficiency in all aspects of your email marketing calendar. Having a digital format makes it easier to share the content with team members or stakeholders who might not have access to physical documents or need to quickly check on details related to the campaign.
Tools To Manage Your Email Marketing Strategy
Asana
Asana is a great tool for organizing and managing your email marketing calendar. This task and project management software helps you keep track of tasks, deadlines, and team members so that everything related to the campaign comes together in one place. It can easily be used to create a template for tracking campaigns throughout the year, providing visibility into what will be sent when and allowing you to quickly edit any changes that need to be made. Asana also makes collaboration between team members easy, ensuring everyone is on the same page with their tasks and deadlines.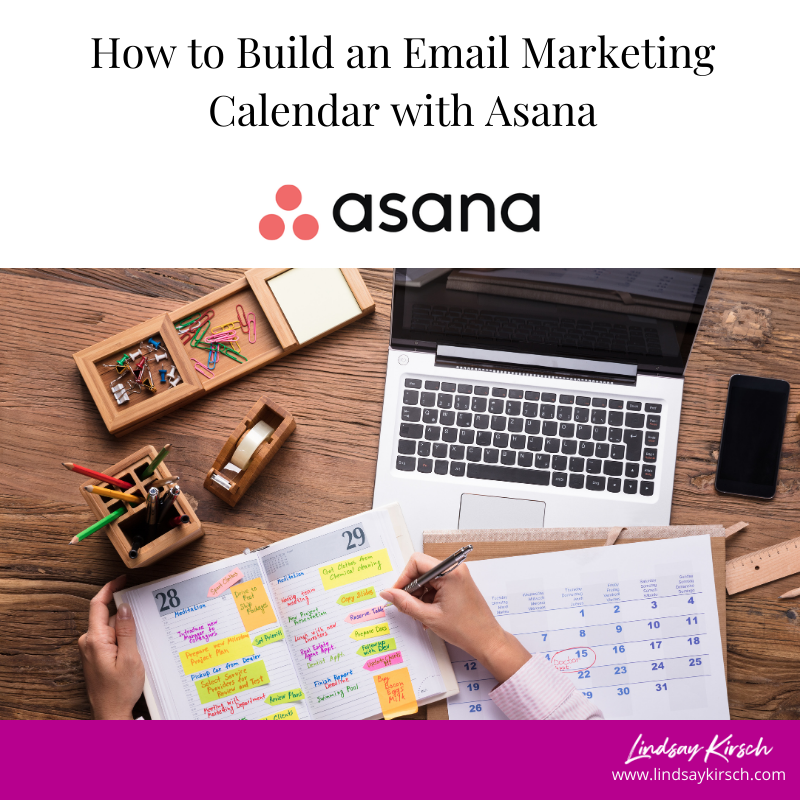 Trello
Trello is another helpful tool for managing your email marketing calendar template. The software allows you to create boards that can be used to organize tasks, deadlines, and team members associated with your campaigns. Its drag-and-drop interface makes it easy to move around and update tasks as needed. You can also add labels or assign tasks to specific team members for added organization and accountability. Trello's mobile app gives you the flexibility of managing campaigns on the go so that you never miss a beat when it comes to your email marketing strategy.
Monday.com
Monday.com is another great tool for managing your email marketing calendar template. With the software, you can create and assign tasks, set deadlines, and collaborate with team members in one centralized place. Its intuitive dashboard allows you to visualize tasks, track progress, and get an understanding of what's due when. Monday.com also has project templates that make it easy to plan campaigns quickly and accurately, as well as customizable reports that can be used to measure performance over time.
Keep Track of Emails With an Email Marketing Calendar
An email marketing calendar will help you to streamline your campaigns, ensure deadlines are met, and allow you to easily keep track of the progress of each task. Having this kind of visibility is invaluable when it comes to staying on top of your email marketing strategy, so consider using an email marketing calendar template to make sure you never miss a beat!