Email marketing is a powerful tool on its own, but you can extend its reach and effectiveness by integrating it with other tools.
If you want to increase email marketing success, tools such as a digital loyalty program, newsletter growth platforms, and even video engagement platforms will help extend your email marketing beyond the basic email send.
Keep reading to learn how email can expand your reach by leveraging various email marketing partners.
Digital Loyalty Programs
Digital loyalty cards are modern-day versions of old-school punch cards. (Remember when you could buy 9 pizzas and get one free?) In general, loyalty cards reward your customers with points, products, or even discounts based on their activities with your brand.
There are a variety of digital loyalty programs out there, and finding the right fit for your business is crucial. However, we know that 78% of customers are more likely to choose a business with a loyalty program.
What does this have to do with email?
Depending on the program you choose, you can integrate your loyalty program's widgets (code) in your emails to remind your audience what rewards might be coming.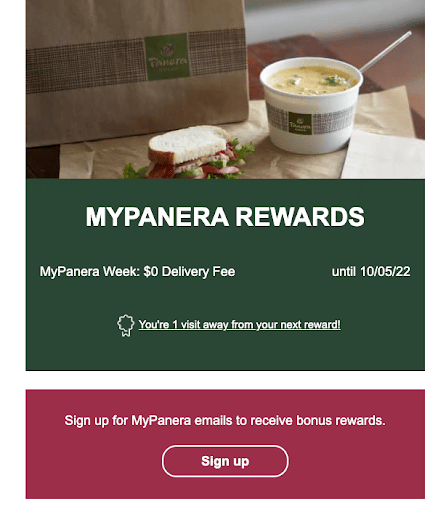 Panera recently offered me a free delivery as a reward, which quickly enticed me to place a new order!
ROI on a loyalty program can be tricky to calculate since many different factors impact it. However, you will consider various factors, including:
Rate of return on loyalty program guests.
Revenue from subscription alerts (mobile, email, in-app, etc.).
Word of mouth referrals, social sharing, and reviews.
Implementation Tools:
Ad Platform Integration
An ad platform is a tool that allows you to use technology to drive traffic and earn money for sponsored campaigns. An integrated ad platform allows you a single location to manage ads and distribute them through various traffic channels.
While there are hundreds of ad platforms available, you will want a platform that will integrate with your specific tools, particularly your email platform if you plan on using it with email.
What does this have to do with email?
Ad platforms can integrate with email using widgets (code) to insert campaigns. This allows you to create a robust cross-platform marketing strategy that is consistent with your audience.
ROI on an ad platform is very specific to what you will sell. For example, if you are looking to drive conversions to a sponsor, you'll need to make sure that the sponsor is a good fit for your audience; otherwise, it will be a loss. The best performing campaigns will be distributed via audience segments. Metrics you will track include:
Impressions
Clicks
Conversions
Implementation Tools:
Transactional Email Platform/Email Delivery Service
Typically, transactional style emails (ie: post purchase receipts, subscription renewals, etc.) will not be sent through your primary email marketing software. These emails will be sent out from your checkout tool or even directly from your website. However, integrating the two tools together will help you create a cohesive post sales process and ensure that no customer communications fall through the cracks.
What does this have to do with email?
Did you ever make a purchase on a site and then receive a million different emails confirming it? Well, this is likely due to the fact that the email marketing software is not connected to the checkout tool.
We want your users to feel good about the emails they receive from you, and with a transactional email integration platform, you can bring these messages together with workflows and automation.
ROI on a transactional email platform is going to be measured through traditional email metrics (opens, clicks, replies) as well as through overall customer experience reports.
Implementation Tools:
Newsletter Growth Platform
Newsletter growth platforms do exactly as they say they are going to do… they help you grow your list organically through the individual subscribers' network. These tools make it easy for a recipient of your email to share (forward, on social, etc.) your content and offer a variety of rewards or prizes in return.
What does this have to do with email?
Newsletter growth platforms are built directly into your email tool; so they are imperative to expanding your reach organically. Any company that is producing content can benefit from creating an easy to share referral network that rewards subscribers.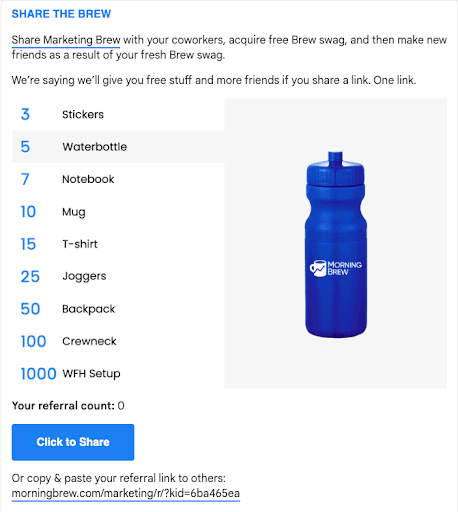 Companies like Marketing Brew use a newsletter growth platform to encourage shares with cool prizes.
ROI on a newsletter growth platform can be measured quite easily; what is the ratio of referrals to subscribers? What is the engagement rate of new subscribers?
Implementation Tools:
SMS/Text Messaging
Messaging platforms allow you to pull customer data from your existing databases (such as your CRM) and send your contacts broadcast or trigger-based SMS or text messages.
What does this have to do with email?
When you use a platform like ActiveCampaign that integrates directly with your messaging tool, you can set up message sends that line up with your existing automations. This makes it very easy to see what communications are being sent (and when) so that you don't bombard a contact through any single channel.
ROI from SMS/Text Messaging is very similar to email marketing – you are going to want to look at read/click rates along with revenue generated.
Implementation Tools:
Video Engagement Platforms
Help create a more personal connection with leads and customers. Create a workflow that includes personalized videos welcoming, thanking, asking for feedback, etc., with your audience. These video engagement platforms integrate with your existing CRM, allowing you to pull the contact data into the platform, record a video and send it off.
What does this have to do with email?
As mentioned throughout this article, managing your messaging in a single location is ideal so that you can see what communications your contacts are receiving and when. Not only will adding a video engagement integration add value to your email through personalization, it will provide a personal touch that will increase brand reputation.
ROI from video engagement platforms can be measured by opens, clicks, as well as responses to your messages. Most of these platforms do not track revenue but can be considered as part of the overall engagement strategy and tracking metrics.
Implementation Tools:
How to Increase Email Marketing Success
As a result of implementing one or more of the ideas listed above into your email marketing strategy, you will be able to extend email marketing beyond just the standard broadcast, transactional, or triggered email campaigns and get more out of the platform you have already invested so much into.