If you're launching a course or info product for the first time, you could be feeling some emotions: excitement, fear, hope, dread, and so on.
You've put a lot of time, energy, and money into this new digital product. You're excited to share something that can impact a lot of people's lives. You want to make sure you are connecting with the right people with high-quality content.
Ultimately, you want your launch to be successful, but where do you begin?
In this vlog, I will give you a simple step-by-step process on how to launch an online course or info product.
From Corporate Lindsay to Entrepreneur Lindsay
Ever since I was 12 years old, I've had the entrepreneurial spirit. I created and designed jewelry and sold it to my older brother's friends and at family parties. 
Since then, I've had my own businesses, but usually, they were side gigs. But for most of my career, my full-time job was as a global learning and performance strategist at a corporation.
But last year, in 2017, after a few years of recovering from a tough divorce and transitioning to life as a single mom, I decided that it was best for my own health and wellness to leave my corporate job and venture into entrepreneurship full-time.
Beyond wanting to improve my health, I felt being an entrepreneur could give me more freedom and flexibility with my schedule so that I could be there for my children more easily. I wanted always to be available to pick them up from school and to attend any of their school events.
I also really wanted to have more control of my work life, where I could choose the work I felt the most passionate about.
To make this transition into entrepreneurship was both exciting and scary. 
There was so much that I didn't know, like who would my customers be? How fast would my sales grow? What else would I be offering in the future?
Would this even work out at all?
I had been thinking about this move for quite a while, and then I finally felt ready to move forward. I was ready to take the risk and fly solo with my own business.
When I left my corporate position, I thought I had done pretty well for myself. I was in a senior-level position and making six-figures–all before I was 30 years old. 
I was highly esteemed in my industry. I had been assigned to the most important projects in my company and was leading groundbreaking teams. The joke around the office was that I had 20+ more years of experience than I actually had.
I truly thought all those successes in the corporate world would easily translate into easy success as an entrepreneur. Before I had left my job, I had created my website and a small info product that was really to be let loose into the world.
I felt so well prepared that if I just hit the "go" button on my new business, it would be a soaring success. 
So after my last day of work, I took my kids on a week-long vacation. I had transformed from Corporate Lindsay to Entrepreneur Lindsay.
The Reality of Starting Off as an Entrepreneur
When I was ready to launch my business, I felt on top of the world. I was so excited. I had put all this hard work and effort into building my reputation in the corporate realm.
So I launched my business and put my first info product out into the world.
And nothing happened.
A month went by–nothing happened.
Then two months, and then three months… along the way, I had made a couple of sales and landed a few side gigs, but this was not the soaring success that I was expecting.
I panicked. My product was live; I was available, I had a stellar reputation.
Why were the people not coming?!
What I slowly started to realize was that people don't just come to you. You actually have to have a strategy to get them to where you are. 
Slow, Steady, Solid Growth
I made a common mistake with starting my own business: I believed that having all this success in one field of business would directly translate into being a successful entrepreneur.
Boy, was I in for a rude awakening!
When you're starting your own business, success is just not going to be handed to you because you were previously successful. You have to plan for success.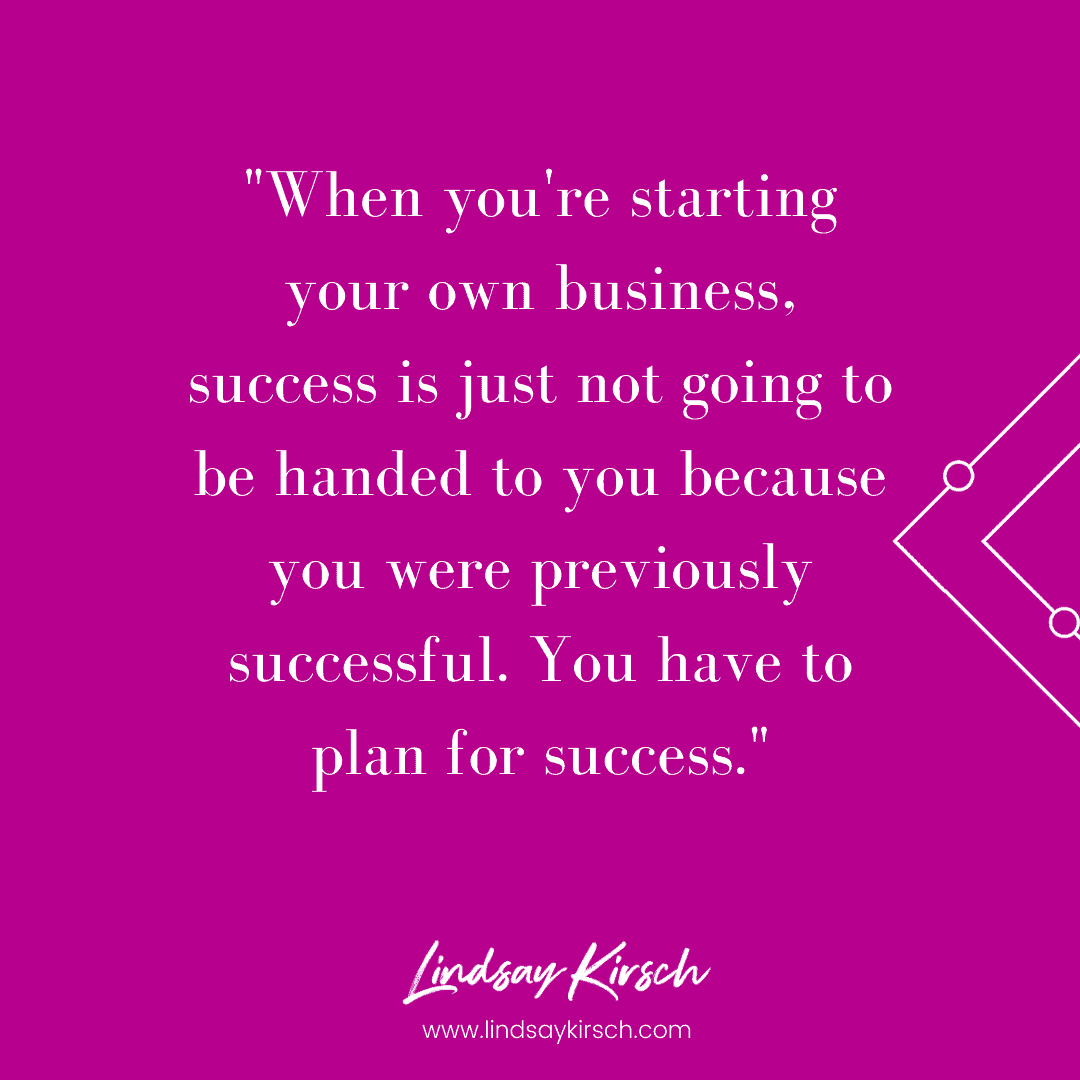 Here are a few key things I learned during that initial launch process and afterward:
A long-term, sustainable business focuses on delivering value, as well as on slow and steady growth–while keeping existing customers satisfied.
Get rich quick schemes might be successful for a year or two, but they won't last long. Or, you'll find yourself jumping from one tactic to the next to keep up.
To help grow your business responsibly, and to allow you to find and secure your ideal customers, you need a solid game plan that you consistently execute.
You've probably heard people say how starting your own business is easy. 
Well, it's not. 
Take it from freelancing expert and writer, Ed Gandia.
So what does a solid game plan for an info product launch look like?
How to Launch a Product Successfully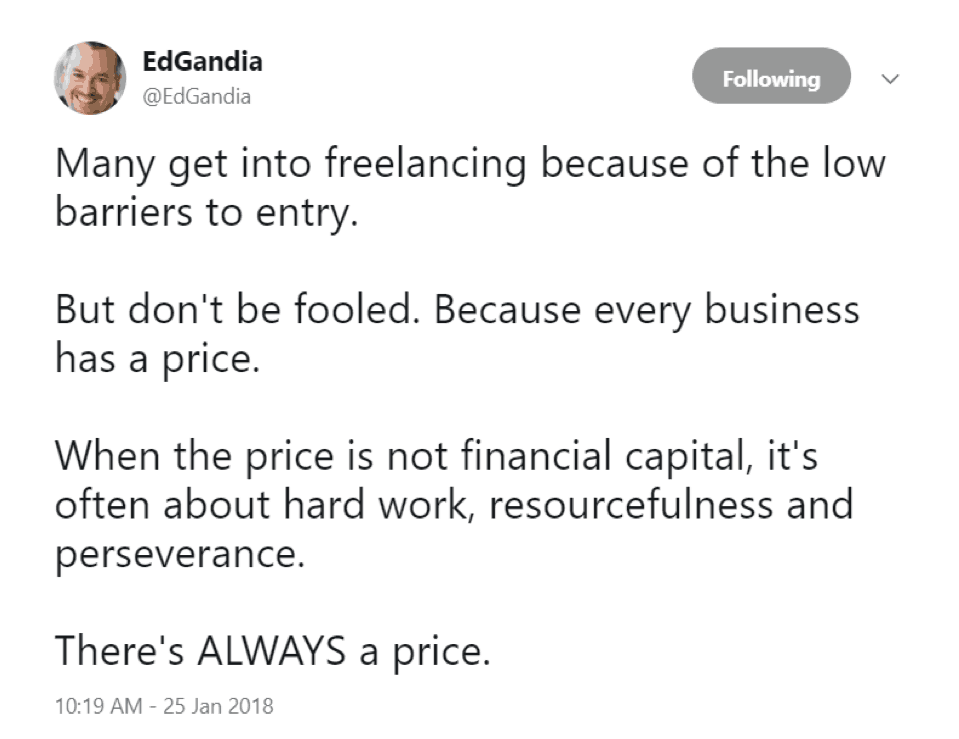 Creating your first digital product or course can be a thrilling experience. You've put in long hours of development, you've done your research, you have your website, and you are raring to go!
You also want to make sure that sharing your product with the right people. Finding those people–and having those people find you–takes time and a real strategy. 
So here are five steps that you can use as your info product launch marketing plan.
Provide free, high-value content. Before anyone is going to even think of giving you their email address or purchasing from you, they need to understand who you are and the value you're offering. A great way to do this is to provide free, high-value content that solves a key problem for your prospective customers. When you help them one time, they will come back for more. You can do this through a blog, YouTube videos, even Facebook.
Offer a solution in exchange for an email address. Email marketing is the number one way to reach customers in the digital world. In fact, email marketing has an ROI of 3800%. – DMA. When you know what type of content your audience is after, create a small product (e.g., eBook, single-lesson video training, etc.) to deliver another more detailed solution in exchange for your prospect's email address. This will be your first "win" and allow you to further communicate with them.
Groom your list. Once you have your prospect email addresses, use this to help them get to know you better. Create a welcome series sequence so that your audience can get to know you, your brand, and the value that you bring. Business tends to skip this step, which is unfortunate. Have you ever invited someone over to your house before getting to know them first? Yeah, it's just like that. I recommend having at least seven touch points before presenting any product or service. 
Offer a solution, in exchange for a minimal cost. Now that your audience knows you a bit better offer another solution to a pain point, but they keep the cost low. You want them to think "Oh, it's just five bucks?" and consider it a non-risk. Your goal here is not to make money, but to deliver great value. Additionally, this is to create more of an impulse purchase. If we can quickly solve a problem, with a low-risk factor, people are more likely to buy. The better we solve that problem (think: under-promise and over-deliver), the more likely they are to return.
Offer your premier product. To the customers that have continued this far in your journey, now is the time to introduce them to your premier course. However, don't jump right into it! Use an email sequence again to help them get to know you… spend 30-90 days with this! Your product offering and overcoming objections should only come when your audience is engaged and active with you. Ramit Sethi does an amazing job with this!
Note: each of these steps allows your customers to self-qualify, meaning that your audience determines for themselves if your product is a good fit! They will not continue to proceed if they are not your ideal people. 
Value Through Community–Not Just Products
You may be focused on getting sales, worried about your bottom line, getting clicks on your website–and all of those worries are valid. But I want you to see the bigger picture here.
What you really want to provide is value to your audience. You're not just looking to make money from them.
For you to get those amazing sales and longevity, you need to create a place for your ideal customers to come–and I don't mean just a website. You want to create a tribe and community which provides everlasting value. 
Reaching for that quick buck, get rich quick scheme–that's not what building a successful business is about.
Those other guys? The ones who seem really successful quickly? They're the ones who use bullying tactics to pressure people into buying things that people don't want or need, or products that have no way of improving their lives.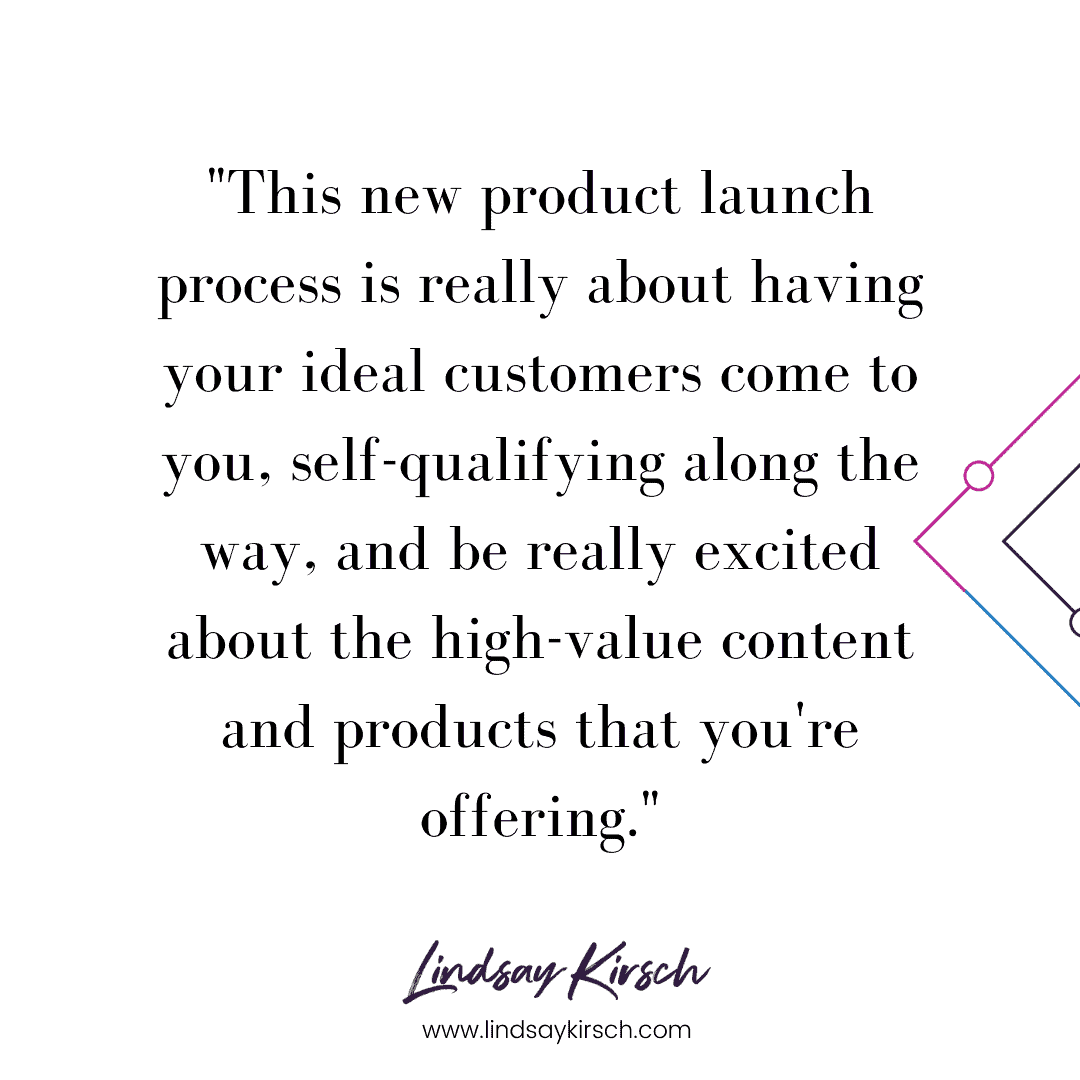 So often, sales of any sort are seen as manipulative and underhanded. This new product launch process is really about having your ideal customers come to you, self-qualifying along the way, and be really excited about the high-value content and products that you're offering. 
Ultimately, we're in the business of serving others and making people's lives better.
Have any questions about creating digital products or new product launch strategies? I'd love to hear them in the comments.