Industry: EDUCATION
A professional development company that provides women with networking, expert coaching, ongoing education, and support sought to improve their customer journey, audience segmentation, and revenue-producing activities leveraging their existing ActiveCampaign system.
Key Outcomes
Email open rates improved by over 62%.

Email click-through rates improved by over 65%.

New integrations between multiple tech tools, improving the overall performance of all.
Company Overview
This client has provided business growth education for its audience for over five years through face-to-face events, online community, and digital products and memberships. As a result of their products, their audience is empowered to grow their own businesses that provide a freedom-filled and inspiring career.
The Challenge
The client has previously used ActiveCampaign, but largely only for email marketing. While it was connected to a course/membership platform, the connections did not appear to be functioning properly, the client did not know how to segment the audience (from leads to customers to products purchased), and there was no measurement strategy in place.
In order to resolve these challenges, the following priorities were identified:
Design an updated customer journey that tracked the audience from lead to ascension offer. Using marketing automation to help facilitate the customer journey.

Leverage ActiveCampaign as the "backbone" system holding all the audience data and integrate it bi-directionally with all other systems.

Create a customer segmentation plan to ensure the proper communication is sent to the right audience at the right time.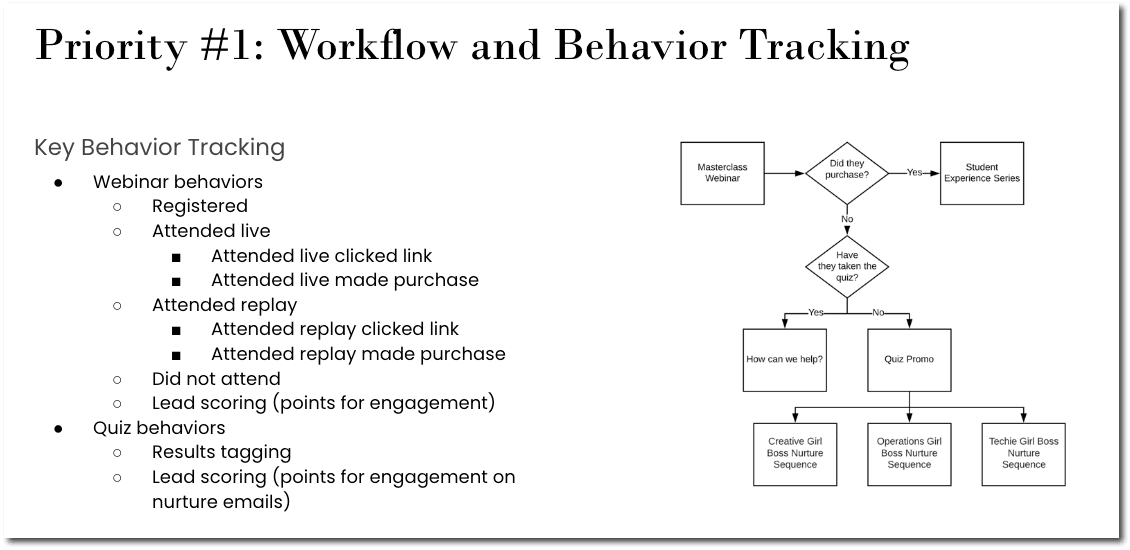 Solution
While working as the Lead Consultant, Lindsay led the analysis, design, development, and implementation of an updated ActiveCampaign data hub.
This included:
Optimizing the evergreen funnel so that the pipeline was clear (each lead was accounted for) and predictable (conversion metrics could be tracked and used to estimate the pipeline revenue).
Set up the essential automations that allow for proper list management, including the ability to identify contacts by interests and behaviors so that audiences could be segmented accordingly.
Create a customer ascension strategy so that current customer progress can be tracked to encourage the best "next steps" for the customer.
Impact
Working through focused priorities over a 12-month period, we increased the average open rates from 15% to 20+% and click rates from <1% to nearly 3% reaching and often exceeding the industry benchmarks.
Additional results include
Ability to easily segment audiences and send the correct communications by the level of engagement, products purchased, and location in the customer journey.

Reduce annual software costs by "cleaning up" the list and removing old, unengaged contacts.

Implemented a new checkout tool that strategically linked with both the email marketing and automation platform along with the membership platform for smooth communications between systems, all while improving the checkout conversion rate.

Lindsay is a huge asset to our team!
Incredible results she's achieved for us so far are: increasing our overall open rates by 62% and increasing our overall click-through rates by 65%!
COO, Personal development company
Lindsay is a huge asset to our team! I can't speak highly enough of how much I love working with Lindsay. Not only is she an incredible team member that has fit seamlessly into our team culture, she produces amazing results! Lindsay has helped our company use ActiveCampaign in a way that moves from it being just "another system in the stack" to a core component and backbone of our workflows – including everything from integration of checkout, memberships, ads, and analytics tracking. A couple of incredible results she's achieved for us so far are: increasing our overall open rates by 62% and increasing our overall click-through rates by 65%!
Something that was really important to us when we brought on Lindsay as our ActiveCampaign expert, was to have the ability to segment our audience in a way we've never been able to before, to be able to better provide more aligned content to our audience. As a team fit, Lindsay is definitely the woman you want on your team! She is able to help team members easily understand how to leverage ActiveCampaign and always brings her high-level strategic insights and extremely meticulous game plan to every project she is on. If there is anybody I would recommend to learn from, it would be Lindsay!