Email Marketing remains one of the top ways to reach customers and build long lasting relationships. In fact, according to HubSpot, 77% of marketers have seen an increase in email engagement over the last 12 months! However, selecting the right newsletter software for your business can take time and effort. There are a variety of email platforms to work from, each having its own set of unique features and benefits. Fortunately, there are many options to choose from that provide a variety of features.
Whether you are a service-based business, brick, and mortar or even eCommerce, in this article, I'll share with you the top newsletter software on the market along with key features and functionality so that you can make an informed decision on which newsletter software will best meet your business needs.
Email Marketing as a Content Distribution Channel
Email is a powerful tool for distributing content and staying connected with your audience. According to research, 87% of marketers use email as an organic content distribution channel. Email lets you reach out directly to your customers or leads and deliver personalized messages tailored to their interests. For example, email can help you announce new product launches or share informational articles that build customer relationships. Additionally, email campaigns can nurture leads toward specific goals, such as signing up for services or buying products. These benefits make email an effective and cost-efficient way of driving targeted traffic to your website and increasing conversions.
Email supports:
Build brand awareness
Distributing content
Nurturing leads
Building ongoing relationships
Creating audience engagement
The email software you select impacts your email marketing strategy based on its features and how they align with it.
Key Considerations When Selecting Email Marketing Software
When selecting email software, it is essential to consider the available features and how they fit into your overall email marketing strategy. For example, suppose you want to be able to set up custom audience segments. In that case, you need software that has advanced segmentation capabilities. Additionally, consider the cost associated with the platform and any other integrations you may need, such as with your eCommerce store or LMS. Finally, ensure the platform has mobile-friendly emails so your campaigns reach your target audience on any device.
Create a List of System Requirements
Before selecting any tool, create a detailed list of requirements (what you need the software to do), a budget for both software costs and implementation (especially if you need to hire outside resources), and what you can do to invest.
Rank Newsletter Software Platforms Against Each Other
Using a prioritization matrix, rank each newsletter software against the other. To complete this, create a grid with different criteria (your requirements) that are important to you. Then assign each item a numerical score based on its importance and rank the options against one another. Doing this lets you compare different solutions more efficiently and decide which newsletter software best meets your needs.
The Best Newsletter Software
Regarding newsletter software, several top contenders are popular with users. Mailchimp, Constant Contact, Sendinblue, and AWeber are some of the most trusted solutions for businesses and organizations looking for a reliable way to send newsletters to their subscribers. They each offer a range of features and price points that make them suitable for different users and organizations, depending on your goals. With so many options available, it can take time to determine which newsletter software is the best choice for you. That's why it's essential to take the time to compare your requirements against the features each platform offers — it's the best way to ensure you find a solution that perfectly meets your needs. So let's get into the list of the best newsletter software companies.
ActiveCampaign
ActiveCampaign is one of the leading email marketing software solutions available. It offers a suite of features, including list segmentation, automated emails, and detailed reporting to track campaigns' performance. With its user-friendly interface and built-in customizations, you can quickly create beautiful newsletters and optimize them for maximum engagement. Plus, it integrates with popular third-party applications such as Shopify and various membership platforms, making connecting your existing tools to your campaigns easy.
In addition to email and automation, ActiveCampaign's Customer Relationship Management (CRM) is the perfect way to keep track of all your customer relationships in one place. With such as lead scoring and tagging, you can quickly identify who your most valuable customers are and prioritize them accordingly. It offers a powerful automation engine that lets you create personalized workflows for each contact, ensuring every customer receives the right message at the right time. Additionally, its advanced analytics help you analyze and understand customer behaviors better, enabling you to make more informed decisions about future campaigns.
What I appreciate most about ActiveCampaign is that it allows you to scale. Starting with the Lite Plan at $29/month, you have basic functionality, including unlimited email campaigns, sign up forms, and email templates. The Plus Plan opens up the landing page builder and CRM. Finally, the Professional & Enterprise plans bring more advanced sending and CRM capabilities such as predictive sending, split test automation, and custom reporting.
ActiveCampaign Key Features:
ActiveCampaign plans are tiered on active users (contacts subscribed to one or more lists) and functionality. This pricing allows you to start with a basic plan and upgrade as your list and newsletter requirements grow.
Advanced segmentation functionality and dynamic content based on contact data make it easy to send the right message, to the right contacts, at the right time.
Personalize your emails with the contact information you already have; this includes name, location, interests, and even past purchases!
Simple split testing allows you to test different subject lines, body copy, and CTAs, ensuring you send the emails with the best engagement.
Flexible email automation builder to support your email marketing efforts.
Ability to set up advanced API integrations with other systems; this includes linking to your scheduling tools, checkouts, and online portals (course platforms, self-service dashboards, etc.).
A newly revamped intuitive email editor where you can drag and drop blocks to create your email campaigns.
ActiveCampaign Pricing:
Pricing starts at $29/month. To learn more about the different ActiveCampaign plans, see this article.
ActiveCampaign is best for service- or product-based, small to large businesses looking to implement email marketing and marketing automation, and it requires extensive integrations. ActiveCampaign requires a moderate investment in both software and setup/management costs.
AWeber
AWeber is another popular email solution that offers basic automation capabilities. It's easy to use and includes many features like ActiveCampaign. AWeber is less expensive than ActiveCampaign and can be a good option for small businesses on a tight budget. It also has a wide range of integrations, making it easy to link up with other services like WordPress, Shopify, and more. With these integrations, customers can create workflows for things like customer onboarding and lead nurturing without any coding knowledge.
AWeber delivers the ability to quickly build responsive landing pages, load and manage contacts, send unique emails, and analyze results without being a tech whiz. In addition, AWeber allows you to manage contacts and customize your email templates but lacks third-party integrations.
AWeber has fantastic customer support, with 24/7 chat and phone support available on specific plans, which is very helpful if you are a DIYer.
AWeber Key Features:
Free newsletter software to get started – with up to 500 subscribers.
Customizable HTML email templates to build your email newsletters.
Automate email content creation by broadcasting the latest posts from your blogs and not having it feel RSS-y.
Ability to automate workflows, including Welcome and Engagement Series.
Direct campaigns to the right people using tagging and dynamic content.
A generous free plan allows you to test the main features and functionality without a financial commitment.
Aweber Pricing:
Limited free plan, paid plans start at $12.50/month
AWeber is best for service-based, small to medium businesses that need a simple setup for general email marketing and start growing a list.
ConvertKit
ConvertKit is an email marketing automation service designed to help businesses of all sizes maximize their sales, build customer relationships, and grow their reach. It has a simple visual setup process and powerful features to ensure your emails are sent on time and in a suitable format. With ConvertKit, you can set up workflows to send welcome emails, drip campaigns, segmented lists, and more. You can also easily create custom forms to capture leads from your website or social media accounts. With its powerful analytics system, you can track opens, click-through rates, and more. No matter the size of your business—whether you're just starting or an experienced marketer—ConvertKit can help you optimize your email campaigns for maximum ROI.
ConvertKit is geared toward creatives and bloggers, and their pricing reflects this, starting at just $9/month for a paid plan.
ConvertKit Key Features:
Basic email features to create newsletters and email automation.
Landing page editor with the ability to build unlimited landing pages.
Sell digital products with a tool built for creators.
Live chat and email support.
ConvertKit Pricing:
ConvertKit offers a free plan for up to 1,000 subscribers. Paid plans start at $9/month.
ConvertKit is best for small businesses and entrepreneurs who want an easy, all-in-one email and marketing automation solution without a high price tag.
MailChimp
MailChimp is one of the most popular email newsletter software tools available and is particularly well-suited for beginners. It provides users with an easy-to-use interface and plenty of features like a website builder, drag and drop newsletter editor, dynamic segmentation, autoresponders, detailed analytics, and integrations with third-party tools. MailChimp's free email newsletter service gives users access to all the essential features for up to 1,000 contacts. Paid plans can be as low as $13/month if you have an extensive contact list.
Although Mailchimp is known as the most basic email newsletter software on the market, it has been building more advanced features. MailChimp includes a vast knowledge base to support your email efforts. But, it might be better for business owners who want to select the proper email marketing for long term growth. MailChimp lacks more advanced features available in tools like ActiveCampaign and AWeber.
MailChimp Key Features:
Get predictive insights about your contacts so you can personalize your marketing.
Personalize individual content blocks within your emails with dynamic content.
Design personalized customer journeys using conditional logic and branching points.
Basic integrations with other platforms.
MailChimp Pricing
Mailchimp offers a free plan for up to 2,000 contacts and one audience. Paid plans start at $9.99/month.
MailChimp is best for small businesses and entrepreneurs that are not ready to invest in email marketing, do not need advanced email newsletter software features, but want to be able to keep in contact with new & existing audiences.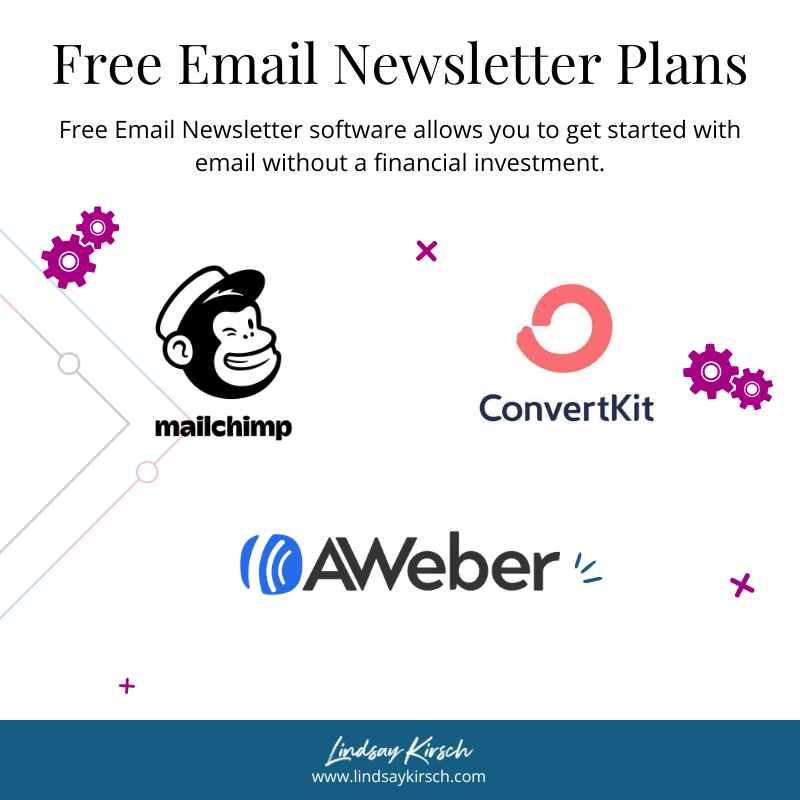 Keap/Infusionsoft
Keap is a powerful email marketing service from Infusionsoft. It offers extensive features, including automated email marketing campaigns for abandoned carts, customer segmentation, and targeted follow-up emails. It also provides advanced tracking and reporting capabilities with insights into customer behavior. Furthermore, it can easily integrate with your current CRM or eCommerce platform for easy customer data management. With Keap, you can easily personalize your communication with each customer and increase the efficiency of your marketing campaigns.
Infusionsoft's visual, drag and drop email builder makes crafting even the most complex of nurturing sequences fun and intuitive.
Some people have nicknamed Infusionsoft "confusionsoft" due to the complexity of the software. We highly recommend working with a certified Infusionsoft partner for implementation if you choose this tool.
Key Features:
Advanced marketing and sales automation, customizable campaigns, and app integration to power growth.
Automatically capture new leads with sign-up forms, assign tasks, and trigger personalized messages.
Manage your contacts and leads in Keap and sync your Outlook and Gmail.
Ability to set up advanced API integrations with other systems.
Keap Pricing:
Keap offers a free trial. Pricing starts at $149/month.
Keap is best for medium to large, service- and product-based businesses willing to invest significantly in email and automation – both from a platform cost and implementation costs.
Constant Contact
Constant Contact is an email newsletter software that helps businesses of all sizes send emails to their customers and contacts. With various automated tools and integrations, Constant Contact lets you create beautiful emails, target messages to specific audiences, and track performance metrics like open rates in real time. In addition, its intuitive drag-and-drop email editor makes it easy for anyone to create eye-catching campaigns in minutes. Constant Contact also provides comprehensive reporting so you can measure the effectiveness of your campaigns.
Besides its email capabilities, the email platform gives you access to basic automation features, autoresponders, and A/B testing. Despite its simple newsletter creation, Constant Contact's event invitation management options make it unique.
Constant Contact Key Features:
An intelligent email editor that makes it easy to use for non-designer types.
Email marketing automation, including a welcome email for new subscribers, triggered email series, contact segmentation, resending emails to non-openers, and powerful list-building tools.
Innovative eCommerce tools and results, including segmented and automated emails.
Constant Contact Pricing:
Constant Contact offers a one-month free trial. After that, pricing starts at $12/month.
Constant Contact is best for small, local DIY companies that need an easy way to keep in touch with their audience without a high price tag.
Hubspot
Hubspot's email marketing campaigns offer various options to help you create the perfect emails for your needs. It has a drag-and-drop editor allows you to customize your emails with images, text, and animations while also providing a range of templates to choose from. Additionally, it offers advanced segmentation tools that allow you to target specific segments within your list. It also provides A/B testing and analytics to track your campaigns' performance. Finally, Hubspot integrates with other helpful business products like Salesforce, Google Ads, and more.
Hubspot's CRM offering is a great way to stay organized and connected with your customers. It lets you store customer data, track customer conversations and interactions, automate tasks, and more. Its easy-to-use interface lets you quickly view customer information and understand how they interact with you. Furthermore, it integrates seamlessly with Hubspot's email campaigns, allowing you to transfer contacts between the two services effortlessly. With Hubspot's CRM, you can easily keep track of your customer relationships and deliver helpful experiences that build customer trust and loyalty.
HubSpot Key Features:
Advanced email marketing features, including personalization tokens to tailor your emails.
CRM that logs all of your subscribers' interactions with your business.
Pre-built templates that are customizable with the drag and drop email builder.
Integration with the most popular tools, including WordPress.
HubSpot Pricing:
HubSpot's starter plan lets you have 1,000 contacts at $18/month for individuals and small teams. To send more emails and unlock advanced automation features, professional-level paid plans start at $800/month
HubSpot is best for medium to large, service- and product-based companies that want to track the entire sales process with a comprehensive CRM and are willing to invest significantly in software and implementation costs.
FloDesk
FloDesk is another newsletter software with features to help you create and deliver effective emails to your customers. It has advanced tools to personalize emails, an intuitive drag and drop newsletter builder, and integrations with popular tools like WordPress. FloDesk's various plans allow you to choose precisely your creative business needs. In addition, FloDesk offers fantastic support and resources to help you succeed with email.
Just like any other email marketing tool, Flodesk certainly has its drawbacks as well as its benefits. Flodesk has limitations to be aware of if you plan to take your email seriously. Flodesk can be pricey but completely worth the money if you want to send beautiful emails and care less about the advanced features that come with other email marketing tools.
FloDesk Key Features:
Affiliate marketing and MLM friendly.
Basic integrations with other platforms.
Access to dozens of stunning, professionally designed templates.
In-depth email statistics in an easy-to-read view.
FloDesk Pricing:
FloDesk offers paid plans starting at $35 per month
FloDesk is best for small-business and creatives that want visually appealing emails and do not need advanced email newsletter software features and integrations with other platforms.
Ontraport
Ontraport is an email platform that offers a great suite of features. It's designed to help businesses quickly create and execute sophisticated email campaigns with a customizable newsletter editor. With Ontraport, you can track leads, manage customer relationships, and tailor segments for targeted campaigns. Additionally, the platform delivers powerful automation workflows with powerful triggers and actions. Furthermore, real-time analytics provide the insights you need to optimize your campaign performance.
Ontraport's all-in-one suite of features centers around a robust CRM and marketing automation system that interplays seamlessly with its built-in landing pages, newsletters, e-commerce, and analytics tools, ultimately enabling businesses to give their customers streamlined, targeted experiences that bring results.
Ontraport also offers a membership site, referral program, sales force automation, and business process automation features that power systemization and scaling. However, while you can create virtually any metric you'd like, their reporting dashboard could be more visually appealing as it doesn't have graphs and charts.
OntraPort Key Features:
Combine your marketing efforts into one central system, so you have one place to call for support and one place to look at your business data.
Building custom objects allows you to create relationships between multiple databases unique to your organization.
An extensive range of impressive eCommerce features, including automatic credit card payment collections and the ability to add upsells, cross-sells, cart abandonment, and credit card expiration notification automation.
OntraPort Pricing:
Ontraport basic plans start at $24/month. Unfortunately, they do not have a free version but offer a free trial.
Ontraport is best for service- or product-based, small to large businesses that need solid integrations, are willing to invest moderately in email marketing and automation and want an "all in one" system.
Klaviyo
Klaviyo offers many features to help businesses grow and manage their emails more effectively. Their powerful drag and drop email builder allows users to create sophisticated automated emails easily. Klaviyo also provides detailed analytics, including an opt-in rate, click-through rate, and open rate on the platform to track progress in real-time. Additionally, they offer a range of segmentation options that allow you to send personalized emails that target specific customer groups or interests. As a result, Klaviyo helps makes it easy for businesses to send highly targeted emails to each customer group, ensuring better engagement and higher returns.
Designed initially to support eCommerce businesses, Klaviyo has rapidly expanded to become a top email service provider. Klaviyo lets you segment your list based on a contact's behavior on your website, their location, and open rates. You can build flows or rules for any subscriber situation using different conditions and actions.
Klaviyo has an easy visual builder. You don't need programming skills to create automation workflows, email templates, or install signup forms on the website. On the other hand, the price of Klaviyo is higher than most other tools. Klaviyo's support could be more highly rated.
Klaviyo Key Features:
Seamless integrations with eCommerce stores like Magento, Shopify & WooCommerce.
Klaviyo integrates with B2C and B2B companies using custom websites.
SMS marketing features are built into the platform.
Custom branding that matches your eCommerce business.
Optimization tools such as multivariate testing.
Easy to understand deliverability reporting to ensure your emails are reaching the subscriber's inbox.
Klaviyo Pricing:
Klaviyo offers a free version with paid monthly plans starting at $45.
Klaviyo is best for eCommerce companies that want to easily integrate email and automation into popular eCommerce platforms such as Shopify.
SendinBlue
If you are looking for an email marketing tool to help make your emails stand out SendinBlue is an excellent choice. This platform offers a wide range of features, such as automated workflows, customized contact segmentation, and powerful analytics to help track results. You can also easily integrate it with other applications, like WordPress or Magento. SendinBlue also offers some advanced features, such as A/B testing. In addition, Sendinblue pricing is very competitive – they offer free and paid plans, so you can choose the plan that best fits your needs and budget. With its comprehensive feature set, SendinBlue is an excellent choice for businesses seeking an easy-to-use and affordable email platform.
Sendinblue Key Features:
Custom branding on every paid plan.
Basic reporting & analytics.
Automated workflows (on a business plan or higher).
Drag and drop editor, transactional emails, and SMS integrations.
Sendinblue Pricing:
SendinBlue offers a free plan to get started. After that, pricing starts at $25/month based on features with unlimited contacts.
SendinBlue is best for small to medium businesses focused on newsletters and transactional emails rather than advanced integrations and features.
Campaign Monitor
Campaign Monitor is an email marketing platform that offers analytics, advanced segmentation, and automation features. Its drag-and-drop editor and pre-built templates allow users to create high-impact newsletters. Although slightly more expensive than SendinBlue, Campaign Monitor provides services like A/B testing and drip campaigns to help businesses take their newsletters to the next level. Campaign Monitor also makes it easy to personalize emails and track customer interactions in real-time.
Campaign Monitor Key Features:
Newsletter software that is easy and intuitive to use; create beautiful designs with a drag and drop email editor.
Customizable email templates that include a free image gallery.
A/B testing and real-time analytics.
Campaign Monitor Pricing:
Campaign Monitor pricing is simple and straightforward, starting at $9/month for 2,500 email newsletters sent to unlimited contacts.
Campaign Monitor is best for small to medium businesses focused on stylized newsletters with basic testing rather than advanced integrations and features.
>> Go to Campaign Monitor
What is the Best Email Marketing Platform?
Email marketing software tools provide businesses with an easy way to send newsletters, automated emails, and more. With these powerful tools at your disposal, you can create effective campaigns that will help you boost customer engagement and increase your ROI. While no one tool does it all regarding email marketing and automation. Your tool selection should be a reflection of your marketing growth plan.