Asana + Everhour: Time Tracking in Asana
Why is Time Tracking Important?
Estimate Future Projects
Did you ever come up with this really awesome idea that you thought you could complete in a few weeks, but that actually turned into months?
Time tracking allows you to obtain time-based information on your current projects, that you can apply to future projects; even if they aren't exactly the same. Time tracking gives you a baseline from which to estimate out future tasks and projects so that you can be more realistic and accurate and therefore, create a more solid game plan for what you are creating.
Hourly Customer Billing
If you are charging clients an hourly rate, you must be tracking your time in software. This is both for moral and ethical values – any client that you bill hourly time should also be able to audit and receive a time tracking report from you. Even if they never ask for it, it allows you to make sure that you are conducting due diligence with your work.
Keep Tabs on Your Team
If you with one or more people, keeping track of time will allow you to gauge productivity amongst your team and therefore assigning tasks to individuals based on what they are most efficient and effective on.
Additionally, your team should be able to be accountable for the time they are spending on your projects and what you are paying them to do.
Finally, without knowing all the work that has been spent on a project, you won't be able to do those future estimates. Keep track of all work, all team members and the time that they spend working.
Everhour
Everhour is an individual and team time tracking and estimating application. It is web-based (which means you can use it in your browser) and integrates seamlessly with Asana!
With Everhour, you can estimate the time to complete your tasks, and then use a built in clock to track the time against your estimates.
Once you have time data in the system, you can run reports to get task and project totals, including customizing those reports based on projects, team members, etc.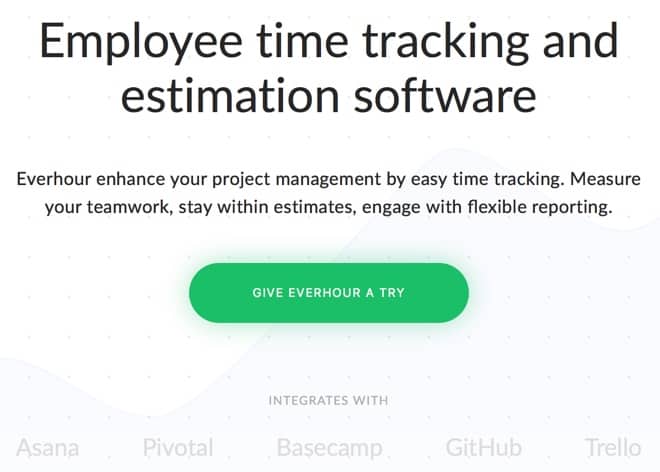 Integrate into the 5 Steps
Estimate Your Tasks
Start by estimating your time to complete each task in the Everhour/Asana integration. When you add a time estimate, you will notice that it displays next to the task owner.

Schedule Tasks
Schedule the tasks on your Asana calendar.
Time Track Tasks
When you are ready to begin a task, start the Everhour timer. When you have finished working on the task that day, stop the timer.
You will be able to view how much time you have spent on the task to date in comparison to how much time you estimated it to complete.

Run Report
Run a report in Everhour to determine how much time you are spending on projects total. Additionally you can use this feature as a report to bill to clients.

Research New Tasks
When you are ready to start a new project, use your task history in Asana + Everhour to create more accurate estimates for future projects.
Watch Asana + Everhour in Action
Get the Tools
Grab your own free Asana account.