Email segmentation is an effective marketing strategy that can increase your email open rates by 203%. According to HubSpot, "marketers who use segmented campaigns note as much as a 760% increase in revenue."
Setting up new marketing automation and CRM (customer relationship management) tool can be a daunting process. In this blog, we will discuss how to setup ActiveCampaign lists.

Whether you are creating from scratch or migrating from an existing system and trying to rebuild what you have already created, the strategy that you use to create your lists is extremely important.
A proper list strategy in ActiveCampaign will help:
Increase your email reputation and deliverability (where your emails get delivered; either in the inbox or spam).
Reduce spam complaints and unsubscribes (the people who do not want or opt-out of your email list).
Keep your contacts engaged and active.
Lists Vs Tags in ActiveCampaign
When using ActiveCampaign for your email marketing, it's easy to remember the difference between lists versus tags when you consider this:
Lists are your filing cabinet; you only need one (in some instances more than one) to hold all of your records. Lists are your macro-level of account organization. (For more info, see a Beginners Guide to Lists on the ActiveCampaign website).

Tags are your file folders; you may need many of them to organize the contents of all of your records. Tags are your micro-level of account organization. (For more info, see a What Are Tags? on the ActiveCampaign website).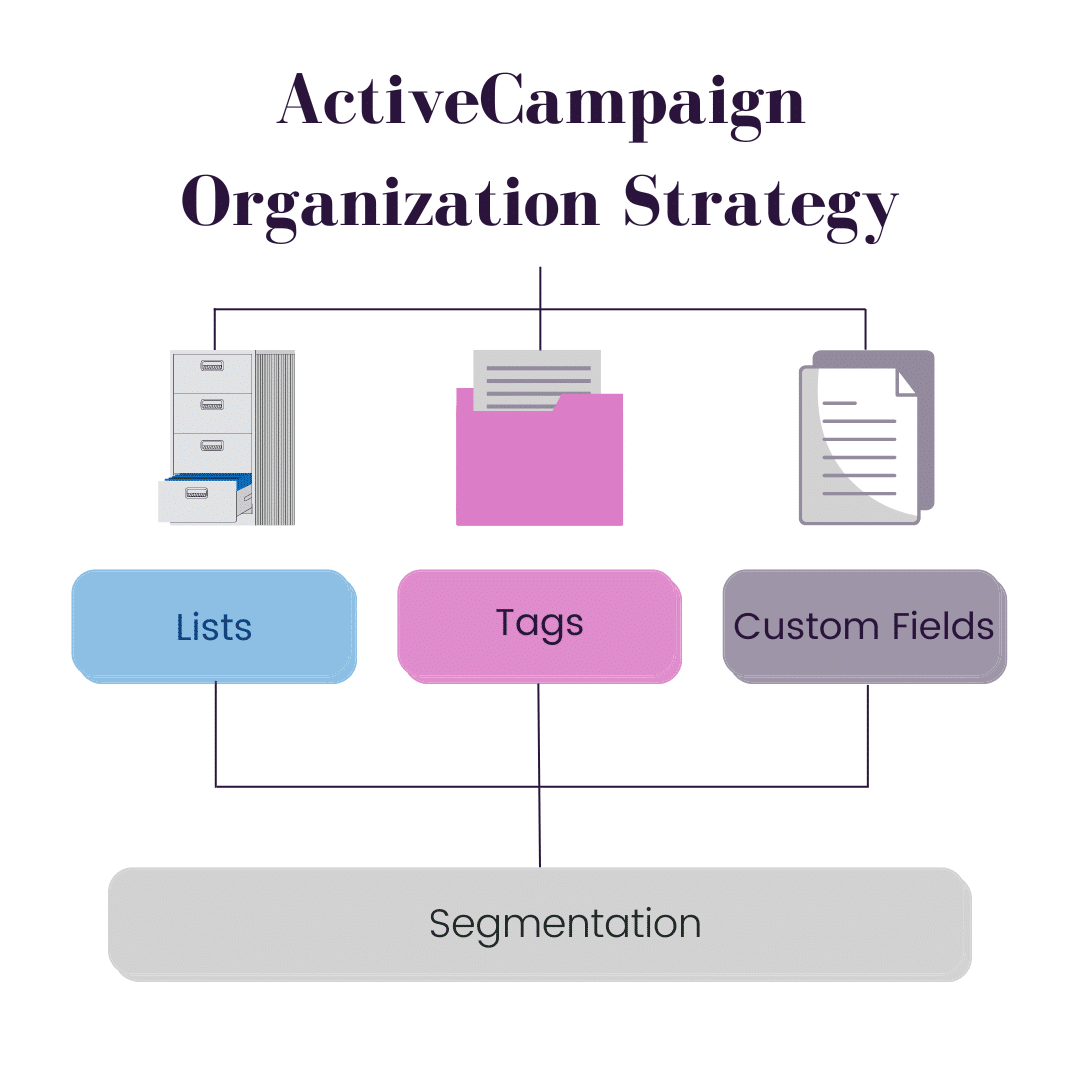 ActiveCampaign List Strategy
Anyone who has ever tried to manage a large email list knows, it can be a daunting task. There are many moving parts – new subscribers, changing preferences, unsubscribes, bounces… the list goes on. This is where the Master list comes in handy.
A Master list is a centralized database of all your email subscribers. Within the Master list, you have segments (created by tags and custom fields) that contain additional relevant information and preferences.
List Segments
Email segments allow you to create "buckets" of contacts within your list based on different variations of contact data. Segments may be created by information such as date of subscription, engagement level, if they are a customer or not, interest, etc.
Email list segments are important because, with them, you can created targeted email marketing campaigns.
Below are examples of different ways you may start to segment your email list.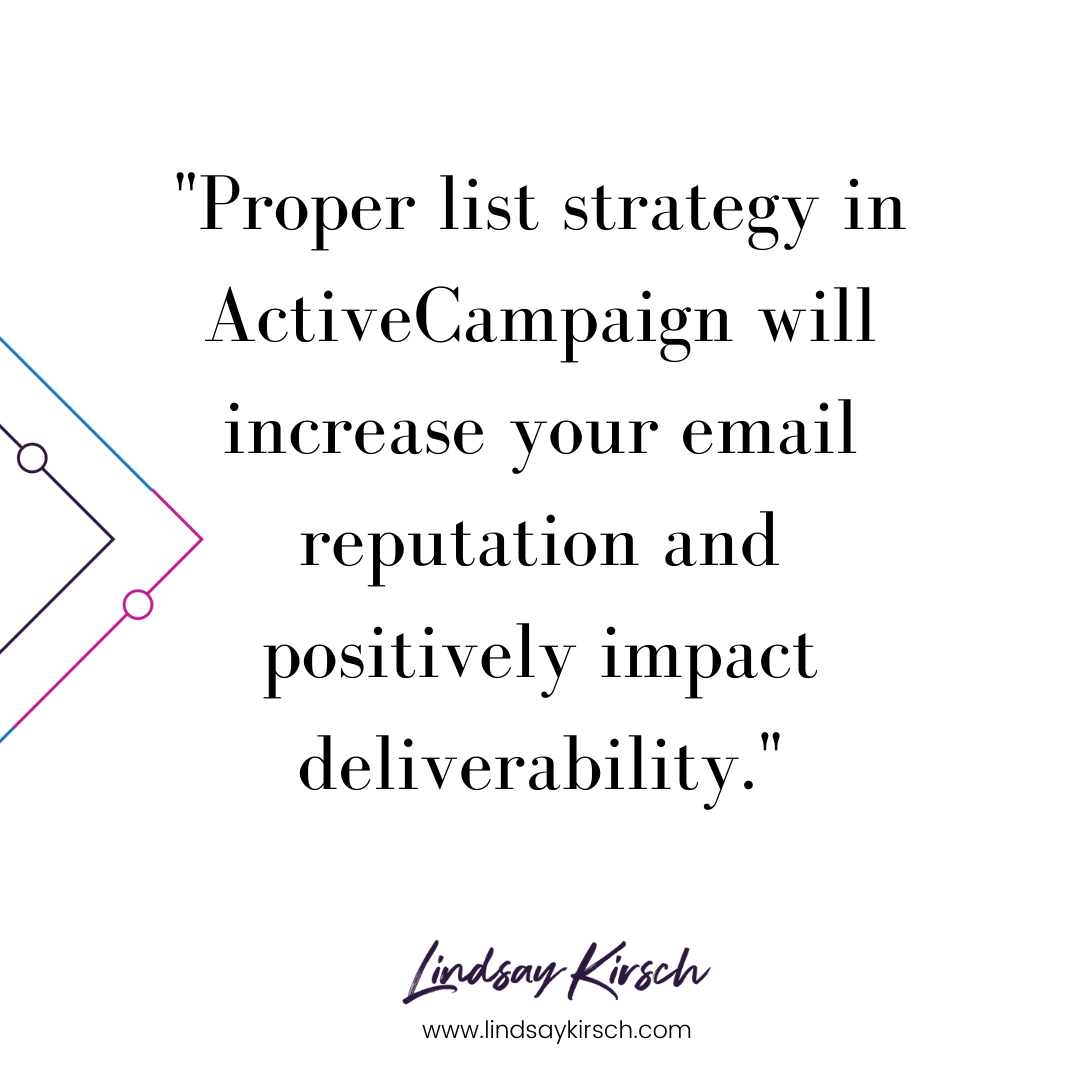 Weekly Email Broadcasts
The purpose of the weekly email broadcast segment to provide non-promotions, free, high-value content to contacts that wish to receive it. This includes any type of content marketing, such as blog or podcast updates, or upcoming (free!) events.
Usually, new subscribers are added to this segment automatically but have the ability to remove themselves through your email preferences form.
Special Offers and Promotions
The special offers & promotions segment is the next entry point for new contacts. At the same time, a contact is segmented into weekly broadcasts they are segmented into your special offers & promotions group.
The purpose of the Special Offers & Promotions list is to deliver promotion content. This includes new offers, product or service launches, or affiliate launches.
Within this segment, you can use additional tags to further segment your contacts based on interests (such as joining a waitlist for a product), or what they do or do not want to receive more information on.
Note: it's important to include an opt-out option for contacts during promotional sequences so that they don't have to unsubscribe from everything, just what they do not want to see.
Customer Only Communications
The customer only communications segment is only for contacts that have made a purchase from you of a product or service.
The purpose of this segment is to provide specific communications to your paying customers. This could include product updates, new features, or even special customer-only promotions.
Within this list, you can create further segments specific to what they have purchased as well as interest in additional products or services.
Additional Lists
Periodically, it may make sense to have additional lists in your ActiveCampaign account. Examples of additional lists include:
Unconfirmed Contacts
The Unconfirmed Contacts list is used as a gateway to the other lists. When someone enters our contacts, but have not yet confirmed their email address and/or contact information, you can keep them on this list until that confirmation is complete.
Using this list allows us to ensure that we are only sending content to contacts that are active and engaged. This helps to reduce unverified and spam contacts in our accounts.
Once contact is confirmed, you can transition them to your other lists where they will fall into your other email strategies.
Integration Lists
Periodically, you may integrate your account with other systems and tools that will require a list for the integration. In order to keep your account clean, use a list to set up the integration, and then transition the contacts into your Master List.
An Integration list is similar to the Unconfirmed Contacts list in that it provides a temporary placeholder for contacts until they are ready to be moved into your main lists.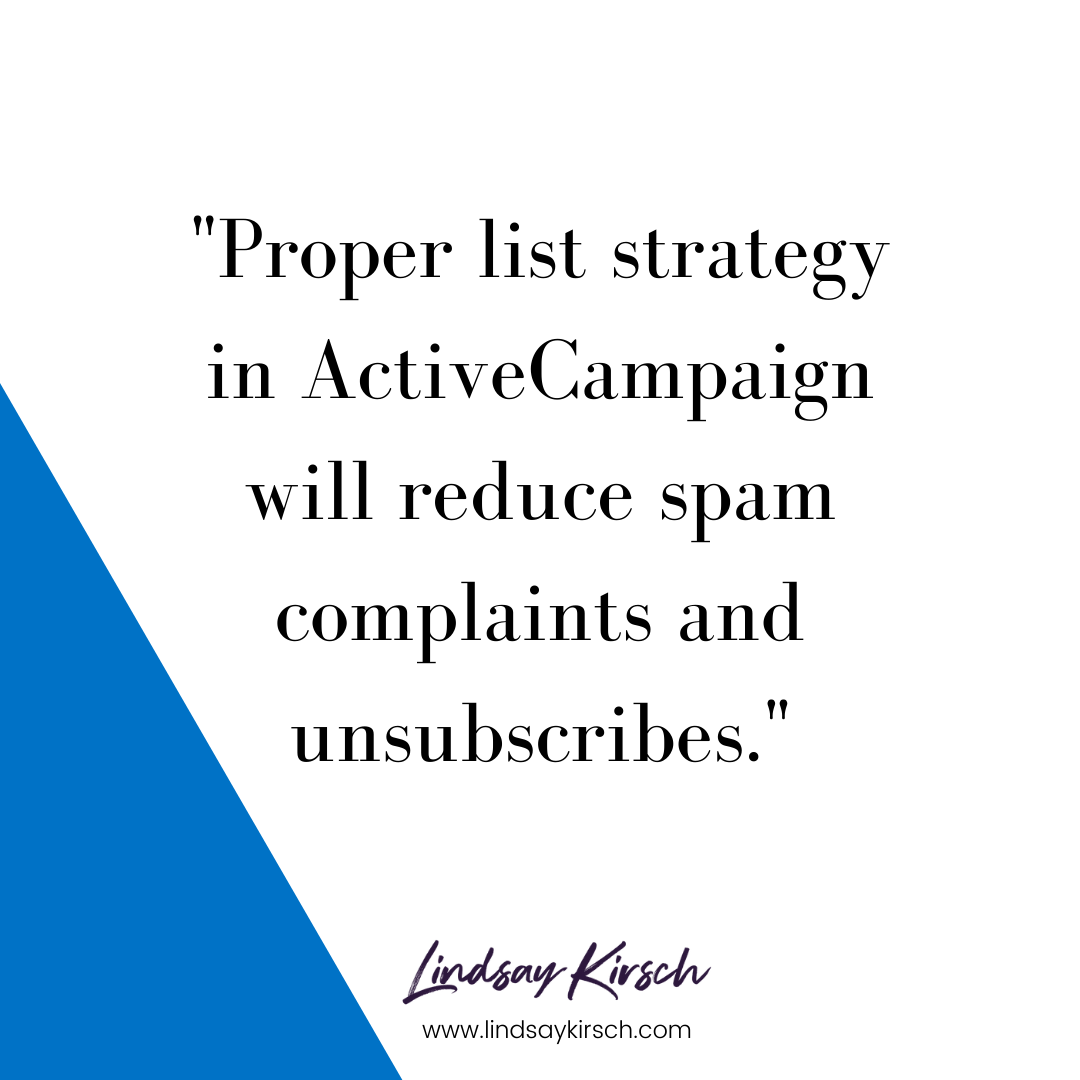 Allow Users to Manag Their Subscriptions
A key benefit of the three primary ActiveCampaign lists strategy is that you enable your contacts with a clear definition of what they are receiving from you and why.
From here, you can set up a subscription management page and allow your contacts to subscribe and unsubscribe with ease, creating a happier, healthier email list.
A Note On Deleting Lists
If you are a current ActiveCampaign user and looking to transition into this list strategy, note: removing a list will automatically delete any associated campaigns.
If you want to keep your campaigns, I suggest setting up the new list structure, then migrating your contacts from the old list, to the new list. You can then continue your communications with your contacts, and access older campaigns while leveraging a proper list setup.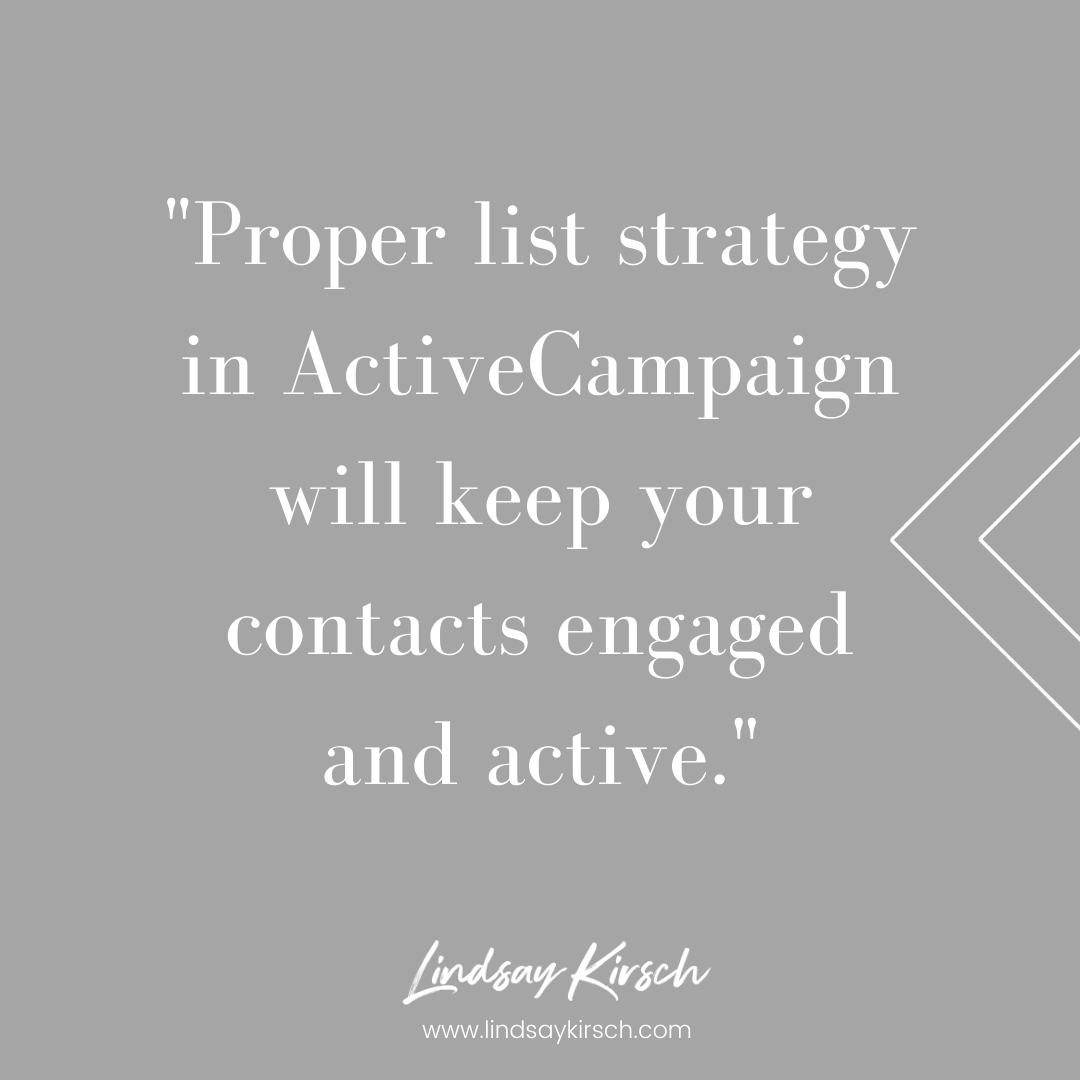 What's Next for Your List?
If you are one of the 81% of small- and medium-sized businesses that still rely on email as their primary customer acquisition channel, an effective list strategy in ActiveCampaign is critical to your success!
I'd love to know; how are you managing your lists in ActiveCampaign and what will you change based on the information in this article?