One of the more challenging aspects of running a business can be keeping track of and following up with your leads.
Leads can be tricky to manage because they are often coming from multiple sources and via different mediums, both on and offline.
With everything that takes place each day in your business, it's easy to forget about your leads and continuing to build those relationships.
Unfortunately, because leads are usually quiet and not causing the fires and reactive commotion in your business, it's easy to let them slip through the cracks. This can be very frustrating to a business owner due to the high acquisition costs of a new lead.
In this blog, I'm going to share with you five strategies to help keep your leads organized so that you can feel confident that you're following up promptly without missing a beat!
ActiveCampaign CRM Workflow
ActiveCampaign is an email marketing and automation platform with a built-in CRM function. In the ActiveCampaign CRM you can create a sales pipeline, track leads as they progress through stages, automate setup and setup manual follow-up tasks.
For more information on ActiveCampaign and to sign up for a free 14-day trial, click here.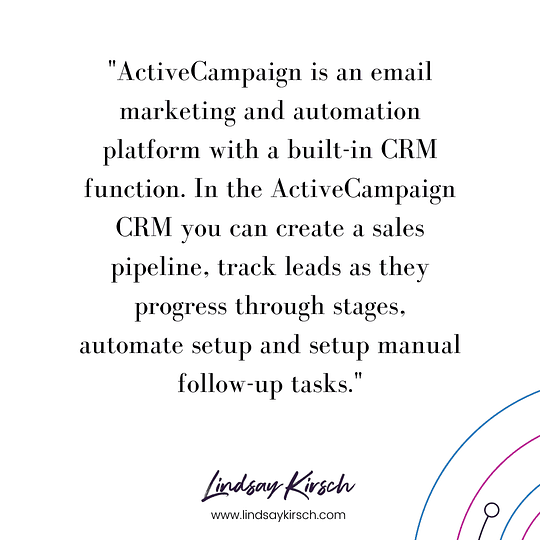 Step 1: Identify your Lead Sources
The first step to organizing your leads is to determine the different sources from which they are coming from. Sources may include your website and different opt-in or contact forms, webinars, business directories, live workshops or events, or even a networking event.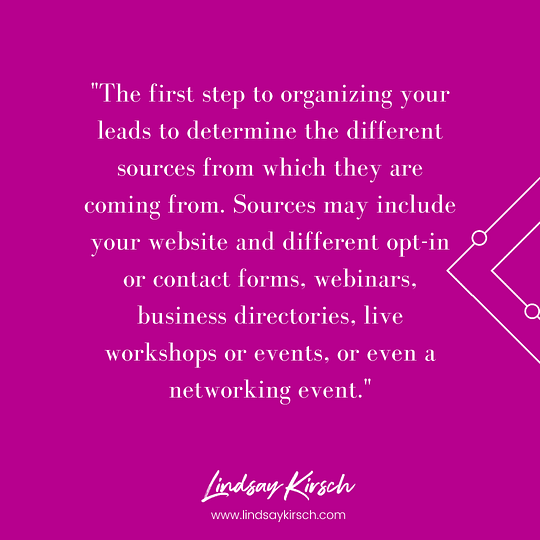 Once you have identified the different lead sources, group them into two buckets:
Online sources that can be automatically pushed into your CRM system.
Examples of sources that can be automatically pushed into your CRM include website opt-in forms, contact forms, webinar signs ups, etc.
2. Online sources that cannot be automatically pushed into your (due to lack of integrations or other challenges).
Examples of sources that cannot be automatically be pushed in your CRM may include contact forms that are not hosted on your website (such as through a business directory), emails (depending on your software), and direct messages on social platforms.
3. Offline sources that will need to be manually added to your CRM.
Examples of offline sources that will need to be manually added to your CRM are business cards, flyers and other physical materials.
In order to set up your business processes effectively, identifying all lead sources is key to creating your follow up processes and using your CRM effectively.
Step 2: Create a Central Lead Repository
Now that you know your lead sources it is time to create a central repository where they can be stored and managed.
Of course, a lead tracking spreadsheet can work wonders for a business that is just starting out, an automated CRM system, such as ActiveCampaigns will be more robust and allow you to scale more quickly.
According to Hubspot, CRM software may increase your sales by up to 29%. The ActiveCampaign CRM will allow you to automatically drop a lead in your pipeline based on their behaviors and actions on your website.
For example, if a lead signs up for a free PDF, they will be dropped into one stage, whereas if they schedule a consultation, they can be dropped into another.
Step 3: Automate the Follow Up
Did you know it takes an average of 18 calls to actually connect with a buyer? An ActiveCampaign CRM workflow can help you manage this follow up process with tracking and automation.
… Imagine ditching the sticky note strewn across your desk reminding you to make that call!
With ActiveCampaign, you can automate reminders to email, call, or text your lead and even have some of those emails happen automatically!
Create a follow-up workflow that will increase your productivity (especially if you leverage automation) and ensure your leads do not get missed!
Step 4: Keep Track of Interests and Opportunities
Advanced CRM systems, such as ActiveCampaign will allow you to add tracking opportunities to your contacts so that you can learn more about what specific interest your leads may have. This includes keeping track of actions on your website (such as what blog posts they read or sales pages they review).
Tracking allows you to create more target offers towards these leads, so that you aren't sending them to content or offers that are not relevant to what they want.
Tracking will also allow you to "score" your leads so that you can understand who is most engaged (or hot) versus only somewhat engaged (warm).
Step 5: Develop a Daily Workflow
Once you have your lead management system in place, developing a daily workflow will ensure that you develop habits to use your system versus reverting back to your "old" ways. A process is only as good as you follow it.
Your daily workflow may include importing leads that need to be manually added, completing lead follow-up tasks, and moving leads through your sales pipeline stages.
I always recommend creating a workflow process chart, (using a tool such as LucidChart) to document the actions that should be taken in your system. This will allow you to know exactly what to do as you get comfortable with your new workflow and form new habits.
Spend Time on the Process to Add Time, Energy, and Profit Back into Your Business!
An organized lead process will result in added time, energy and profit back into your business!
Are you struggling with organizing your leads? Let me know what's working, and not working in your business below!