Your email marketing automation software is one of the most essential tools in your toolbox. Yet with so many options available, it can be difficult to choose the right one.
The three most popular email marketing tools are ActiveCampaign, Mailchimp, and ConvertKit. While I personally use and love ActiveCampaign, Mailchimp and Convertkit are two ActiveCampaign competitors worth noting.
The first step in choosing your marketing automation tool is realizing that it's not one-size-fits-all. Your choice will depend on how advanced your email marketing needs are.
In this post, you'll learn how to choose between the top three tools available. Specifically, you'll learn about the different features you should look for when selecting the tool that best fits your needs.
ActiveCampaign vs the ActiveCampaign Competitors
While ActiveCampaign is the most advanced SMB marketing automation tool out of the three, many people choose to start with a simpler tool. The most popular ActiveCampaign competitors are Mailchimp and ConvertKit, and each has its pros and cons.
The three main areas of functionality to look at when choosing a marketing automation tool are email marketing, automation, and customer relationship management (CRM).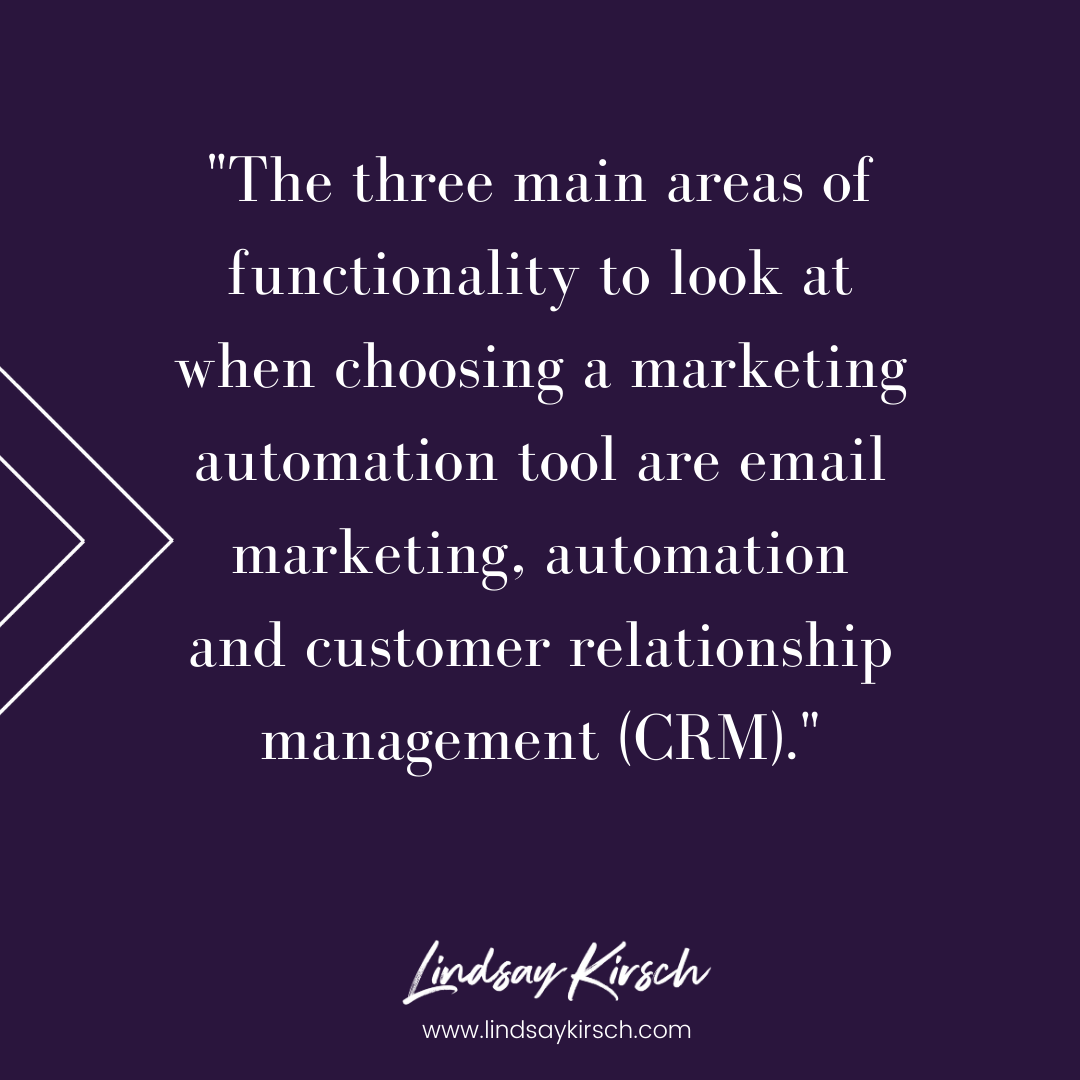 What Is Email Marketing?
Email marketing is the act of sending a message to past, existing, and potential customers on your email list. Businesses typically send email campaigns one to five times a week, including advertisements, business announcements, or deals about products and services.
Email has proven to be one of the most effective and lucrative marketing tactics available. In fact, email generates $38 for every $1 spent, which is an astounding 3,800% ROI!
Tools like Mailchimp, ConvertKit, and ActiveCampaign facilitate the process of gathering contacts, storing their information, and sending them emails.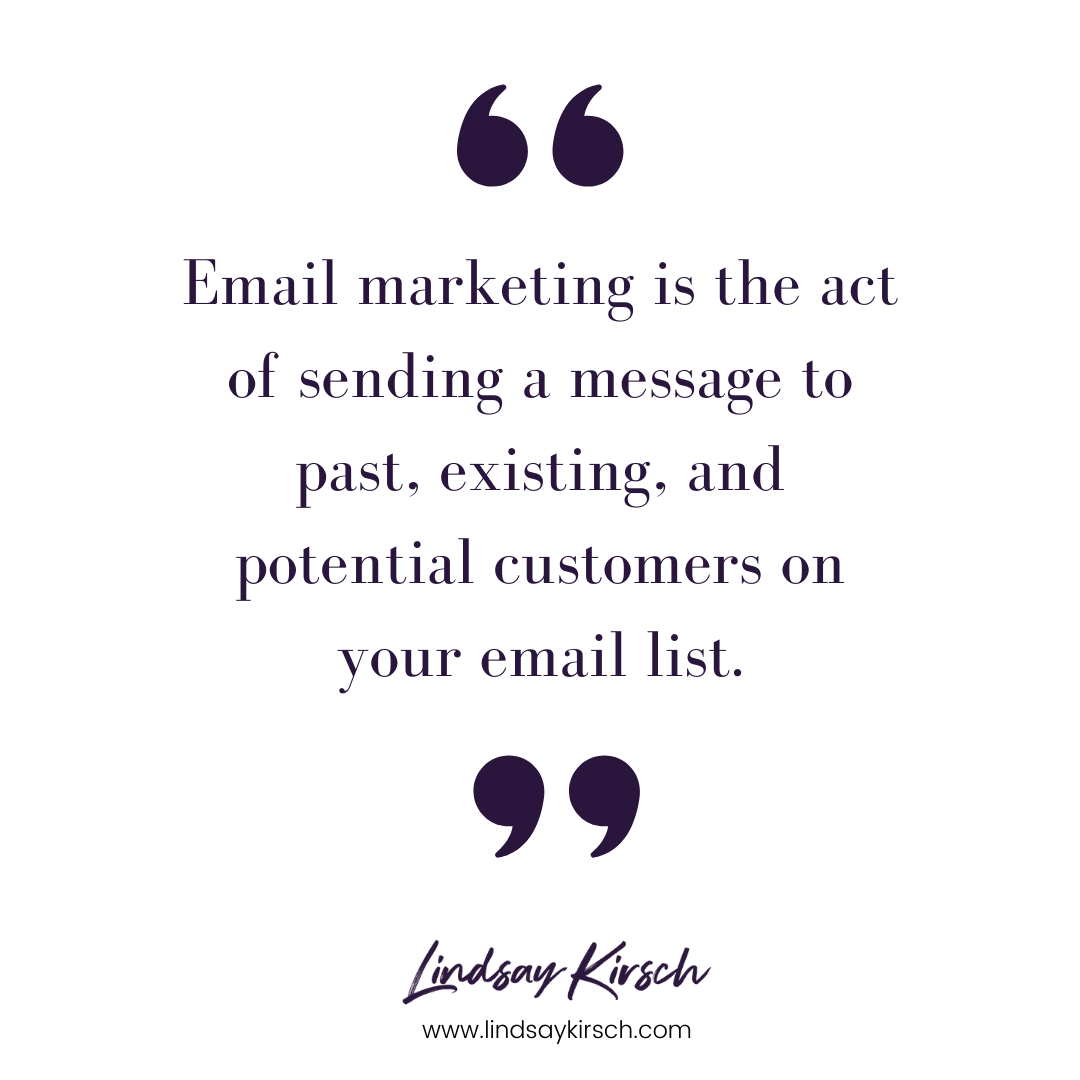 Email Campaign Designer: Mailchimp vs. ConvertKit vs. ActiveCampaign
The first feature to consider when choosing your email marketing tool is the email campaign designer. This is the platform you'll use to visually lay out your emails.
Mailchimp: Beautiful drag-and-drop designer, which is far better than the rest.
ConvertKit: An OK email designer. You can certainly create decent looking emails that get the job done.
ActiveCampaign: A drag-and-drop editor that allows HTML and CSS code.
MailChimp wins this one by far. Neither ConvertKit nor ActiveCampaign have email designers as intuitive as Mailchimp.
This makes MailChimp ideal for small organizations that mostly use email to send out information. For example, a local sports team that needs to communicate with its members. It's also more affordable to use, which is why many small businesses start off with it.
But if you're planning to use email marketing to sell products, increase revenue and grow a customer base, you should consider a more advanced tool. As your business grows, you'll eventually need automation and CRM services — which extends beyond Mailchimp's capabilities.
What Is Marketing Automation?
The next feature you want to consider is marketing automation.
Marketing automation refers to the process of automating email marketing tasks. For example, if a contact signs up for your mailing list, they'll receive an automated "thank you" email. Or if someone signs up for a free resource on your website, they'll receive a sequence of emails on that topic.
Email automation campaigns are among the top-performing strategies used by email marketers to improve performance. Research has shown that companies that excel at lead nurturing generate 50% more sales-ready leads at 33% lower cost.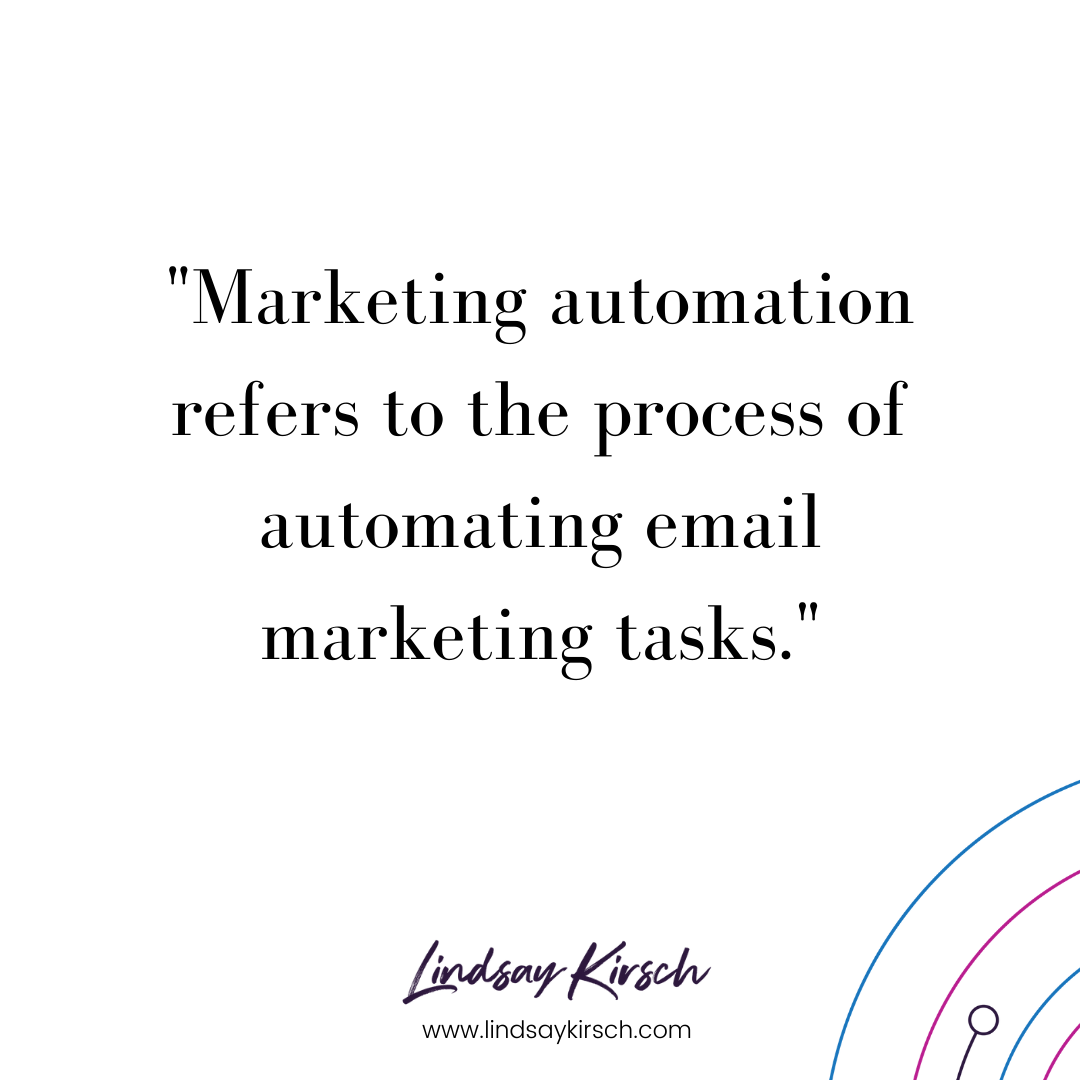 Marketing Automation: Mailchimp vs. ConvertKit vs. ActiveCampaign
Certain email marketing tools offer automation features far beyond just sending an email. They can create new deals in a CRM system, give contacts access to different offers, and send emails based on location and timezone.
Mailchimp: Basic automated responses and campaign sequences. The platform doesn't offer integration opportunities with many other systems, meaning you'll likely need to bring in a third-party tool like Zapier as you onboard new tools to run your business.
ConvertKit: Basic automated responses and campaign sequences, as well as a few native integrations with other tools. Still, you'll most likely need Zapier for most things.
ActiveCampaign: Robust campaign sequences and actions beyond just emails, including split-testing and Facebook audience integrations. It also offers native integration with most major tools on the market, eliminating the need for Zapier.
Overall, the two ActiveCampaign competitors offer basic email marketing automation functionality, but both have their limitations.
Robust automation is one of the best ActiveCampaign features. The tool offers integration with most of the top players in the market, including major membership and online course providers. When you're ready to launch, you'll have a much easier time integrating your new services with your email marketing.
Either Mailchimp or ConvertKit might work fine for your business — but if you plan on one day offering a membership program or creating an online course, you should consider ActiveCampaign. As your business grows and you're ready to tackle more advanced marketing tactics, you'll likely outgrow its competitors.
What Is CRM?
The final feature to look at is a CRM system. CRM is the process of managing interactions with past, existing, and future customers.
You can use a CRM system to track your sales pipeline, contacts, new leads, deals, special offers, and so on. Beyond just storing this information, a CRM system allows you to forecast your sales pipeline and send automated emails to contacts based on their position in your pipeline.
The benefits of this can be huge. A CRM can help you increase sales by up to 30%, according to SalesForce. Plus, it helps you improve customer retention and satisfaction rates.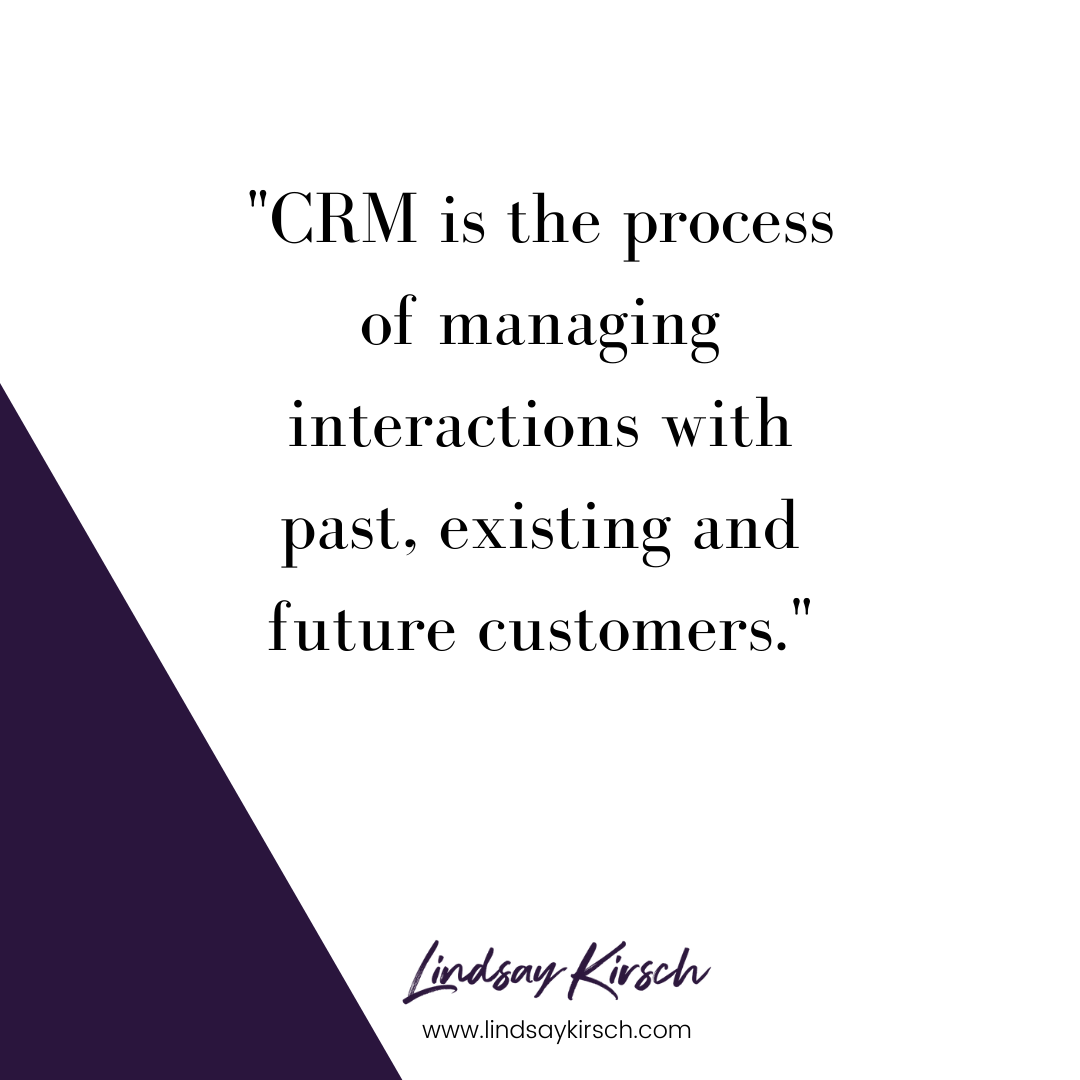 CRM: Mailchimp vs. ConvertKit vs. ActiveCampaign
While ActiveCampaign competitors Mailchimp and ConvertKit collect contact information like name and email address, neither tool monitors your sales pipeline.
Mailchimp: No CRM functionality.
ConvertKit: No CRM functionality.
ActiveCampaign: CRM functionality that can integrate directly with your marketing automation, allowing you to automate lead and deal creation, and track tasks and all of the data associated with your sales pipeline.
ActiveCampaign's advanced CRM functions allow you to create multiple sales pipelines, as well as manage and track deals across multiple stages. For example, when a contact reaches a specific step in your pipeline, you can automatically have an email sent out to them. At the same time, a task can be sent to your team member to follow up with that contact.
Not everyone needs such an advanced CRM system. You can easily track your own pipelines on a simple spreadsheet. However, if you want to integrate your pipelines with other tools — like online appointment scheduling — a CRM system could definitely come in handy.
Once you begin expanding your team and sales start taking off, you'll be glad you made the investment.
Overall, choosing the right email marketing tool depends on a variety of factors. The top three functionalities to look for are email marketing, automation, and CRM capabilities.
Once you've determined how important each of these features are for your business, you'll know which tool is best for you.