Grow the Good in Your Brain and in Your Life
This January, Rick Hanson, PhD. is once again offering his Foundations of Well-Being Course, which I participated in throughout 2016.
The Foundations of Well-Being is a self-paced digital course that offers participants the ability to hardwire lasting happiness, love, and resilience into your brain and your life. Through a series of online videos, activities, discussions, and even live calls, you learn more about yourself and will achieve personal growth.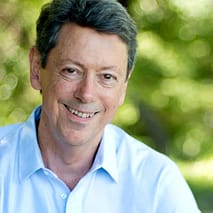 What is this course about?
The course is broken up into 12 main pillars of self-caring, mindfulness, learning, vitality, gratitude, confidence, calm, motivation, intimacy, courage, aspiration, and service.
Working through the pillars, this course promises to help you:
• Experience more pleasure and joy in daily life.• Have more loving, satisfying relationships.• Free yourself from past painful experiences.• Feel less stressed, worried, or blue.• Be more mindful, grateful, and hopeful.
You can choose to go through each pillar individually or jump around them as you wish. I choose to go through the pillars in order and follow the standard course flow. By doing so, I was able to spend a few minutes each day on the course, while continually progressing through. The course is available to continue to work on throughout the entire year.
Who created this course?
Rick Hanson, Ph.D., is a psychologist, Senior Fellow of the Greater Good Science Center at UC Berkeley, and New York Times best-selling author. His books include Hardwiring Happiness, Buddha's Brain, Just One Thing, and Mother Nurture. He edits the Wise Brain Bulletin and has numerous audio programs. A summa cum laude graduate of UCLA and founder of the Wellspring Institute for Neuroscience and Contemplative Wisdom, he's been an invited speaker at NASA, Oxford, Stanford, Harvard, and other major universities, and taught in meditation centers worldwide.

Why do I recommend this course?
Early in 2015, my life took an unexpected turn. I was plagued with depression, anxiety, and panic attacks. My therapist recommended Rick's book, Buddha Brain. I began to learn about mindfulness, mediation, and positive neuroplasticity. Since beginning this work, I have made positive changes in my life. I feel very happy and fulfilled, and I am now passionate to share what I have learned with others. Even though I still have ups and downs, the lessons learned in this course have empowered me and given me confidence that I can work myself back to a state of happiness when I need to.
Who is this course for?
I would recommend this course to:
Individuals looking to focus on their own self-care.
Individuals who want to grow more happiness in their life.
Individuals looking to learn more about mindfulness, what it is, and how to create a mindful life.
Individuals who love to learn and desire personal growth.
Why am I writing about this course?
Because I love this course so much, I have become an affiliate. That means, I receive a commission if you purchase the course through me. I am only an affiliate for products and services that I truly believe in, and this is one of them. The opinion expressed in this post about this product is directly from me.
Additional things I loved about this course:
It was self-paced and I could complete it on my own time and in my own space. There were times when I did not work on the course for 6-8 weeks and it was no big deal to pick it back up and continue the practice.
There are tons of resources – if you are looking for more information at any time, each pillar has bonus resources such as books, videos, and activities to engage in.
There are creative activities that allow you to work through the processes in a different way such as the confidence mosaic which assisted me in recognizing my thoughts and shift my mindfulness to the positive ones.
Rick brings in various experts throughout the course to provide further information. One of my favorites is Tara Brach whom I now regularly listen to guided meditations from (visit her website here).
Rick had multiple "live" calls throughout the year that I was able to join, ask questions, and receive live responses on.
This is a smart investment.
Some additional considerations:
Continuing education credits are available.
Payment plans are available.
Group and buddy plans are available.
Full and partial scholarships are available.
Sign up now!
You can join the 2017 course now! Click on the graphic below to get started or click here!