I recently completed a LinkedIn Audit, and the results are too good not to share!
If you are anything like me, creating and managing multiple social media profiles can seem a bit exhausting. Especially, when each platform is geared towards its own audience and content.
LinkedIn is quickly emerging as a leader in social media marketing, particularly if you are seeking out business to business partnerships.
If you haven't taken advantage of the platform, here are a few stats that might convince you:
45% of LinkedIn users are in upper-management. These are your decision-makers. The people you want to be influencing. (Forbes, 2019).
Of 500 million users, just 3 million users share content weekly. With only a fraction of users sharing content, this equals more opportunity for your content to be seen. (OmniCoreAgency, 2019).
79% of B2B marketers see LinkedIn as a good source for generating leads. (Foundation Inc .com, 2019).
In an effort to improve my own LinkedIn efforts, I recently decided to complete the Digital Marketer 10-Point LinkedIn Audit. Below, are my results!
Cover Image
The cover image is one of the most important assets to your LinkedIn profile. The cover image is the first visual representation of who you are and what you do that a visitor will see.
Before completing the audit, my cover image was set to the LinkedIn default. I updated my cover image using a simple design in Canva. While it's not perfect (I have a designer working on a better version). It's a start. And a start is better than keeping the default!
Profile Photo
The next step of the audit is to review your profile photo. A clean, professional photo will really help your profile stand out in the crowd. I was happy with the profile photo in place, so I decided to stick with it.
Contact Details
Did you know that each year on your birthday, LinkedIn will let your entire audience know about it? This is such a great way to get free advertising across the network!
Your contact details also contains your LinkedIn URL (which you can customize), website and address.
Going through my own contact details I found an out-of-date phone number listed. Argh! How many calls did I miss by this small error?
Headline
The headline is a short line of text that describes who you are and what you do. With only 120 characters, you have to be concise, but clear.
I updated my headline to, "double the size of your business by leveraging systems, tools, and technology." I'm still deciding if I like this.
Summary
This is my favorite section of the profile, because it's where you can really help a visitor get to know you.
In the past, my summary was very bland and not personal. I've updated it quite a bit to share my personality. I also added some photos of myself to brighten it up a bit. It's not perfect, but it's a step forward!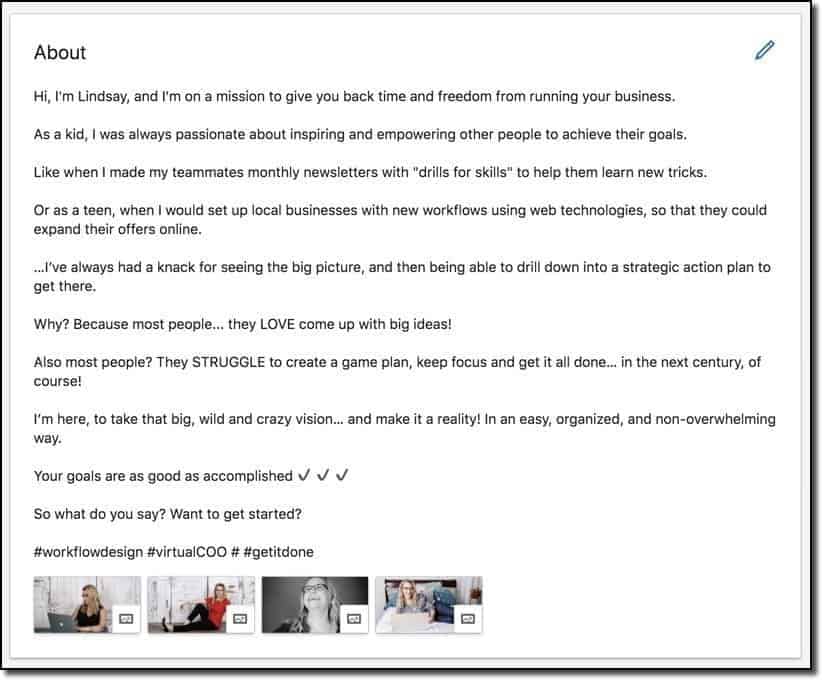 Current and Past Experience
This is the "meat and potatoes" of your profile. When I audited my profile, I realized that I had every single job listed, back into my college days (yes, that's over 15 years ago). I cleaned it up, and only added positions and relative experience that were applicable.
I also added photos and images to each position to add interest. This includes my offerings and certifications.
Education
The Education section provides a great opportunity to further "network" digitally. For each institution that you add, you are automatically linked to the network of that institution. This allows people to find you more easily across the social network.
Skills and Endorsements
Here is another section that was very messy on my profile. It had a bunch of random skills listed and their endorsements.
Based on the audit, I updated my top preferred skills (Project Management, Process Management, and Leadership) then I reached out to my network and asked them to support my endorsements.
(Did I reach out to you yet? Click here to add an endorsement to my top categories! My goal is to get endorsed 100+ times in each category!)
Recommendations
LinkedIn recommendations are gold. Because you have to be a signed-in LinkedIn user, a LinkedIn recommendation carries much more weight than a random testimonial on your website.
I've really worked to obtain various recommendations over the years, but I can always use more. I am going to start asking for more recommendations at project completion.
Interests
The last section of your profile is the Interests section. This is another opportunity to be added to networks of shared interests and opportunities. After reviewing my interests, I made a few updates to reflect my current business and personal development areas.
LinkedIn Audit Results
As a result of updating my profile over the past few weeks, my views and search appearances has nearly doubled. Additionally, I have obtained multiple new business leads that specifically commented on my profile. I'm looking forward to continuing to refine my profile and seeing my business grow as a result.
Complete Your LinkedIn Profile Audit
Interested in updating your LinkedIn profile and need some help?
Check out these awesome resources: