Healthcare Company Saves Over 250K in Learning Development Costs with Content Management System
INDUSTRY: MEDICAL TECHNOLOGY
Cost savings of over 250K.
85% leveraged learning content across audiences.
Global training program with 100% new content, delivered on time and within budget.
While working for a $4 billion multinational healthcare company, Lindsay led a 2.5 year Six Sigma / process improvement project as a Senior Project Manager of Global Training Development. The project's main objective was to improve efficiencies concerning the creation, development, translation, and final publication of global training content.
Lindsay's Training Development team faced four distinct challenges while preparing materials for internal and external customers globally:
Reduce the time to design, develop, and obtain approval on English training materials.
Reduce the time to localize and globally distribute English materials in 17+ languages.
Increase the technical accuracy and compliance of all training materials.
Create an agile training development process that, without significantly impacting costs or time, allows for multiple iterations of content.
The training development process prior to this project used non-structured authoring tools; these tools failed to optimize global localization and distribution. In turn, this resulted in duplicate sources of identical training content as well as translations that lagged up to 12 months past the release of English versions. Because of this cumbersome process, projects were often delivered late and over budget.
As Project Manager, Lindsay led a cross-functional team, both inside and outside of the organization, towards discovery and implementation of a new process solution (DMADV) using Six Sigma methodology.
The team predominately leveraged process charting, CTQ's (Critical to Quality), existing project costs, cause and effect analysis, solution prioritization, and design planning, to verify and validate a new training development process which focused on single-source and structured writing (XML-based) content.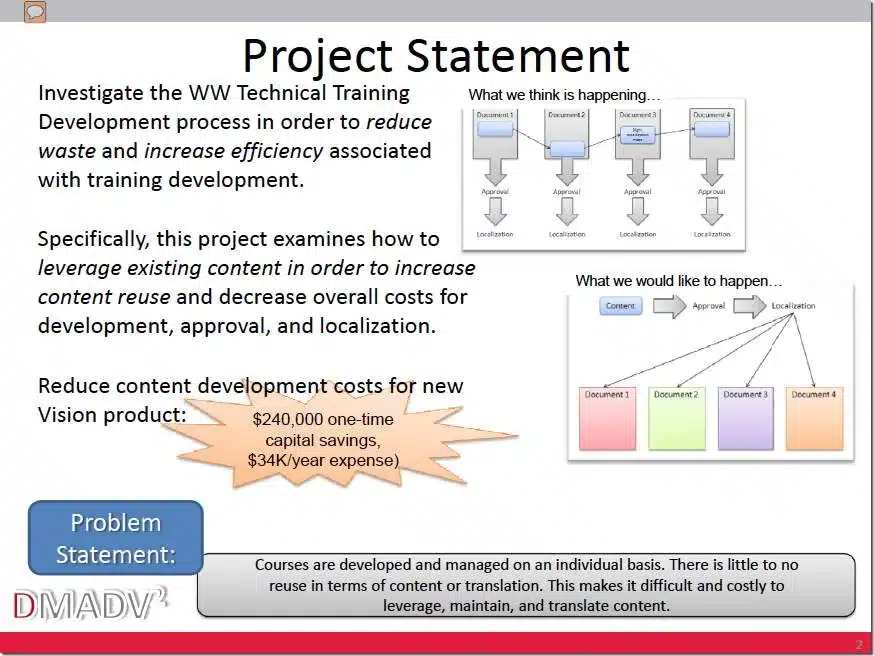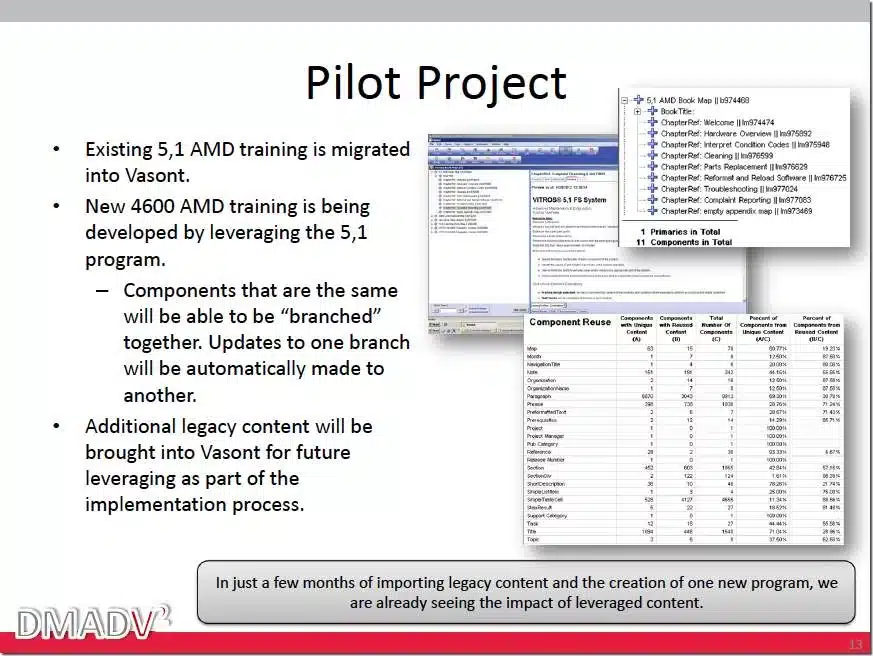 The new training development process brought immediate results. The initial training manual developed resulted in 85% leverage content, requiring only 15% new content to be developed, approved, and localized.
Because of these excellent initial results, the organization continued to implement the same process for various new, single product training manuals; these product manuals were tailored for different audiences including customers, the internal sales force, and call centers.
For example, in the following project for a new medical device launch, results indicated the development of 100% new content in the format of training manuals, eLearning, audio, and video. This project led to cost savings totaling over $250,000 and was delivered on-time and under-budget. Overall, the creation of the new training development had an organizational return on investment of under two years.
On a personal level, Lindsay, throughout the project's planning and implementation, demonstrated her proficiency in Six Sigma while also earning her Greenbelt.
Our firm partnered with Lindsay on a special project because of her experience in rolling out global training programs. Lindsay is an industry thought leader, creative, articulate and professional. Lindsay is a pleasure to work with: friendly, insightful, listens to the client, and overall a true partner.
Kate Bryan, Manager Global Training Design