When it comes to tech, we are often in a hurry to make a choice. It's easy to jump into a tool that a BFF or colleague recommends.
While this might turn out ok, it's likely that your business is different from your friends… which also means that the needs that you have for your technology are also different.
We want to make sure that when you pick a tool and you invest your time into it, that it is the right tool for you and your business and is going to be there in the long run – not something that you use for six months and then realize it's not the right tool for you.
Research shows marketing trends and channels evolve over time. While some trends come and go quickly, one of the channels that have remained more or less the same is email. In fact, email continues to be the top channel for content marketing with both B2C and B2B marketers. 87% of B2B marketers and 77% of B2C marketers use it to nurture their audience (Source: Sprout Social).
This is why it's so important to ensure that you are using the right tool for your business!
How Do You Ensure That You Are Selecting the Best Tool for Your Business?
First, make sure you know exactly what you need. Email marketing and automation platforms all offer a variety of different features and functions. Ensuring you know what you need and why will help you evaluate your options before even starting a trial.
Then once you know what those requirements are and the things you need to do with that tool, then go ahead and make sure that ActiveCampaign or any other tool lines up to those requirements. Once you know that the tool does line up and it can potentially work for you, that's when you want to go up and sign up for that free trial.
Now, now that you're ready for your free trial with ActiveCampaign, let's talk about those different things that you should check out and make sure are gonna work for you and your business.
In today's blog, we are going to cover the five features of ActiveCampaign that you should test out during a free trial.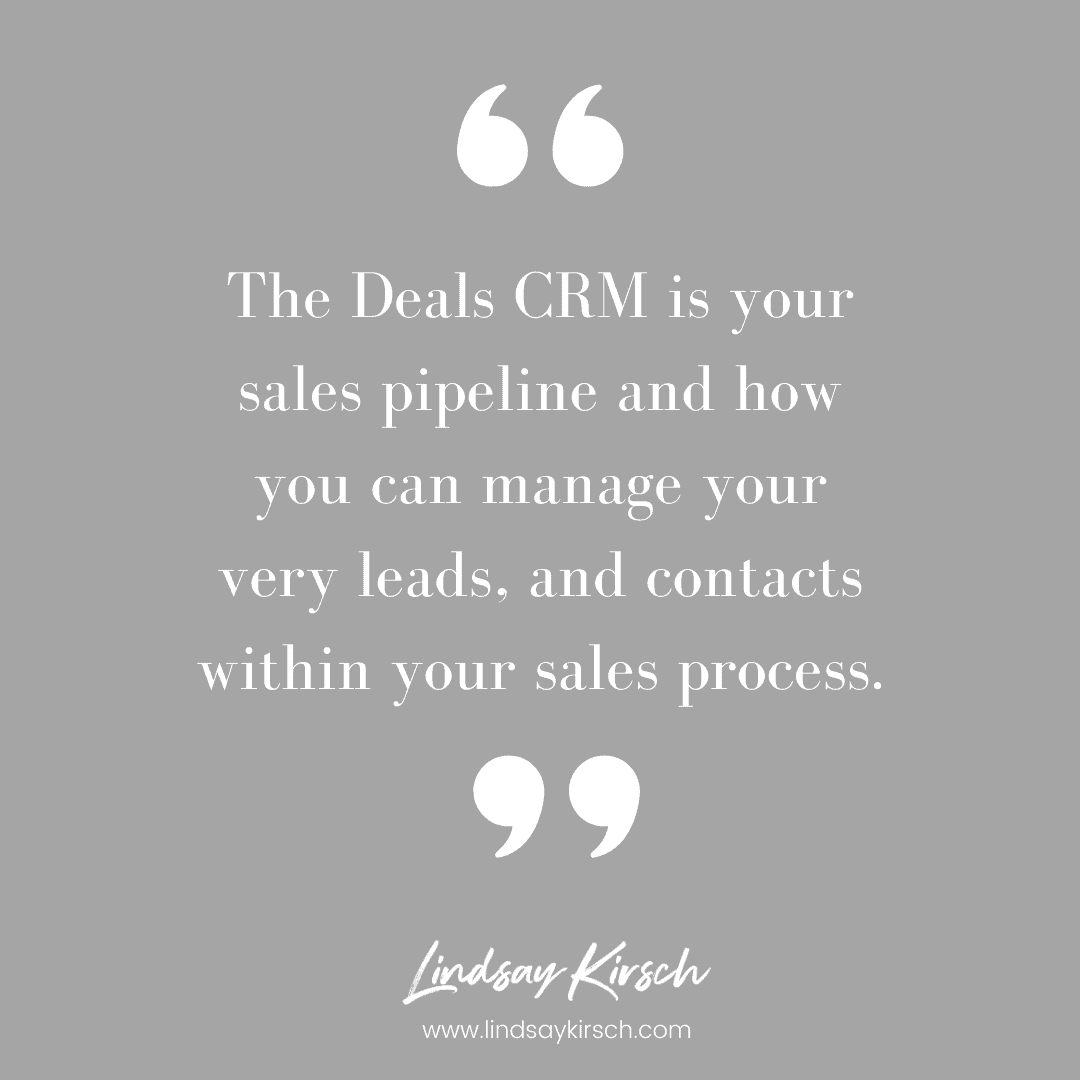 5 Things to Try During Your ActiveCampaign Free Trial
The ActiveCampaign Email Campaign Designer
For every $1 you spend on email marketing, you can expect an average return of $42 (DMA, 2019). There's a ton of email marketing benefits, but this one tops the charts for keeping your business steady and going (Source: Oberlo).
The ActiveCampaign Email Campaign Designer may be one of the most used features of your new ActiveCampaign account. Spending time exploring how to set up templates, use personalization, and leverage conditional content will allow you to strategically plan your future campaigns.
Another reason to test out the campaign designer is to ensure you can create the exact look and feel that you are expecting to achieve with your brand.
Finally, you will want to ensure the campaign designer is easy to use for your team. Some email campaign designers are very simple, while others are more complex, requiring more skill. ActiveCampaign is in the middle – if your team's tech skills aren't ready for it, you may need to acquire additional team training.
Note: ActiveCampaign provides FREE campaign designs on new accounts. You can request your free design here.
The ActiveCampaign Deals CRM
The next thing that I recommend you check out during your ActiveCampaign free trial is the Deals CRM. The Deals CRM is your sales pipeline and how you can manage your very leads, and contacts within your sales process.
Automated or not, the Deals CRM will enable you to forecast your pipeline, track task and next-step actions, and create reports on % of deal wins, closing time, and more.
If you have a sales team, you will want your sales team to try out the Deals CRM before committing. Use test contacts to check out how information can be stored, and how tasks, assignments and tracking works.
If you are already using an outside CRM, such as Pipedrive or Zoho, consider how ActiveCampaign can support and work with those tools. You may need to bring in a third-party tool such as PieSync to coordinate the data across platforms.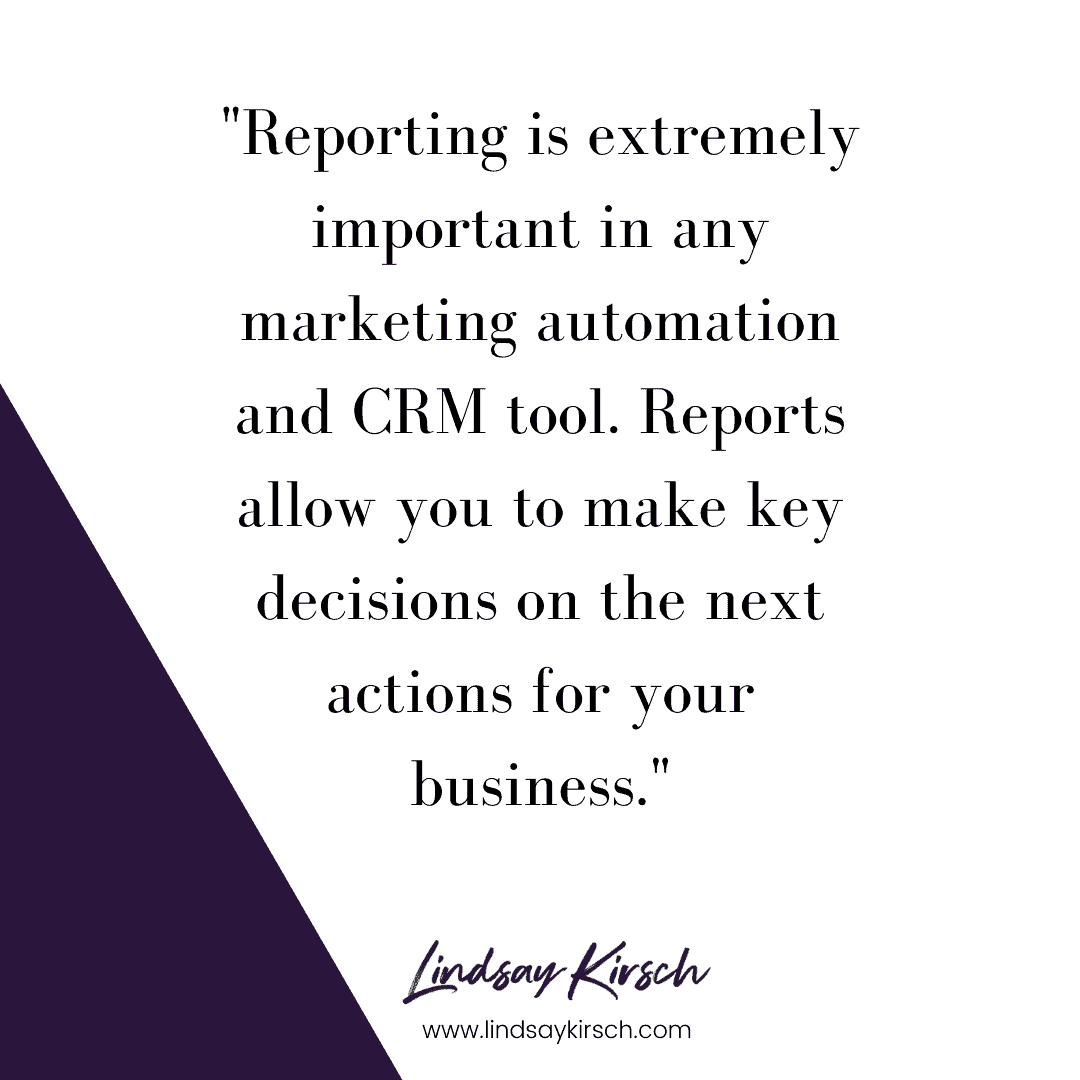 ActiveCampaign Reports
Reporting is extremely important in any marketing automation and CRM tool. Reports allow you to make key decisions on the next actions for your business.
Before diving into reports, know what questions you want to have answered and what you will do based on the answers to those questions.
Collecting data for data's sake isn't effective. However, collecting data that enables you to make decisions is.
In ActiveCampaign you can report on campaign performance, automations, ideals, goals, and more. However, different ActiveCampaign plans support different levels of reporting. Once you know the data you need, you can determine what level plan will work for you.
ActiveCampaign Automations
Because 81% of businesses say that email drives customer acquisition, and 80% for retention (Source: Emarsys), automations are the key to a successful marketing automation strategy. ActiveCampaign automations are what will support moving your customer to the next step in their customer journey.
In ActiveCampaign, automations are built top to bottom, rather than left to right such as in other automation software.
During your ActiveCampaign free trial, consider your workflows and how you will build them out in ActiveCampaign. Simple, modular automations with single goals work best and allow you to build out more complex systems.
If you aren't sure where to start, check out the ActiveCampaign free automation recipes for ideas and make sure you understand how to test your automations.
ActiveCampaign Contact Setup and Organization
Contact management is very different in ActiveCampaign than other marketing automation platforms. Unfortunately, this is one area where people tend to make the most mistakes when setting up their account.
In ActiveCampaign, you have three primary components to organize your contacts:
Lists: These are the "filing cabinets" of your account.
Tags: these are the "folders" that sit in the filing cabinets.
Custom fields: these are the extra details (the colored tabs, the labels) on those file folders.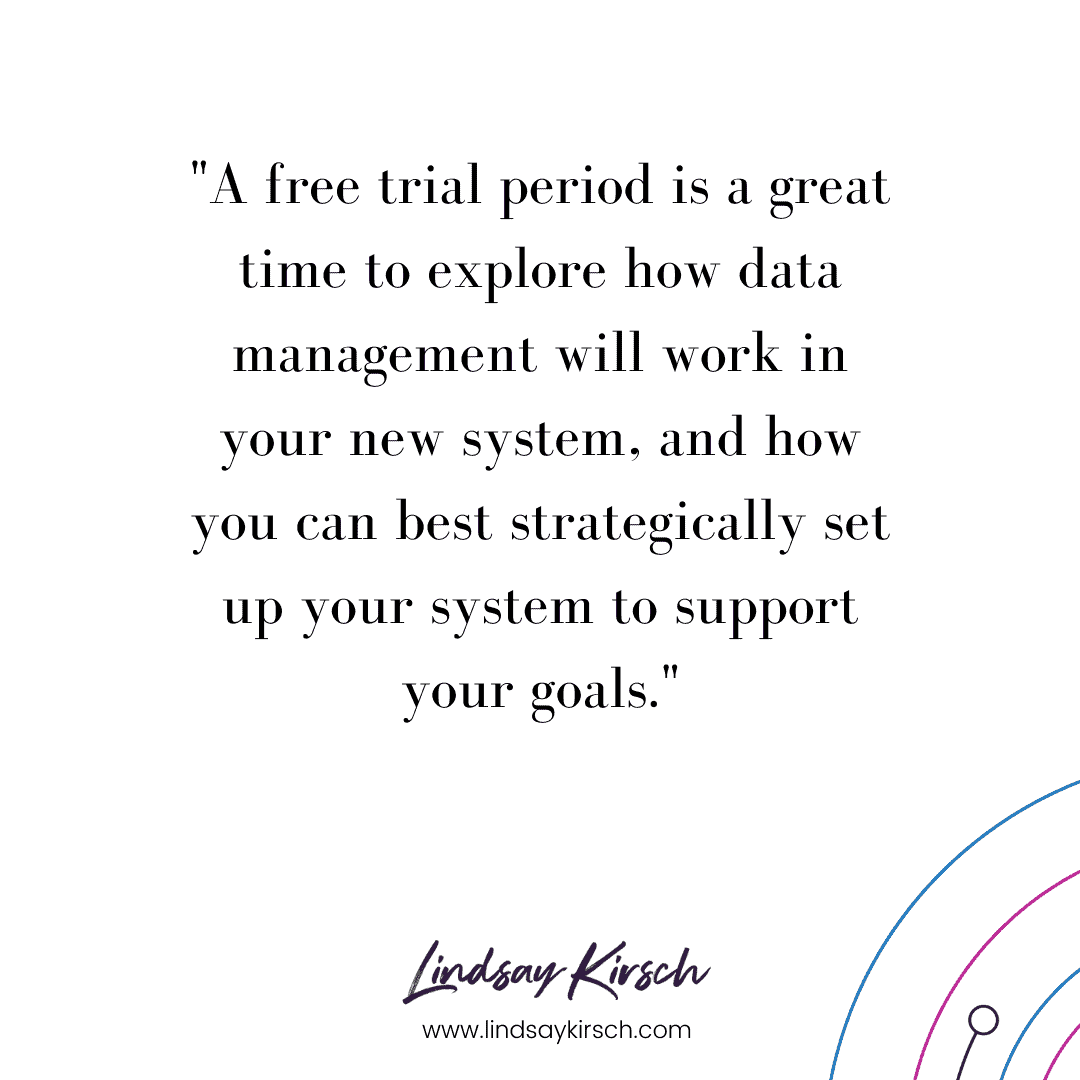 Before jumping into ActiveCampaign and migrating your contacts, you will want to consider how you want to organize your contacts and what data will support your organization.
Once you know this, you can begin to set up your fields and then import a sample of your existing contacts. (Alternatively, you can also set up your own test accounts to play with!)
A free trial period is a great time to explore how data management will work in your new system, and how you can best strategically set up your system to support your goals.
Use your trial as a time to explore, rather than jump right in. This will ensure that you set up ActiveCampaign for the long run, not just a quick transition.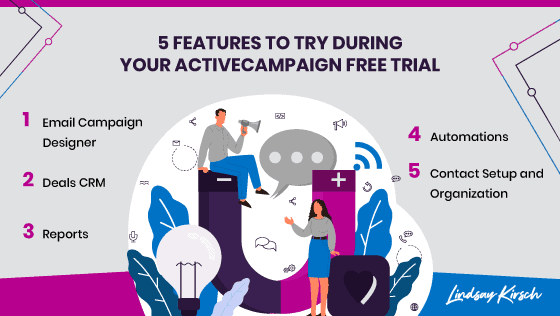 Additional Considerations for Your ActiveCampaign Free Trial
I encourage you to use your ActiveCampaign free trial period as an opportunity to create a prototype for your system, rather than completing a full system setup.
Use this time to test the features and functionality that you think you will want long term without necessarily doing a full setup to ensure it meets all of your requirements.
Finally, you may find out as you explore the tool that you might need a consultant like myself to help you with the ActiveCampaign setup. Working with a consultant will ensure that you are set up correctly from the start so that you don't have to fix things later.
For additional support, check out 10 Tips to Get Started with ActiveCampaign.
Sign Up for an ActiveCampaign Free Trial
Now that you have learned what to try out during your ActiveCampaign free trial, click here to sign up!
Once you have had time to explore ActiveCampaign, drop me a comment below and let me know – what features did you like the best?